The Eagle Uniform & Supply Company does business out of 1114 Metz Drive. It provides customers with mandated uniform options and flame-resistant apparel. Interstate Power Systems maintains its local office at 10750 South Highway 59. The company sells, services, and repairs heavy-duty machinery and engines.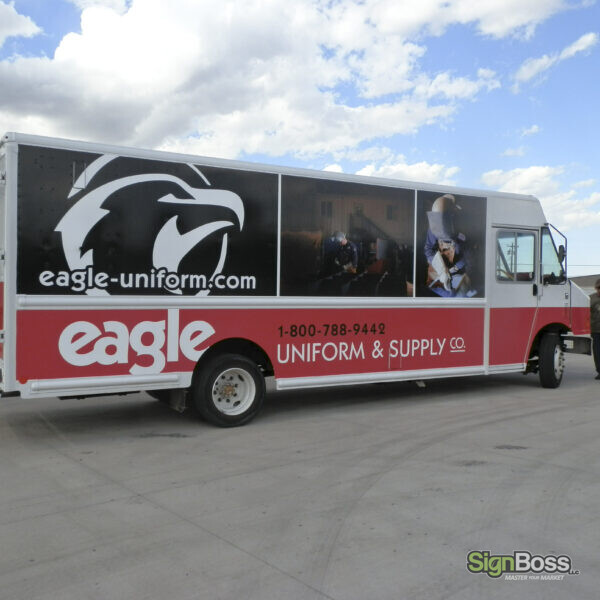 Eagle had a Freightliner that needed to be wrapped; its management team had an idea. Why not collaborate with Interstate on the design of the graphics? Here is what happens when two companies work together on Freightliner truck wraps in Gillette, WY.
A Business Collaboration Results in Successful Mobile Marketing Campaign for Two Companies
We worked with both companies to design graphics that are perfectly brand-centric for Eagle. At the same time, we were mindful to position Interstate's brand and personnel. Now, whenever the wrapped vehicle is on the road, it advertises. At the same time, it gives the nod to the second business. It is a fantastic win-win for two companies that are not in direct competition with one another.
Similarly, it is a financially savvy opportunity. After all, there is the large size of the Freightliner. It is the perfect canvas for creating a dual-design presentation that flows organically. That said, you do not have to limit your collaborations to just these large trucks.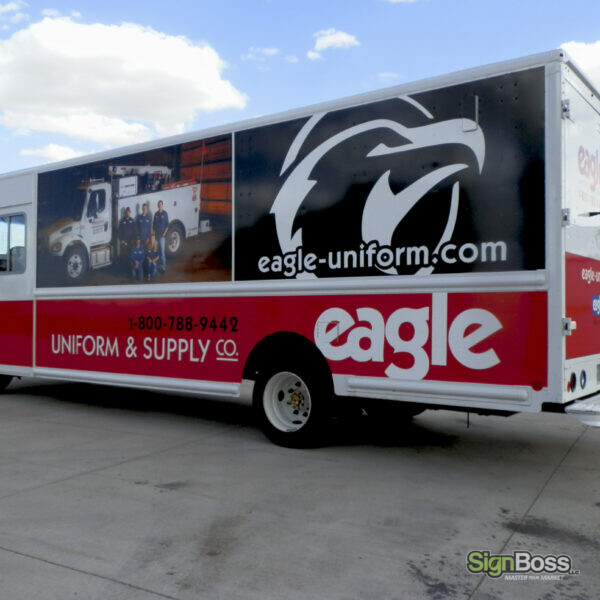 Instead, consider that it is just as possible to put together a car, box truck, or van design. Here is how we can assist.
Full wrap. The full wrap is always the best choice when you want to boost the visibility of your message. It takes up the exterior of the vehicle. When you add a perforated vinyl cover for the rear and rear side windows, you can increase the available surface for advertising.
Partial wrap. Taking up three quarters, half, or one-quarter of the vehicle's exterior, this wrap product takes advantage of the truck's base color. We can incorporate the tone to underscore your branding or to create eye-catching separations between messages.
Graphics and lettering. When you cover less than 25% of the exterior, we refer to the product as a graphics and lettering setup. It is a fantastic option for the business collaboration that thrives on look differentiations on the vehicle's various sides.
How to Start the Professional Design of Freightliner Truck Wraps in Gillette, WY
It sounds like a daunting task. However, you are not alone. Our graphic artist routinely works with the local business community members to create a visually attractive product, which highlights your brand. We use graphics that you already have on hand. Conversely, our specialist will gladly help you choose stock images that are ideally suited for your business.
Similarly, we offer assistance with the incorporation of the secondary business entity. Some business owners have had excellent success with the use of dual graphics presentations. Others favor taking a page from the playbook of Eagle. No matter what setup you prefer, we can print it.
Each design begins with an appointment with our graphic artist. Even if you do not have any specs on file, we can still assist you in creating a look from the ground up. Call us today to get started!