Located at 203 Motor Court, White's Energy Motors is the local expert for stress-free car buying, flexible financing, and hard-to-find incentives. In the past, we assisted this long-time client with a 40′ x 12′ billboard and a Dodge Caravan full wrap. When the client contacted us recently, the management team asked for the design of RAM Promaster partial van wraps in Gillette, WY.
Vehicle Graphics Support Corporate Branding of an Industry Leader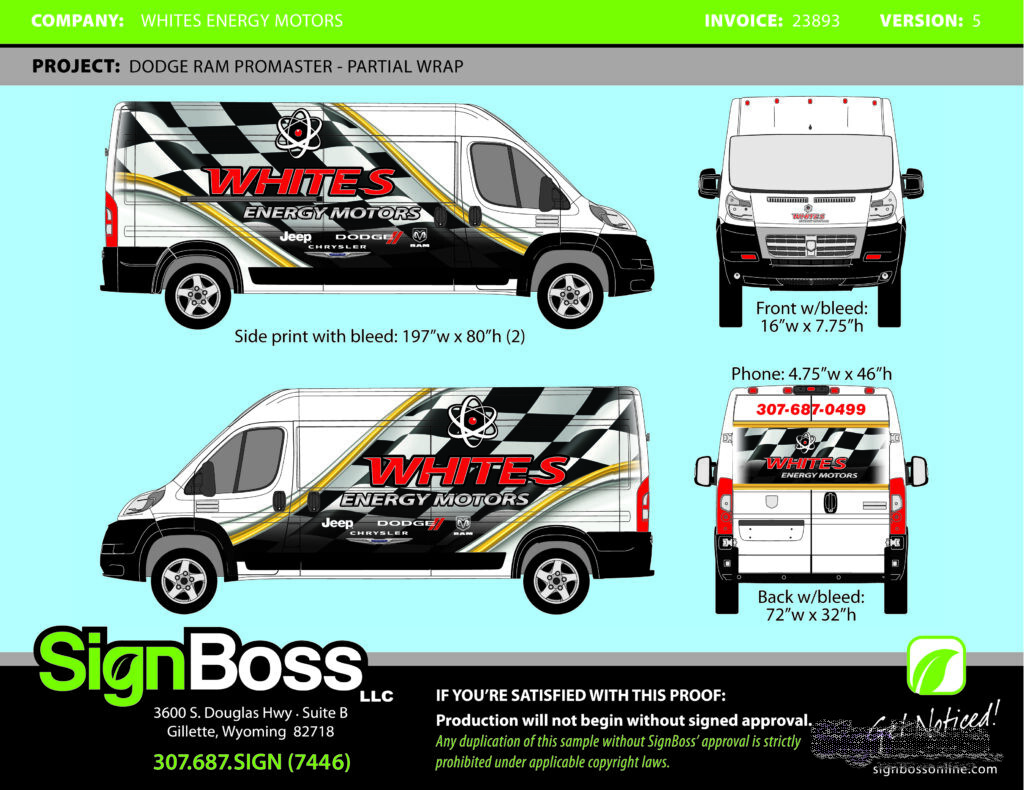 We met with the client to determine the scope of the project. When the dealership recently added a RAM to its fleet of vehicles, the team decided to treat it with graphics to fit in. Because we had previously designed a wrap for the company, we could pull up the details and incorporate them into the specs.
However, the graphics product needed some updating because it is a bigger vehicle than the one we previously treated. That said, the availability of a reference enabled our shop to put together a winning design, fabricate it, and install it in about a week.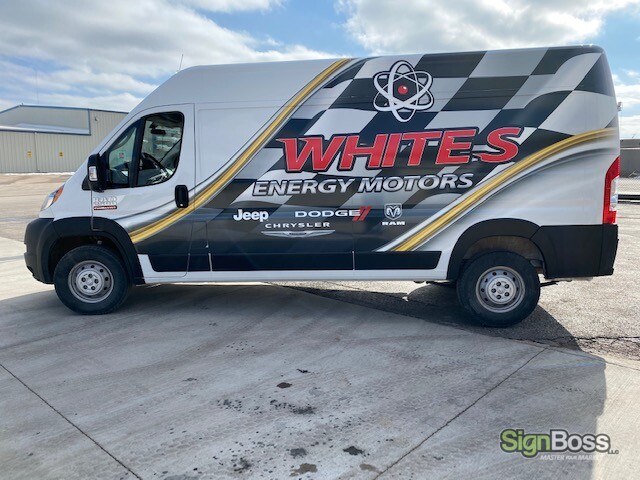 Our technicians used IJ180 vinyl wrap material that we imprinted on our EFI flatbed printer. It features the dealership's branding along with an attractive color fade that draws the eye. Moreover, you will notice the elegant flow of the partial wrap that treats all sides of the vehicle. Now, the driver or pedestrian seeing this van cannot help but take note of the dealership's information.
Understanding Your Vehicle Treatment Options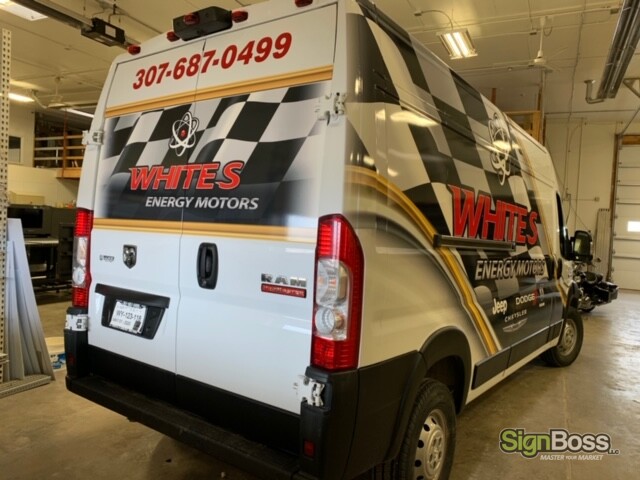 A partial wrap is an excellent choice for a car, truck, van, or trailer with a base color you like and want to integrate into the overall marketing and branding display. However, you have other options, as well.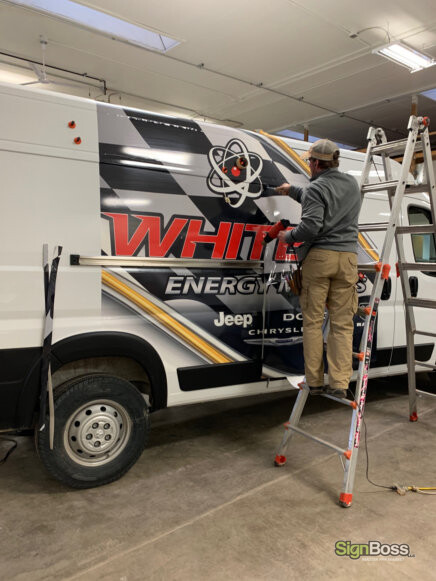 Full wrap. If you want to transform the vehicle into a movable billboard or incorporate an ad-like vignette on the sides, we recommend the full wrap design. It covers the entirety of the vehicle and every square inch of the original paint job.
Graphics and lettering package. Another choice is the combination of a graphics package that includes lettering. This is a favorite for contractors who like to combine niche-specific images with targeted branding. Examples might consist of lettering detailing brand differentiations and services menus.
Spot graphics. When you like combining images with lettering overlays, you cannot go wrong with spot graphics. Our technicians can manufacture them in various sizes that make these suitable for use on the vehicle doors, tailgate, and roof.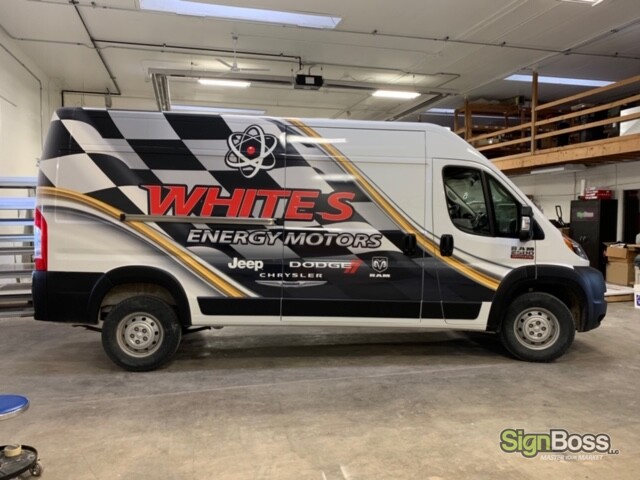 A typical add-on is the perforated vinyl window treatment. We treat the rear and rear side windows. While your driver can still see outside, those on the exterior only see your advertising message. Consider this option when you do not want to cut off an ad or other presentation because of the windows. And, keep in mind that SignBoss is a 3M Preferred Vinyl Graphics Installer!
Do You Need RAM Promaster Partial Van Wraps in Gillette, WY?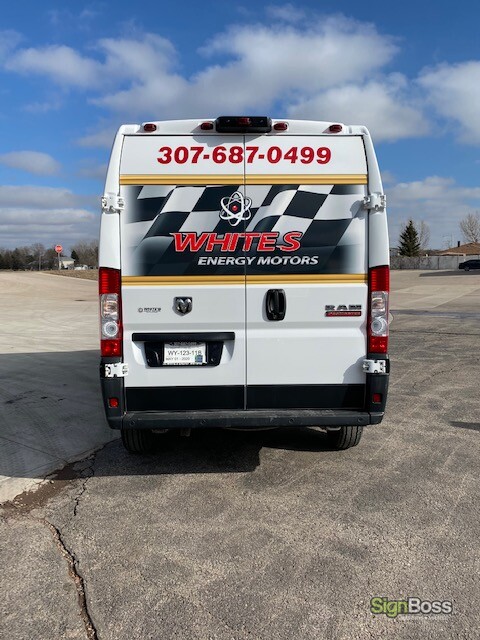 Are you a business owner looking to boost name recognition or brand awareness in your service territory? Maybe you are a retailer who wants to advertise a specific product or brand. Other vehicle wrap customers include companies that seek to help consumers connect a brand to a particular service. We can assist you with all types of vehicle graphics to make it happen. Contact us today to schedule your design consultation!