Are you familiar with custom chain-link fence slats? SignBoss is an expert in the design, production, and installation of Coroplast fence slats in Gillette, WY. Durable and colorful, they can also provide some privacy. Take a closer look at this sought after product.
Titan Solutions Focuses Attention on a Business Solution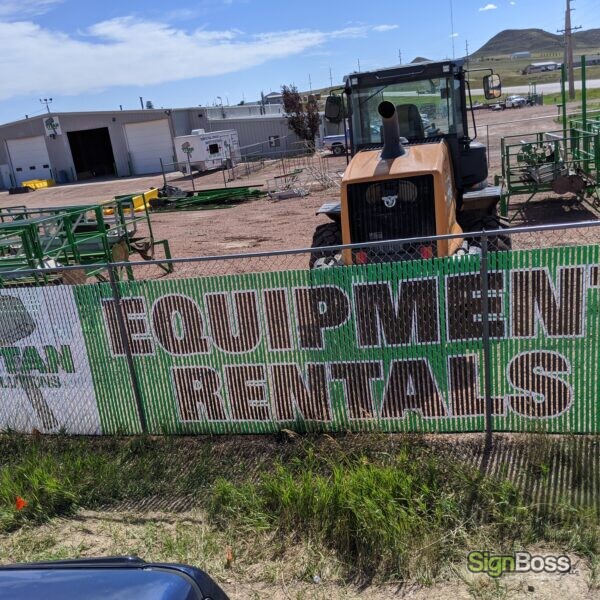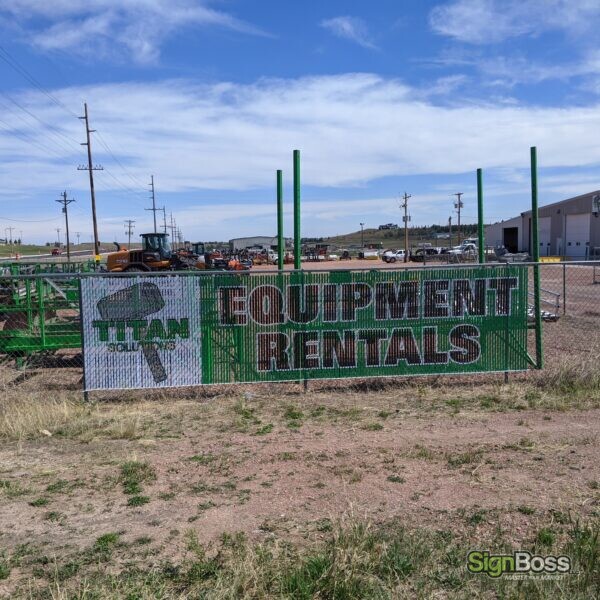 Located at 3800 Southern Drive, this company uses Electro-Biocide™ to target pathogens. Besides that, it provides surface rental equipment and offers custom trailer solutions. When the company wanted to draw attention to its business's equipment rental aspect, the management team decided to advertise using the chain-link fence that surrounds the various items. Our sign shop created the Coroplast sign and then cut it into multiple slats for the fence installation.
Wyoming Water Solutions Creates Sizable Advertising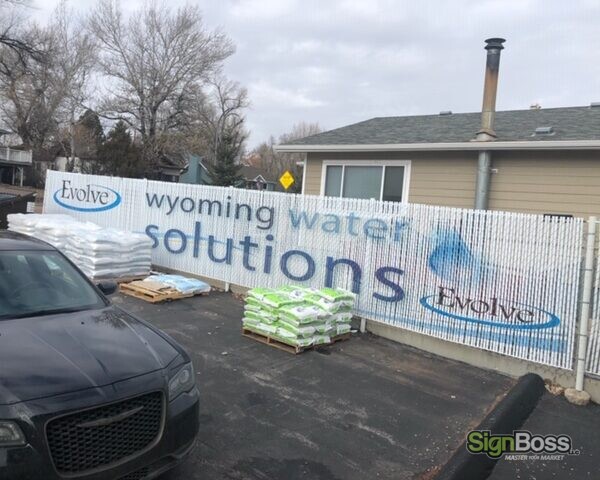 Customers visit the company at 605 East 7th Street to learn more about water treatment hardware, water softeners, and well water technology. Because the location features a long chain-link fence, it offers an ideal advertising surface. This is why the company connected with SignBoss to design, produce, and install Coroplast fence slats that feature the corporate name, logo, and color play.
What are Coroplast Fence Slats?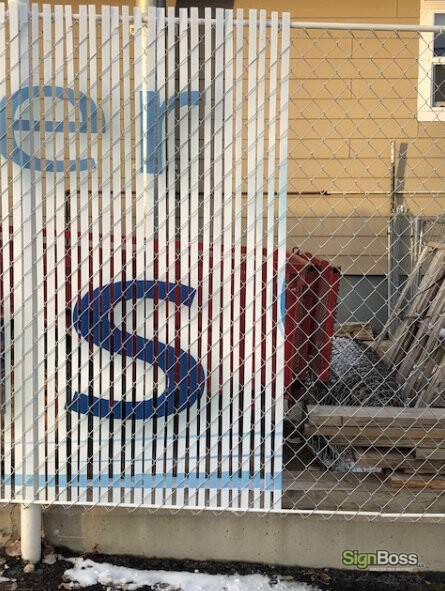 Many clients approach us to advertise using their fencing. In the past, this meant manufacturing a banner with wind slits. With the availability of vinyl mesh, our team transitioned to using this product for fences because it allows the wind to go through the material. Doing so extends the longevity of the material because it dramatically lessens the strain on the installation points.
However, custom fence slats are now the newest and most effective method for outdoor fence advertising. Unlike banners, which face some size limitations, the slats can span your entire fence. They are excellent for sports fields, commercial settings, restaurants, and anywhere else that you want to combine some privacy with reliable advertising.
Most importantly, you can go for the gusto and advertise multiple products to different consumer demographics. For example, those inside your space may be interested in learning about the targeted products and services you offer. Those on the outside may be more interested in your overall niche and how you differentiate yourself from the competition.
Why Coroplast Fence Slats in Gillette, WY, are Excellent Advertising Solutions
Coroplast is durable. It does well in rain or snow. Unlike other materials, it does not waterlog or bend in the wind. In fact, the material is excellent for high winds when banners might be a risk. By the way, fence slats are not just for advertising and branding.
Private homeowners and property management companies are looking to custom-designed products for the beautification of their properties. While a naked chain-link fence might look utilitarian, the presentation of colorful slat inserts can transform any space. It is as suitable for a large empty lot that a construction company is ready to work in as it is for a private backyard.
SignBoss serves the communities in and around Gillette, Casper, Buffalo, and Sheridan, WY. Call us at 307-687-SIGN (7446) to schedule a design appointment!