Check Out Our Chain Link Fence Signs with Brackets in Gillette WY
If your business is located close to the road, then you might be able to get by with just having a sign attached directly to the façade of your building. Other companies, though, need more creative solutions. United Central Industrial Supply is set back from the road, so they contacted SignBoss for chain link fence signs with brackets in Gillette, WY.
What Is United Central Industrial Supply?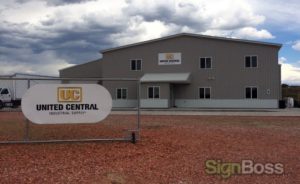 For more than 40 years, United Central Industrial Supply has been providing mine operator all over North America with instrument repair, the highest quality supplies, cable and cable repair services, and regional repair and rebuild services. With more than a dozen locations across the United States, they have set themselves apart from competitors by establishing exclusive relationships with manufacturers, delivering the services their customers need when they need them, and servicing their clients with unmatched efficiency.
When an organization that does so much for industry locally and throughout our country came to us for chain link fence signs with brackets in Gillette WY, we were more than willing to help. United Central had just moved to East Lincoln in Gillette, and they had a huge chain link fence surrounding their new building. They wanted a way to let people know that they were there. We had just the solution.
What We Did for United Central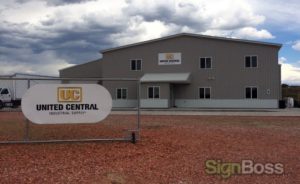 During an initial meeting with the client, we got a chance to check out their new venue and discuss what they had in mind for their project. We saw that we could not simply put a sign on their building because it sat so far back from the road. No one would see it. Our best option for visibility was to install a sign directly to the fence. We provided the client with art proofs of what the design would look like. Once they approved it, we started fabricating their marker.
The sign consists of an aluminum composite panel with the ends rounded using a router. We then printed out the United Central logo on durable cast vinyl using our large format digital printer. This vinyl was then applied to the face of the panel. To ensure the graphics could stand up to the harsh Wyoming weather, we added a layer of overlaminate.
Installation was a snap with our tools and hardware. We scheduled a time that was convenient for the client to have us working on their fence. The screws for the brackets required small holes in the front of the sign that are only noticeable if you look for them. These screws screwed into the locking nut inside the bracket, which then fit directly into the diamond of the chain link to secure the marker. In the end, the brackets produced a clean, professional appearance, and the sign looks very natural hanging from the fence. United Central was thrilled with the work we did.
We Have Solutions for Your Enterprise
We provide chain link fence signs with brackets for a wide array of industries in Douglas, Casper, Gillette, Sheridan, and Buffalo, Wyoming. We are a preferred sign company because
We have 3M Certified Installers
Our sign showroom is open to the public
We ship to your location
We are locally owned and operated
We have a creative and friendly team of sign professionals
And many other reasons!
If you are interested in chain link fence signs, contact SignBoss today for a free quote.