Tyler Lindholm is in the running for House District 1. SignBoss' own Dana Miller Eiland is running for Campbell County Commissioner. Both candidates are working hard to get the word out about their campaigns. Knowing that vehicle graphics are excellent mobile marketing tools, they decided to invest in temporary vehicle graphics for campaigning in Gillette and Sundance, WY.
Short Term Graphics Make a Difference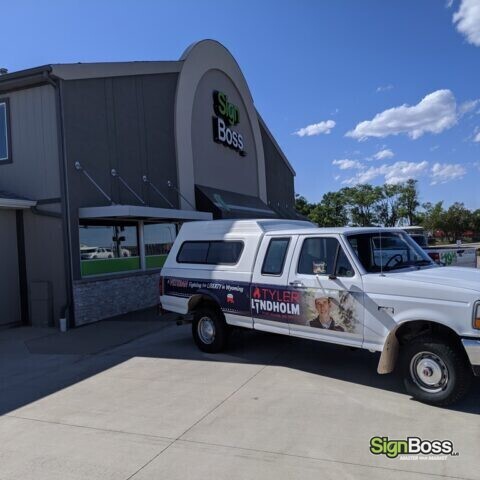 Our technicians used vinyl with a removable adhesive that would allow both candidates to use their vehicles for advertising and brand-building. Dana opted for a color-centric rear side window sticker that outlines her candidacy and offers a website address.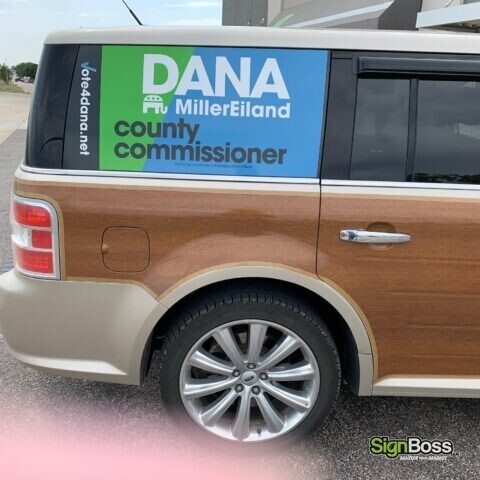 Tyler opted for a stripe going the length of his truck. Presenting his image and campaign headline provide insights into what makes him the right candidate for voters. Our technicians also treated the tailgate with the same pictures and name display.
Now, both candidates boost name recognition simply by going about their daily tasks.
Temporary Vehicle Graphics for Your Marketing and Branding Needs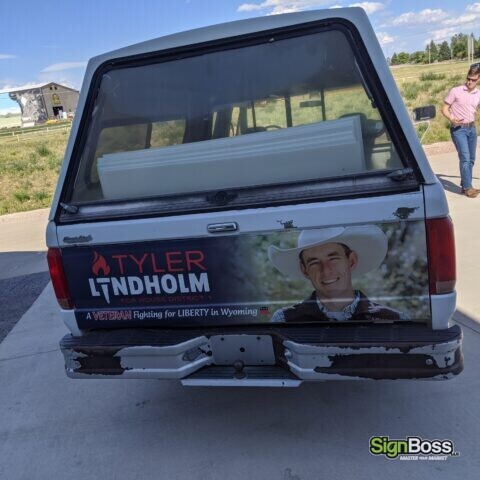 Short-run vehicle graphics can be an excellent marketing tool that steps into the gap when DIY adhesive lettering is too generic, and a long-lasting vehicle wrap is not what your company needs. Members of the business community typically invest in this signage during the back-to-school and winter holiday shopping seasons.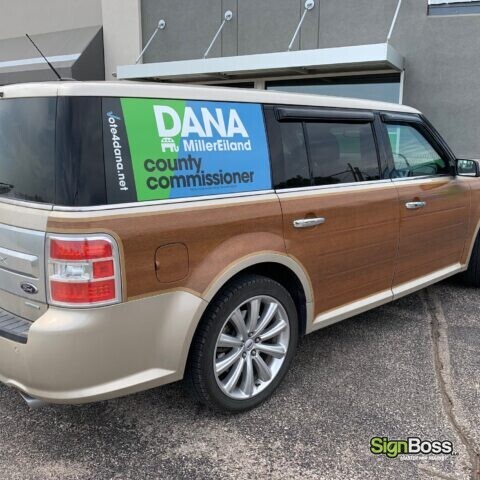 Besides that, these vehicle graphics appeal to companies that are running special offers. A case in point would be the construction company offering an end-of-summer special for roofing orders or re-piping. Some business owners are using the medium to let passersby know that they are hiring.
Did you know that some non-profit organizations also take advantage of the less expensive temporary graphics? You frequently see this when an organization gears up for an annual fundraiser or gala. Bringing attention to the cause is crucial, which works well when temporarily adding to the already existing vehicle wraps.
No Need to Compromise on Quality When Choosing the Short-Term Sticker Option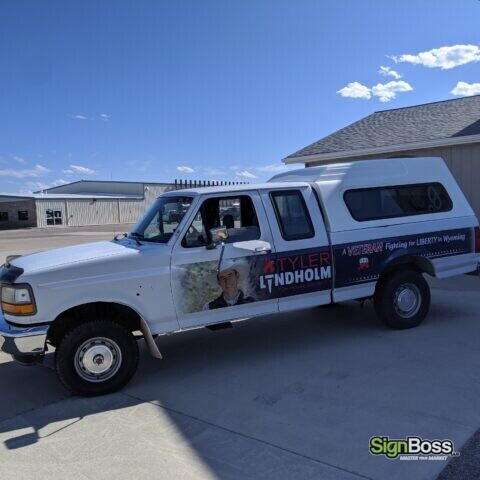 Just as we do for our long-lasting vinyl wrap and graphics client, our staff assists with a complete design service. We incorporate the wording and images that you want us to include. Moreover, we help you with the design of a temporary wrap, graphics product, or decal.
Also, our technicians will produce custom-cut vinyl lettering and graphics that serve to communicate your brand message. Each product will be brand-centric and focus on calling attention to your details. Best of all, our team will take on small jobs as well as the larger ones.
How to Buy Temporary Vehicle Graphics for Campaigning in Gillette and Sundance, WY
Whether you are currently on the campaign trail or a member of the business community with a unique marketing need, we can help. Our staff members are 3M preferred installers, who ensure that the temporary vehicle graphics will look great and stay that way for as long as you want to feature them. When you no longer require the graphics product, our technicians will uninstall it without damaging your vehicle's paint job.
Contact SignBoss by calling 307-687-SIGN (7446) or connecting with us online!