When Campbell County High School needed a full-service sign company, the administration contacted SignBoss. Located at 1000 Camel Drive, the school wanted to promote its brand and provide additional privacy for the principal's office. With a window privacy film and wall graphics in Gillette, WY, our team was able to meet the school's needs.
Is Brand Building for Schools Really Necessary? Yes!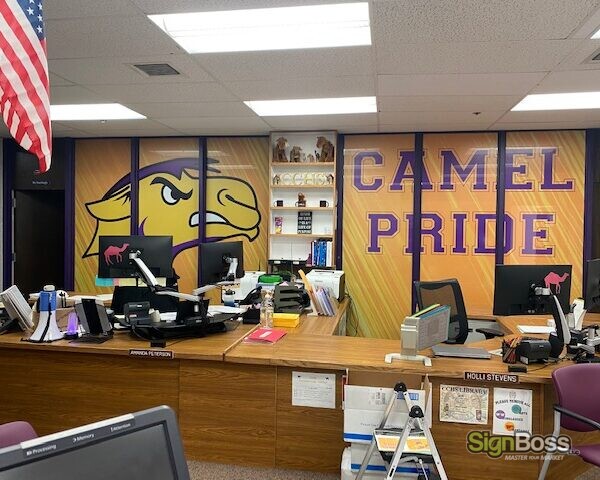 It is a common misconception that only universities and colleges focus on branding. Instead, elementary, middle, and high schools do so as well. Because schools typically have specific colors and mascots, it makes sense to focus on these elements when creating graphics, murals, and other signage products for the sites.
CCHS Camel Wrap and Perforated Window Graphics Make Great Impressions
The location had a bare block wall. It was painted white but did nothing to express school pride. After we were finished, it featured a larger than life depiction of the school's purple mascot and the yellow saying, "It's a Great Day to be a Camel!" Now, the room pops with its purple furnishings that the graphics put into focus.
For the floor-to-ceiling windows, the school requested perforated vinyl. Imprinting it with more of the mascot and its colors sets an excellent backdrop for the school's reception area. At the same time, it gives the principal privacy. Because of the perforations, it is still possible to see out and know what is happening in the front office.
Schools Take Advantage of Budget-Friendly Vinyl Graphics to Beautify Campuses and Inspire Learners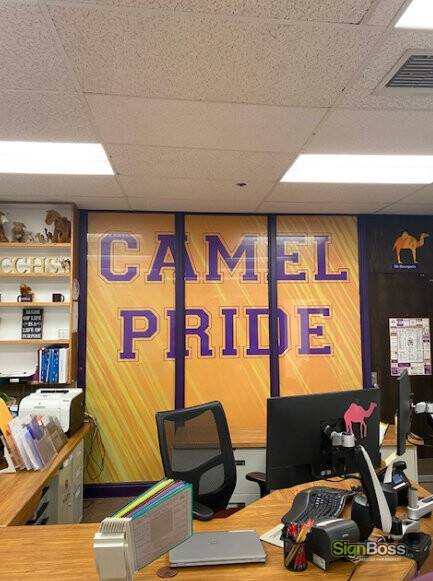 Campbell County High School is one of many sites taking advantage of vinyl for their privacy and branding needs. Because the material is so inexpensive and versatile, more and more schools are now requesting door wraps, window wraps, wall graphics, and murals.
For classrooms, these graphics could be ideal when setting the theme. Imagine a science lab featuring illustrations depicting the great visionaries of chemistry, physics, and biology. For the language classrooms, you might go with depictions from different countries and words to describe them.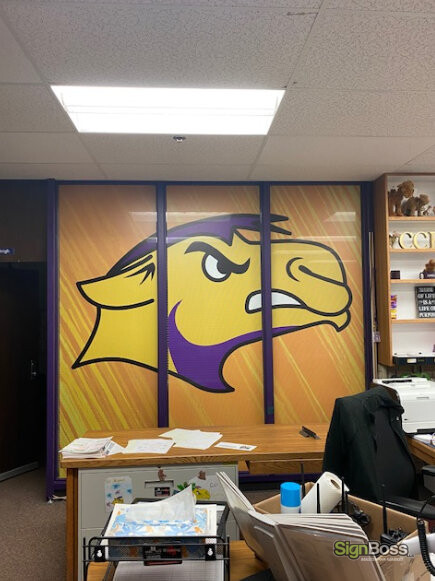 Not surprisingly, preschools and elementary schools love these graphics for their campuses. Besides bringing bold colors and easy-to-understand messages to pre-readers, the vinyl is easy to clean and maintain. In this way, it is the perfect wall covering for a location that sees a lot of foot traffic.
Do You Need to Buy Window Privacy Film and Wall Graphics in Gillette, WY?
You do not need to be a school administrator to appreciate the advantages that vinyl could bring to your office, storefront, or warehouse. SignBoss experts routinely work with the local business community members to design, produce and install a variety of wall, door, and window graphics and wraps.
Besides that, we can assist with other signage solutions that boost privacy or brand awareness building in your location. Examples include etched and frosted vinyl window covers, acrylic foyer prints, and similar options. If you operate a school or business in or around Gillette, Casper, Buffalo, or Sheridan, we can help. Call us today at 307-687-SIGN (7446)!