Have you ever seen vehicle wraps in your area advertising other local businesses and wondered if this makes sense for your company? We at Sign Boss would say: "Absolutely!"
The Outdoor Advertising Association of America (OAAA) also agrees by saying that more than 95 percent of Americans are reached by media targeting vehicle drivers and passengers. Our grateful clients often come to us and share their testimonies on how they gained new customers as soon as they left our office with their newly branded cars.
Vehicle wraps are a unique and memorable way to spread your business' message. With this powerful marketing and branding tool, you could make a strong and lasting impression.
What Is a Vinyl Wrap?
Vinyl has become a favorite material for both car enthusiasts wanting to customize the look of their vehicles and for business people searching for the best way to advertise their company and expand their brand's reach.
Vehicle wrapping simply means applying a vinyl film to the outside of your car.
Vinyl is long-lasting, flexible and easy to work with, having as many different colors and finish options as you can think of. When applied in the right way, vinyl wrap can create an impression of a high quality paint job, while protecting the car's value in the process.
Vinyl wrap is easy to maintain. You'll need just a little soap and water to clean it when it gets dirty. Also, there's no need to apply wax on your vehicle because the vinyl itself acts as a protective coating. If a vinyl panel gets damaged, you can simply remove that piece of film and replace it.
Lastly, you have absolute control over how much of your car you want to cover.
Wrapping it Up for White's Energy Motors
Who understands the potential of vehicle wraps better than those who are in the car business?
White's Energy Motors is your Dodge, Chrysler, Ram Truck and Jeep Dealer, located in Gillette, Wyoming, also serving Spearfish, SD and Buffalo. They're proud to be an automotive leader in our area. They offer a broad selection of vehicles and also give their best to make the car buying process as quick and carefree as possible. Customer satisfaction is the cornerstone of their business; they are always willing to go the extra mile.
When they came to us with a Dodge Caravan asking for a full car wrap service, we were more than happy to meet their need.
Wrapping a car is an exciting process. From the design to the application, many talented hands have to be involved. They need to have certain skills, tools and expertise, but most importantly — an enormous amount of patience.
The members of our professional team joined their efforts in the process of transforming White's Energy Motors vehicle into a visually stimulating representation of their business.
Our client was very satisfied with the quality of our work and professional installation. Now they enjoy their branded car so much more!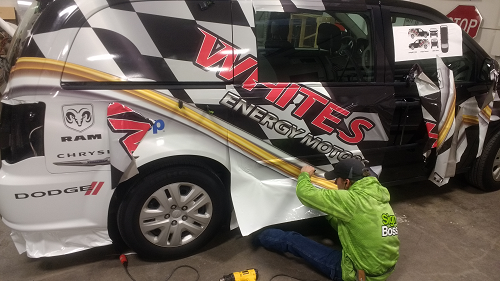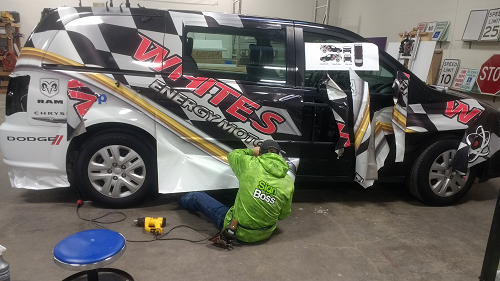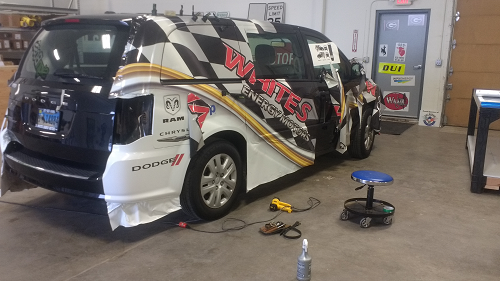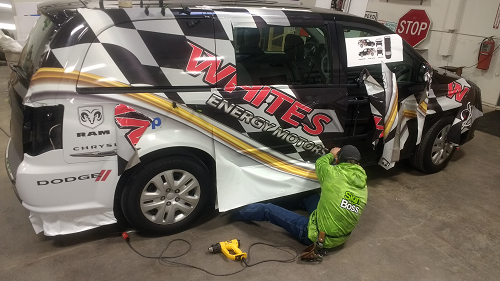 Get the Attention You Deserve with Engaging Vehicle Wraps
If you want to stand out from your business competitors (or maybe just to refresh your personal vehicle), vinyl wraps are a smart investment and unique advertising method. Make your company vehicles work for you 24/7 and wrap them up in your brand colors.
SignBossLLC designs, creates and installs custom wraps and graphics for all kinds of vehicles. Contact our team — we have the skills you need.