Red is a primary brand color of Trends Furniture & America's Mattress Gallery. Doing business at 408 South Douglas Highway, this retailer represents products by Coaster, Ashley, Legends, and others. However, the management team had noticed that its outdoor advertising costs were sharply increasing because of older fluorescent light fixtures. This was when the team contacted our sign shop to undertake LED retrofits for awning signs in Gillette, WY.
Replacing Old Fixtures with New LEDs Saves Money and Boosts Visibility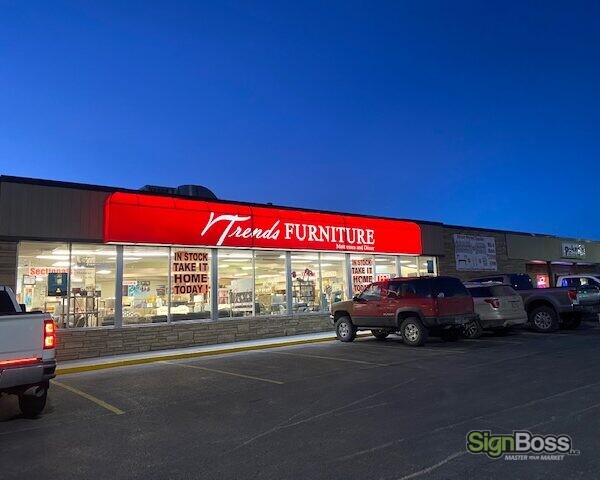 Fluorescent bulbs are fickle. They quickly burn out, which leads to dark spots on your façade. In the case of Trends Furniture, this would mean that portions of the bright red awning would not illuminate properly. We were able to fix the problem.
Look closely, and you notice that the awning's fabric stretches over an aluminum frame. The original fluorescent light fixtures were placed inside to create a backlight. We removed the bulbs and replaced them with LED strips. Doing so was a budget-friendly way of retrofitting the sign without interrupting the company's business.
Updating Yesteryear's Technology
Fluorescent lights were quite popular a decade ago. However, you now have money-saving alternatives that make it far less expensive to keep your signage lit around the clock. For sign faces, our LED packs provide fantastic coverage. That said, LED strips could also be ideally suited for the setup of selected signs.
Because you cannot afford to allow your façade to go dark, money-saving ways of staying illuminated are critical. With LEDs, there is no reason to worry about the length of time that the lights are on. Best of all, LEDs do not burn out at the same rates as fluorescent lights, which also cuts down on the service calls. What is there not to love?
LED Retrofits for Signs Q&A
Q: How much electricity will a retrofit save me?
A: It depends on the sign's size and the number of fluorescent tubes our specialists change out. For example, a sign that uses four tubes on one ballast typically needs 160 watts to operate. To achieve the same type of LED illumination, the same sign will require 45 watts. Watts saved is money earned.
Q: Are LEDs longer-lasting than fluorescent tubes?
A: When our technicians service older signs, there are typical calls for dual bulb changes and sometimes also a balance switch. Generally, this happens after about 10,000 hours of operation – sometimes more. However, LEDs and associated components last about four times as long – or more. Therefore, you save money on not only operating costs but also maintenance expenses.
Q: What makes LEDs more durable?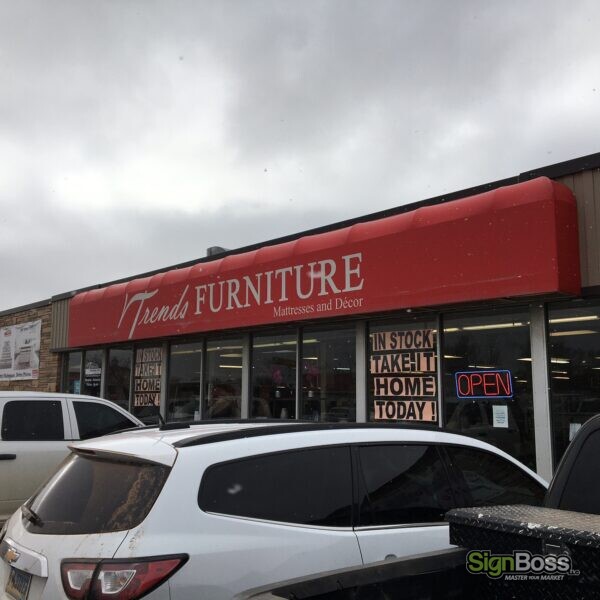 A: Fluorescent bulbs gradually lose illumination ability. Because manufacturers use glass, there is the problem of breakage. Sometimes, there is also water damage. LEDs are manufactured differently, which means they are not susceptible to these problems.
Call us for Expert LED Retrofits for Awning Signs in Gillette, WY
Do you have an awning with older light sources? Take a page from Trends Furniture's playbook and update the product. By the way, our specialists also update other signage types to run on budget-friendly LEDs. Call us today!