New to Gillette, the Sylvan Learning Center focuses on customizing learning plans and providing structured support for those needing in-person as well as online instruction. When the company moved to its location at 900 Camel Drive, the management team connected with our sign shop to request a cabinet sign facing and window wraps in Gillette, WY.
Combining Privacy Concerns with Branding Opportunities
We worked with the client and discussed the signage options. Because Sylvan already has a corporate color standard, it was unnecessary to design a set of hues. However, the company was looking for colorful ways to draw the passersby's attention while concurrently eliminating prying eyes from looking inside.
Our technicians fabricated brand-centric perforated window graphics for two panes that highlight the company's programs for learners. At the same time, they present with a colorful display that looks fun and inviting. Now, passersby see the friendly messages while the learners inside do not feel like they are on display.
The other sign we focused on was the company's lightbox cabinet. It shows the corporate name and logo. Because it is internally illuminated, it will underscore the company's colors while featuring a bright presence after dark. Wayfinding is now easy and quick for prospective customers and current learners.
Introducing Your Brand to the Local Consumer Demographics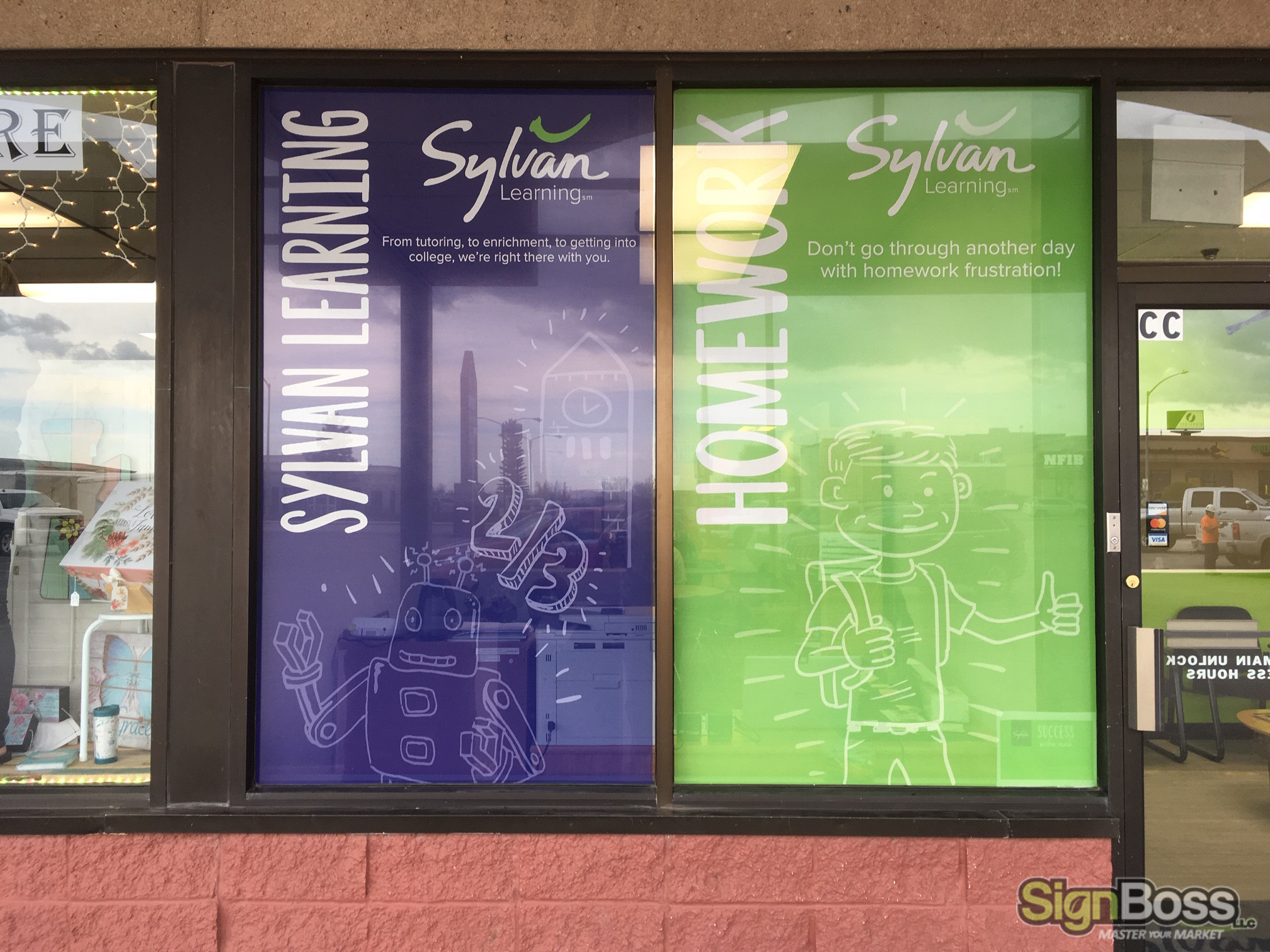 Incoming businesses have to hit the ground running. They must focus on brand-building as well as becoming household names. Many business clients have had excellent success with installing signs that go up before the first direct mail campaign. In this way, local consumers are already aware that you are joining the business community.
Signage Options for New Companies and Incoming Firms
Whether you open a franchise or stand-alone business, our sign shop can assist you with several signage solutions that work well for spreading brand awareness.
Monument sign. A monument sign is a good option when you have a parking lot entrance that needs some attention. These products typically sit at eye height and alert drivers to the presence of your company. If your business is located in a strip mall or similar setting, we recommend installing a tenant panel into any existing pylon or monument.
Window graphics. Take a page from the playbook of the Sylvan Learning Center, and add window graphics for brand-building. Perforated panels work well when you are looking to feature multiple brand colors in addition to niche explanations.
Building sign. Channel letters are a favorite, but you can save money with the installation of a lightbox cabinet facing when this type of hardware is already in place. Other choices include dimensional letters and logo boards.
Do You Need a Cabinet Sign Facing and Window Wraps in Gillette, WY?
Our sign shop will gladly assist you with the design, fabrication, and installation of any new sign or replacement marker you need for your location. As noted by our client, "the service was prompt, personal, and quality work." When you are ready to have a similar experience, please connect with our specialists!