The Wyoming Mustangs are the professional indoor football team for the area. Its corporate office is located at 345 Sinclair Street. With Gillette being the team's proud home, SignBoss is now its official sign sponsor. Just recently, our technicians completed several sports team signs and graphics in Gillette, WY.
New Arena and Signs Combine for Much Awaited Sports Experience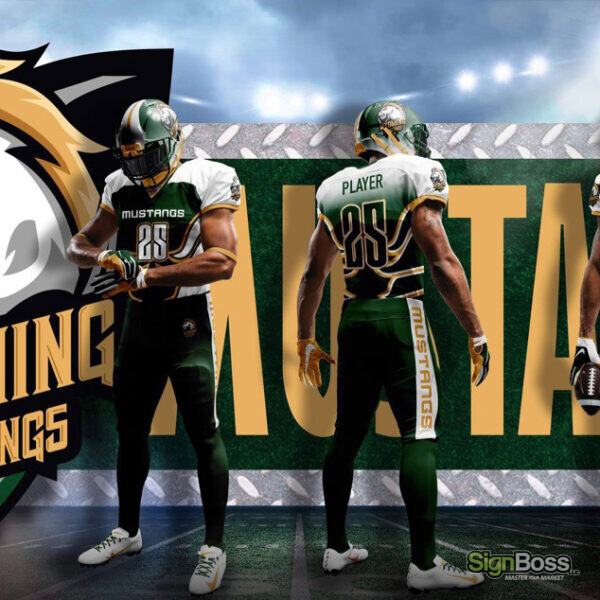 Gillette is excited about this pro team. Already, the hockey ring is being retrofitted for indoor football. Fans know that this is a fast-paced game with nearly 100 points not being unusual at all. Moreover, the halftime show promises to be an excellent time for all.
To hit the ground running, the team needed lanyards that are worn by sponsors who have purchased VIP suites. Our technicians customized them using the logos the team displays. Of course, we will design, produce, and install the other signs that the team needs as the arena's retrofit continues.
Examples include wall graphics that feature the team's logo, colors, and images of high-scoring players. These inspire visitors and fans. Moreover, they create the ideal ambiance for those attending a game in person for the first time.
Team Signage Options for Established and New Clubs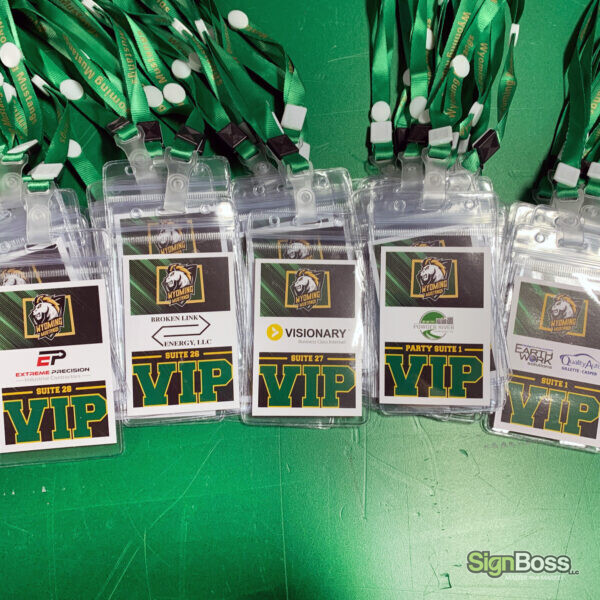 Did you know that SignBoss also works with high school and college teams? You do not have to be a professional club or group for our shop to assist you with any signage needs you might have.
Wall wraps. Because these vinyl graphics products can be as large or small as you need them to be, they are excellent for all types of surfaces. Treat the wall facing the entrance to an arena or go up halfway in the vestibule. We recommend using a laminate that makes cleaning quick and easy.
Flags. Suitable for indoor and outdoor use, flags are good choices for building name recognition and focusing on the display of team colors. These products work well to draw attention to game days by signaling to drivers and passersby that the team is playing.
Banners. Vinyl banners come in all sizes; they are fantastic for indoor and outdoor uses. Many teams use them to highlight the names and logos of corporate sponsors. In fact, the use of banners might encourage future corporate sponsors to step up.
If a sponsor has invested in a scoreboard for your high school or college team, we can also treat its cabinet. Many companies appreciate having their information displayed in this high-visibility setting.
Do You Need Sports Team Signs and Graphics in Gillette, WY?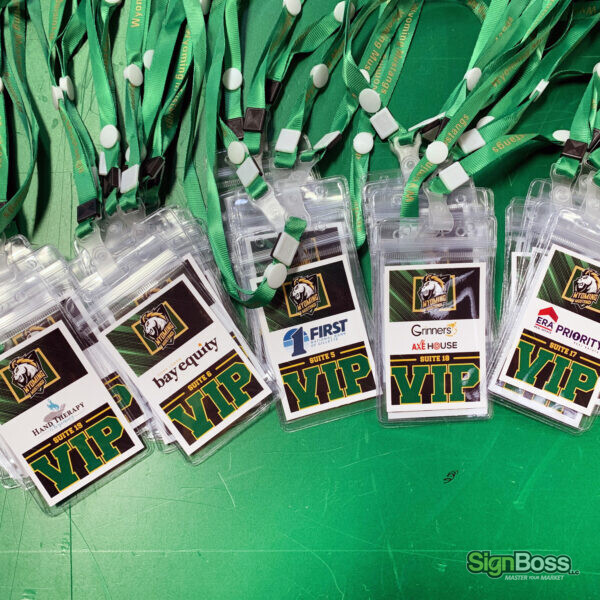 SignBoss wants to help. If you already have team colors and a font in place, we work with the specs you have selected. For the team that is rebranding, we can provide insight into what different font or color displays might look like.
By the way, if you are looking for the customization of A-frame signs and the types of products you might typically associate with expo appearances, let our team help. These products are ideally suited for fan outreach experiences and fundraisers. Contact us today!