Members of the business community know that finding signage manufactured to have the least impact on the environment is a snap at SignBoss LLC. Committed to community support in Gillette, WY, our company is a visible presence on social media. Perhaps one of the biggest assets we have identified is the way that local businesses support one another as well as youth groups and non-profit organizations. Folks here have a standard of giving back to the community that is without equal.
Building and Maintaining Lasting Relationships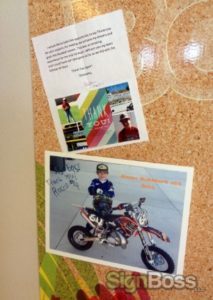 Doing business is not just about selling a product or service, but about building professional relationships with consumers, other businesses, and the community. We take this mission seriously. In fact, we have created a display for our office that highlights some of the community involvement projects we have tackled. Entitling it, "What we do for our Community" and featuring the Robert Ingersoll quote, "We rise by lifting others," the board inspires us to look for new ways to get involved.
If you have not yet found a way to display photos and cards you have received from grateful non-profits and youngsters who appreciated your sponsorships, donations, or volunteerism, we can help. Not only do these presentation boards show the kids you helped how much you value their letters and cards, but it is an excellent way to strive for ways to get more involved and find new avenues of being a thoughtful (and helpful) corporate citizen.
Promoting Our Business to Promote Your Company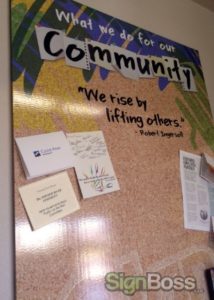 When you do a lot for your community, the organizations you got involved with frequently show their appreciation. Does a display board featuring letters, thank you notes, and photos promote your company? You bet! When talking to the Wyoming Business Report, one of the quotes used was, "We're not only promoting ourselves, but also our customers." This philosophy is an important aspect of the way we do business. It is noteworthy that this view also includes the non-profits we work with.
It can also be an approach that you adopt when you show off the organizations you have partnered with. Your customers will step closer to learn more about them. This is a great opportunity to talk about the group, its goals, the folks who are involved with it, and the needs that this organization has. In many cases, your endorsement of a local charity may be what a customer needs to get involved with the non-profit as well. Our display board is an excellent springboard for conversations of this kind.
Just another Perk of Doing Business with the Best Commercial Sign Company in Gillette WY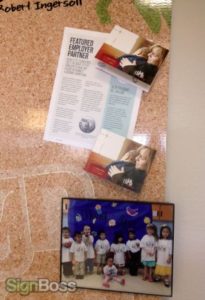 Contact our graphic artists to discuss your next signage need. We work with you to put together a design that highlights your brand, showcases your products or services, and ensures that it appeals to your targeted demographic. When you want to highlight your community involvement, we help you to think through a presentation mode that inspires, encourages, and hopefully spurs on other to get involved with your favorite non-profit organizations, too. Contact us today to schedule your design consultation.