Nonprofits and charities rely heavily on the contributions of donors. In return, these benefactors usually expect to receive some sort of recognition for their donations. This can be difficult when you are working with a shoestring budget. Sheridan Ice Rink was looking for an affordable way to recognize their donors when they contacted SignBoss for sponsorship signs in Sheridan WY. We didn't disappoint.
What Is Sheridan Ice Rink?
Located on East Brundage Street, Sheridan Ice Rink is officially known as the M&M's Center. This facility has been serving the area for more than thirteen years with a humble outdoor rink. Over that time, Sheridan has grown to have quite the vibrant skating community. Only recently were they able to build the new indoor Whitney Rink. The rink is home to hockey, figure skating, and free skates.
When such an important part of the local community came to us for sponsorship signs in Sheridan WY, we were honored to be asked to help out. The M&M's Center was entering its second season, and they wanted their sponsor recognition to be top notch. Fortunately, we had some brilliant ideas.
What We Did for the Ice Rink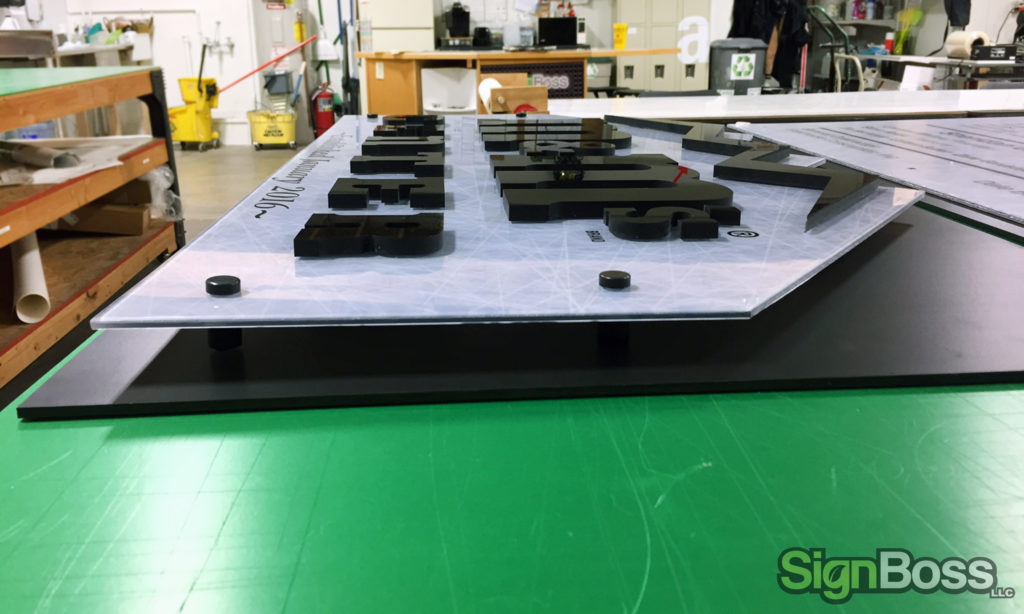 After meeting with the client and discussing what they had in mind for the project, we recommended unique, custom sign panels. We then provided the ice rink with art proofs of what the finished markers would look like. Once they approved, we got down to work fabricating them. Here is a rundown of what we did:
Thank You Plaques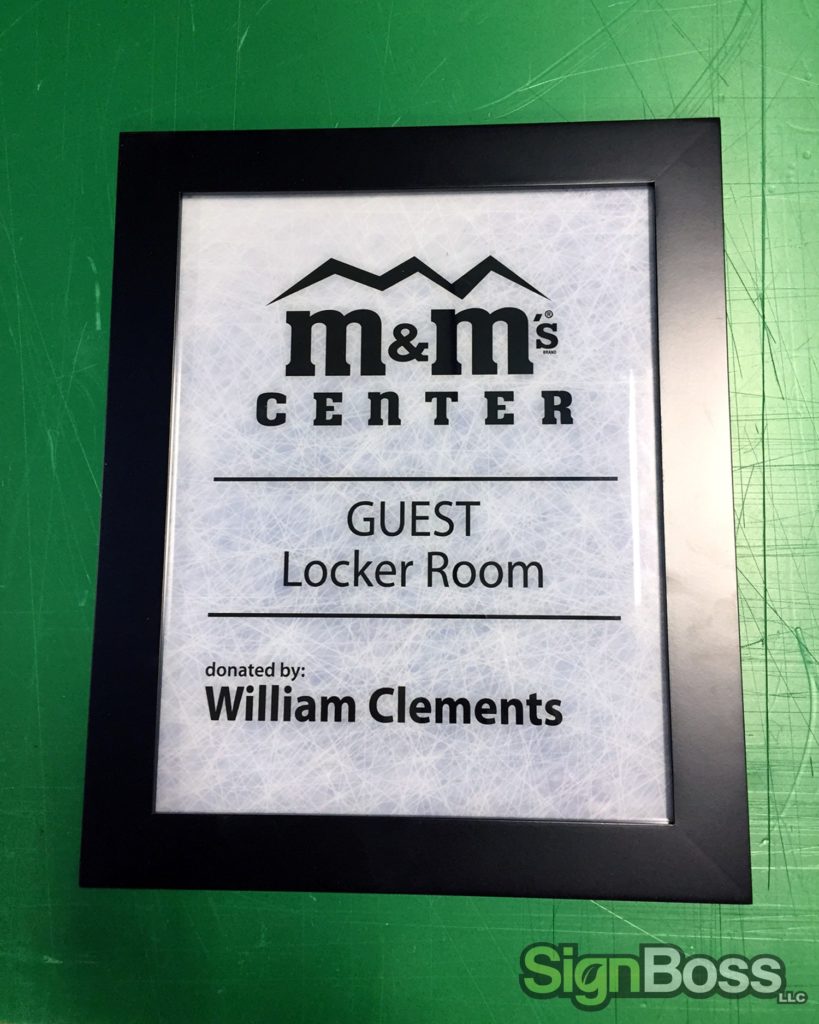 For the personal thank you plaques, we used very thin Lexan plastic, which would be kept inside of black frames. The plaques could be hung or stood up. The background for the plaques, as well as the other signs, is designed to look like the donor is getting a piece of ice from the rink.
Sponsor Boards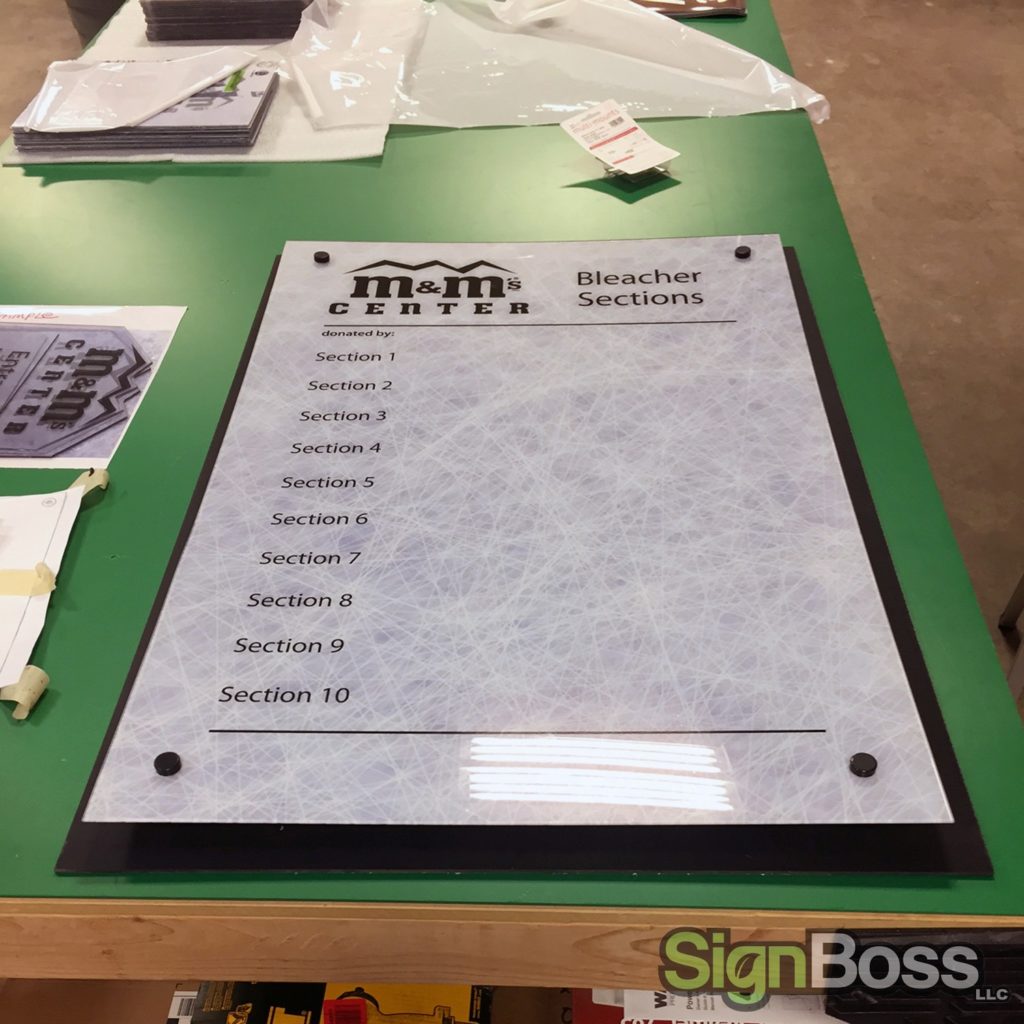 For each of the signs, we used three-dimensional layering with standoffs along with the clean, finished look of reverse printing on the back side of the clear substrate. Unlike the plaques, the sponsor boards were installed on location. If a sponsor donated to build a bleacher section, the panel with their name was mounted there. This was also the case for locker rooms. The graphics were applied to one-eighth-inch Lexan and standoff-mounted above a black PVC backing.
The Donor Board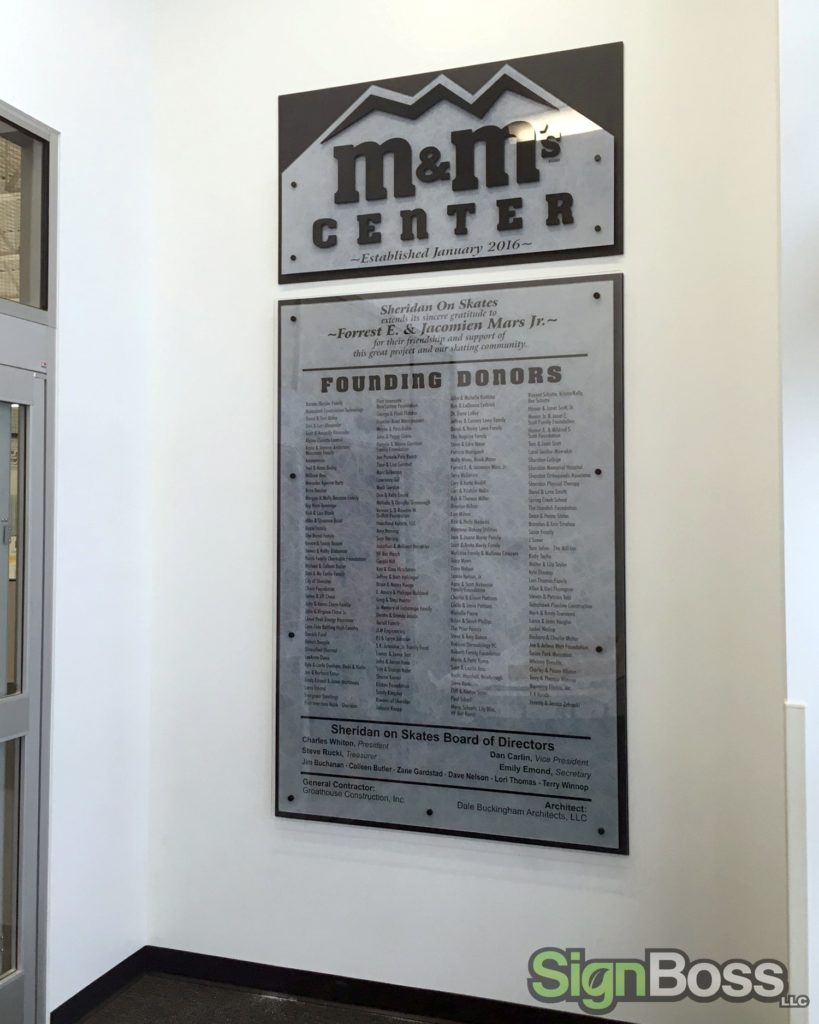 Between the two pieces, the Donor Board was 8' by 4'. We used quarter-inch Lexan for strength and a black PVC backing. The M&M's logo was rendered using acrylic 3D lettering. The Lexan was filed to a smooth rounded edge then fired with a torch for a brilliant, flashy finish.
In the end, the client was ecstatic with the job we did. Now, their benefactors are receiving proper recognition, which makes it easier to find more donors in the future.
Let Us Help You
SignBoss specializes in sponsorship sign design, manufacturing, installation, and maintenance for the Caspar, Douglas, Gillette, Buffalo, and Sheridan, Wyoming communities. We are a favorite because
We are locally owned and operated
We deliver to where you are
We have 3M Certified Installers
We have a public showroom
We have a team of friendly and creative experts
And many more reasons
For a free consultation on custom signs, contact us today!