When it comes to local events, local advertising is incredibly important. Getting your message out to the entire state might not make much sense. But maybe getting the word out to the entire county or city is exactly what you need to do. In that case, there are some awesome solutions to getting the word out locally. Recently our team at SignBoss did some outdoor sandwich board signs for a yearly local event in Gillette, Wyoming. Sandwich boards are a great way to get your message to a local audience.
What is Local Color's Art Gala?
Every year, the partners of the group, Local Color, hold an art gala that showcases the work of local artists in Gillette. This annual event is held in a newly built home that hasn't been sold yet. This year, from May 5 to May 9, over 25 local artists decorated the walls of this new home with hundreds of pieces. Featuring pottery, sculpture, furniture, paintings, stained glass and mosaics, the show was an awesome display of the skill of artists in our area. There was even a gift shop where guests could buy prints and keepsakes. Those attending the gala were even encouraged to dress in 1920's attire.
What We Did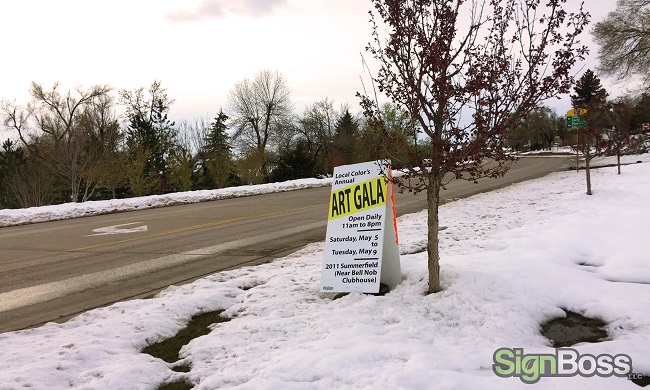 Local Color wanted to get the word out that their annual gala was just around the corner. They gave us a call and we discussed their options. Because of the local nature of this event, it was best to keep the signage for this event local. One of the best ways to get attention in your area is with simple A-frame sandwich boards.
Sandwich boards can be as minimal or fancy as you'd like. The signs for Local Color were fairly simple but had some attention-grabbing qualities. Using high-contrast colors for the lettering and background of the sign meant that they were highly visible. And the size of the lettering meant they were suitable for roadside signage that people could read as they drove by. We wound up making over two-dozen of these signs that went all over Gillette.
Local Advertising by SignBoss
If you need signage for a local business or event, Sign Boss can provide a solution that suits your needs and your budget. There are other options aside from sandwich boards, but you really can't go wrong with those simple A-frames. If you're interested in sandwich boards or any other type of outdoor signs for local advertisements, contact us today and we'll make sure you get awesome signage.