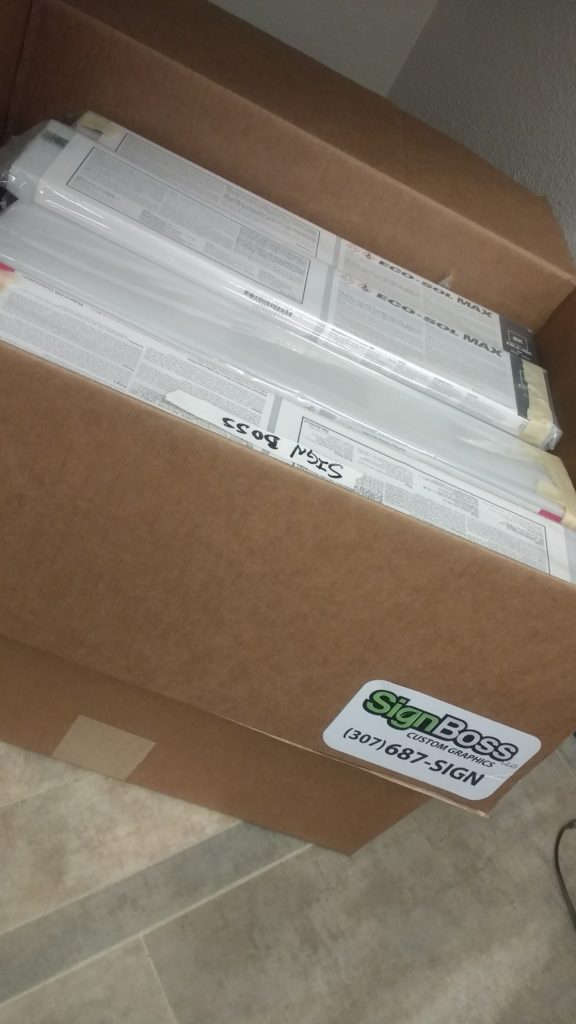 There's only been one curbside recycling program up until the late 90's, according to the facts provided by the Environmental Protection Agency, EPA. 9000 curbside programs and 12,000 recyclable drop-off centers emerged across the U.S. by 1998.  The recycling of specific materials started growing drastically.
Today, the Americans recycle 28% of their waste, a rate that has almost doubled over the past 15 years.
Although the statistics are much better than 30 years ago, the problem of environmental pollution is still present.
Here's how we deal with the problem here at Sign Boss – we collect empty ink cartridges and send them back to our supplier that has a cartridge recycle program.
Empty Ink Cartridges
Each year, up to 350 million empty inkjet cartridges are sent to landfills. Each empty cartridge equals 3.5 pounds of solid waste. The plastics used in these cartridges need 90ml of oil to produce and can take up to 1000 years or more to decompose.
If it takes so long for one ink or toner cartridge to decompose inside a landfill, doesn't it make sense to recycle them responsibly?
The next big question is: Where to put them?
There are many companies out there devoted to recycling cartridges and providing all kinds of recycling services. They collect empty cartridges and empty toners from individuals, companies, universities, schools and even government departments. These cartridges are then reused or recycled. Some companies also provide a free shipping label.
Cartridge Recycle Program
The cartridge supplier for Sign Boss is Roland DG, the world's number one provider of wide-format inkjet printers. Being aware of their responsibility, they've found a way to lower the negative impact on the environment. They have structured their own Cartridge Recycle Program in partnership with Close the Loop , Australia's largest recycling and resource recovery company for imaging consumables.
As a Roland customer, you can drop your empty Roland ink cartridges to your Authorized Dealer, or you can ask that a Dealer Sales Representative picks the cartridges up on their next visit. The empty cartridges are then packaged up and sent to Close the Loop for processing.
We filled a whole box with our ink cartridges from our Roland printer, and sent them back to the supplier for recycling!
Every gesture counts. Turn in your empty inkjet cartridges for recycling, and encourage others to do the same. Let's keep those plastics out of the landfills.