SignBoss is Gillette's one-stop-shop for building signage. Cases in point are the halo-lit channel letters and logo box sign in Gillette, WY, that we recently did for Rayne Gardens. This company is a year-round garden center that impresses with its fantastic selection of plants and flowers. When the business needed excellent building signage that would act as a beacon and encapsulate the venue's brand message, the management team contacted our sign shop for assistance.
Achieving Corporate Branding with Exterior Lighted Signs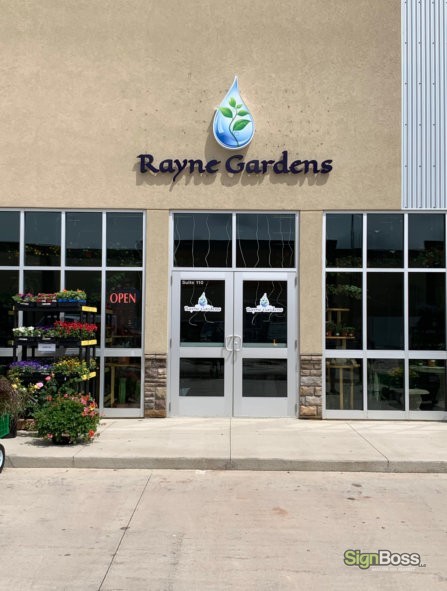 Referred to our sign shop by Oasis Tans, Rayne Gardens was in the process of opening its business. The one thing that was missing was a brand-centric building sign that would impress with both design and pizzazz. We suggested the use of halo-lit channel letters, which are famous for the elegant presentations they provide.
For the logo portion of the corporate persona, our technicians would design, fabricate, and install a cabinet sign. Combining these two different lit signage products would be a snap due to the placement of the logo portion as the presentation header. To achieve the halo effect that bathes each of the letters in illumination, our installers mounted the style elements with carefully spaced standoffs.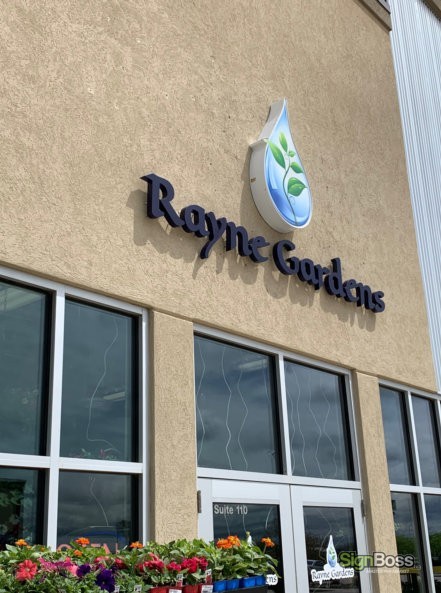 Moreover, our team designed, fabricated, and installed vinyl window graphics for the door glass. These repeat the brand message that the building sign sends. In this way, the branding displays at eye level as well as at the building level. Doing so is instrumental in attracting foot traffic as well as motorists. Now, the prospective customer cannot help but take in Rayne Gardens' brand message and respond to it.
Taking Advantage of a Signage Combination that Works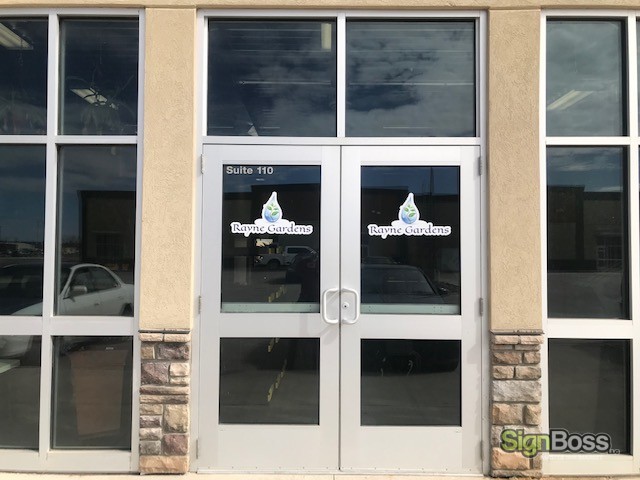 The combination of the lightbox cabinet and channel letter setup is not new. That said, it is one of the most effective methods for displaying a brand message currently available. For starters, it creates a signage one-two punch that makes the consumer look.
Secondly, it focuses the attention on all the attributes of your brand message. These include your font, color combinations, and spacing. Because our team can use this signage setup to succinctly communicate to the customer what your company's message is, the majority of business owners favor this setup.
By the way, the addition of vinyl window graphics is invaluable. It creates a dual-brand display, which assists with the development of brand awareness and recognition. Could you take it a step further? Sure! Many business clients have had excellent success with vinyl vehicle graphics and perforated window images. They echo the brand message of your storefront or office but take it on the road.
Buy Halo-Lit Channel Letters and a Logo Box Sign in Gillette, WY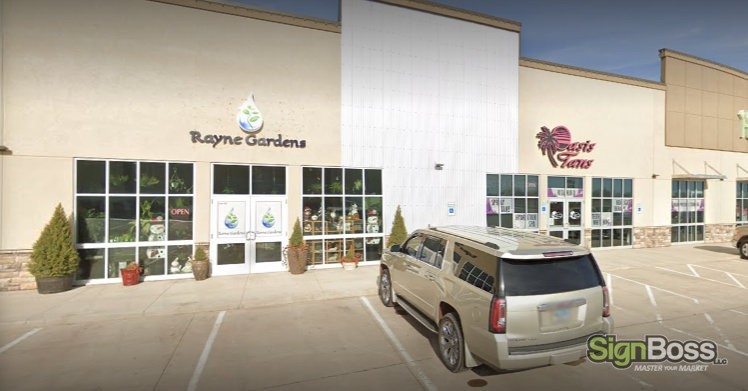 Take a page from the playbook of Rayne Gardens, and develop a distinctive brand presence with your building signage. The specialists at SignBoss routinely work with members of the Gillette business community to develop a signage presentation that gets attention.
Besides Gillette, SignBoss serves the business communities in and around Casper, Buffalo, Sheridan, and other areas of Wyoming. Contact us today to discuss your next signage project!
Feel free to contact us by phone: 307-687-SIGN (7446), or via email us: sales@signbossonline.com