Wall murals are becoming an increasingly popular product for organizations that want to update their look. It used to be that you would use boring, mass-produced artwork for your walls or pay thousands of dollars to bring in a painter. Today, you can showcase images relevant to your industry using sharp, colorful wall graphics. Prairie Wind Elementary wanted to instill school spirit, so they contacted SignBoss for wall murals for elementary schools in Gillette WY.
What Is Prairie Wind Elementary?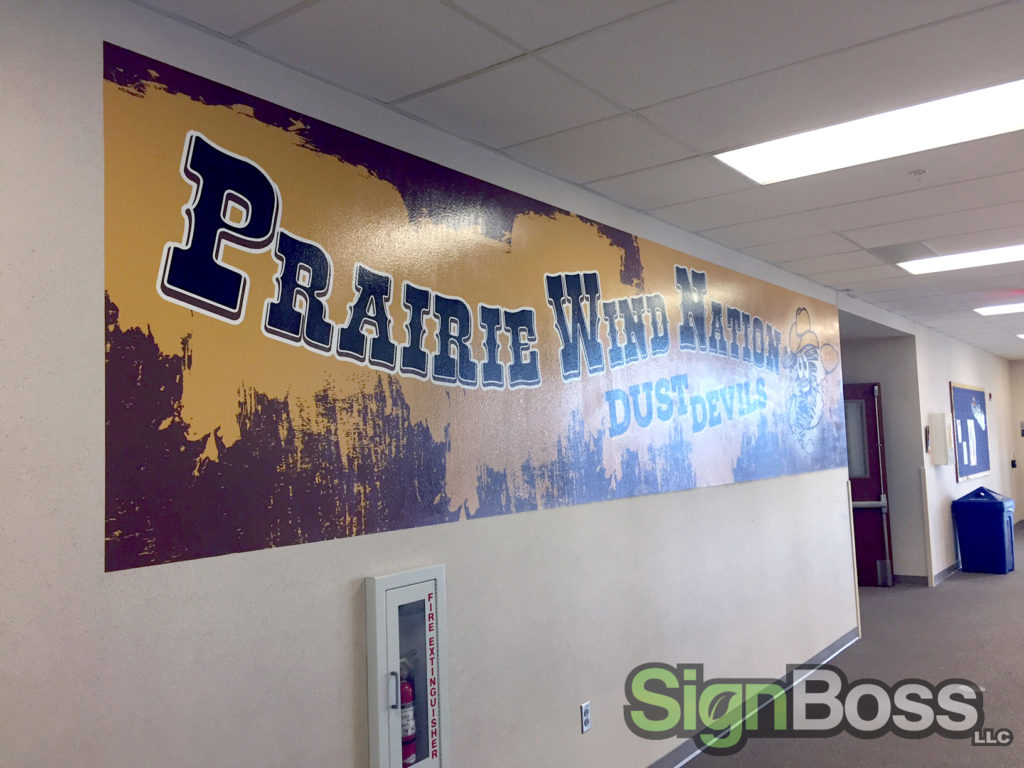 Located on Overdale Drive in Gillette, Prairie Wind Elementary is a Campbell County School District (CCSD) school serving grades Kindergarten through Sixth. The school offers the usual course work in language arts, math, science, typing, technology, and social studies. Additionally, there are band and orchestra classes, a full library, and more. Parents throughout the community are proud to have their children attend Prairie Wind.
When an organization that is so important to developing the minds of our nation's future leaders came to us for wall murals for elementary schools in Gillette, WY, we were thrilled to help out. We have completed projects for several schools in the CCSD, including these wall graphics for Sage Valley Junior High, and word has gotten around that we know our stuff. We did not disappoint.
What We Did for Prairie Wind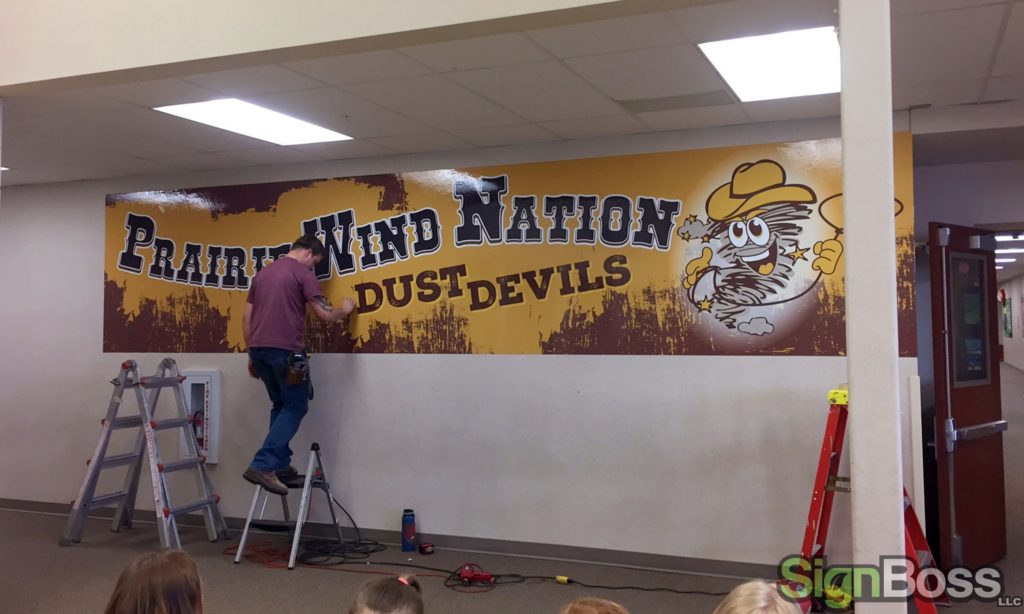 Our first step in the mural making process was to meet with Prairie Wind and find out what they had in mind for their project. They wanted a mural for their common area featuring the school mascot, the Dust Devil. Based on their vision and budget, we came up with designs that would fit their needs. Once they approved the art proofs, we got down to work.
Since the place where they wanted the mural installed was drywall and featured a textured paint, we knew application would be a little challenging. Fortunately, we had the right vinyl for the job: 3M's IJ480. This material is incredibly pliable for things such as vehicle wraps. Plus, it is eco-friendly to match our green vision.
Once the graphics were printed, we scheduled a time to install them that was convenient for the school. We even had a little fan club watching us while we worked. In the end, Prairie Wind was completely satisfied with the work we did. Now, the students can be reminded of school pride while eating and traveling from one end of the building to the other.
SignBoss Is Your Top Shop for Wall Murals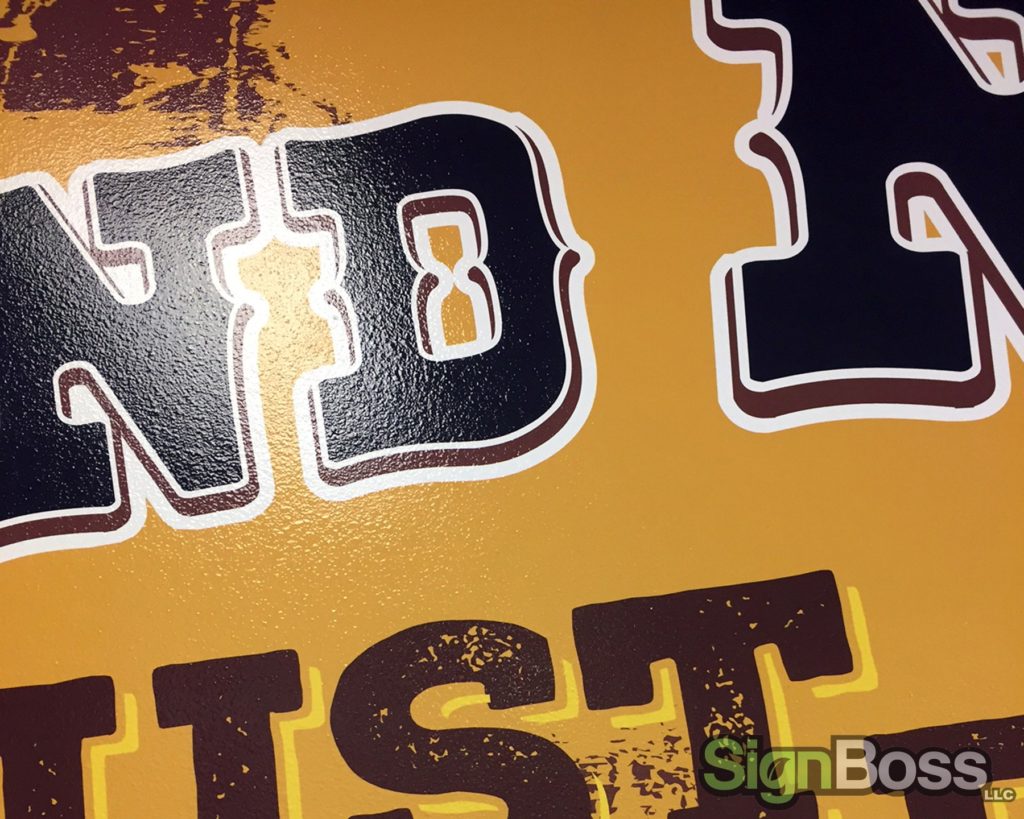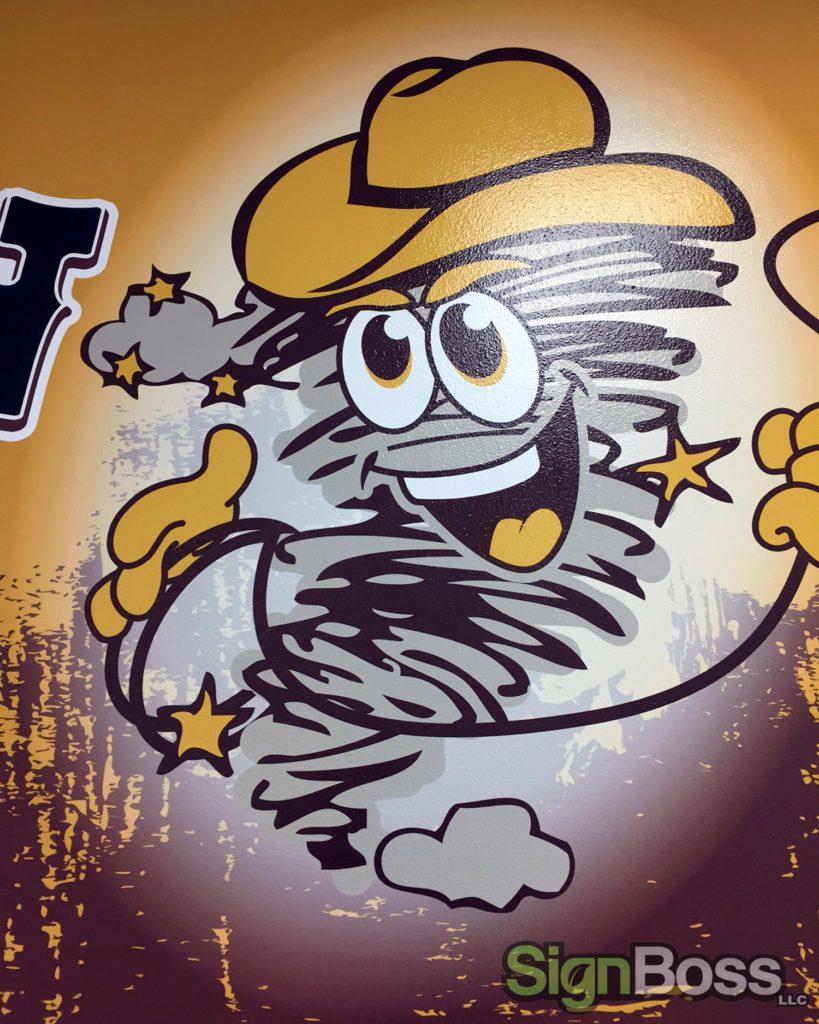 From design and printing to installation and repairs, SignBoss takes care of every step of the wall mural-making process. From our shop in Gillette, we serve the communities of Douglas, Sheridan, Caspar, Buffalo, and the rest of Wyoming. We are an area favorite because
We deliver to your location
Our staff is made up of friendly and creative experts
We are locally owned and operated
Our signage showroom is open to the public
We have 3M Certified Installers
And numerous other reasons
For a free estimate on wall murals, contact us today!