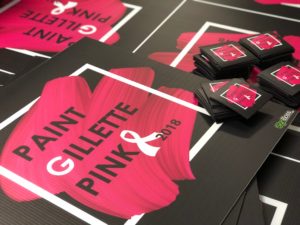 As you may know, October is breast cancer awareness month. And you may have noticed pink popping up all over the place along with the Halloween decorations. That's because people use the color pink to show their support of those who are currently fighting or have fought breast cancer. At Sign Boss we were lucky enough to work with a great group spreading breast cancer awareness. They're called Paint Gillette Pink and they're a really great organization.
The Client
Paint Gillette Pink is part of the Campbell County Health Foundation. They work hard to raise money to help support members of our community battling cancer. They have raised over $100,000 since their inception in 2013 and continue to raise money and awareness to fight cancer. During the month of October, Paint Gillette Pink sells yard signs, window decals, and vehicle magnets to raise money. We were lucky enough to work with them last year and they came to us again to make these items for them.
The Products
The great thing about these small items is that they're inexpensive but show your support for the cause. And you're not just buying something for your lawn or car, you're contributing to a great cause and helping people. So, we were happy to take the Paint Gillette Pink graphics and print them for the client. This is a very large community event, and a lot to undertake. But Paint Gillette Pink was up to the challenge and we were happy to be right there with them.
When we delivered the products to the client they were immensely pleased with the way the window decals turned out. These decals can easily be applied to car windows and are a great option for events like this.
Contact
If you're interested in contributing to Paint Gillette Pink, check out their Facebook page. You can get in touch with them there or check out the dates for their latest events.
We were immensely happy that this client was pleased, and we were able to help such an awesome cause.
If you're interested in signage for an event, please contact our team today!