Located in Suite 120 at 2201 South Douglas Highway, the Black Hills Orthopedic & Spine Center of Wyoming assists patients with muscle, joint, and bone care needs. Physicians leverage their expertise to include sports medicine applications, physical therapy, radiology services, and workers' compensation treatments. When this clinic set up its newest branch, the management team contacted our sign shop to assist with an exterior signage suite in Gillette, WY.
Branding and Wayfinding with Exterior Lighted Signs That Get Attention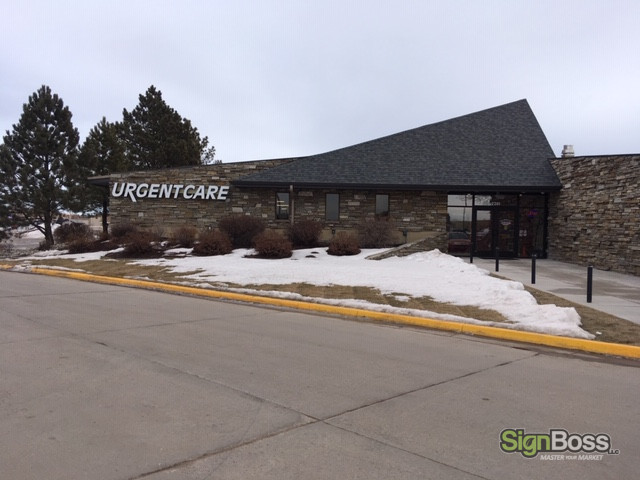 Gillette is the clinic's main office. Therefore, it had to feature a flagship-level exterior signage setup that would be a decisive representation of the brand. Our team went to work and designed, fabricated and installed a signage suite that perfectly encapsulates the clinic's brand and assists with wayfinding in the process.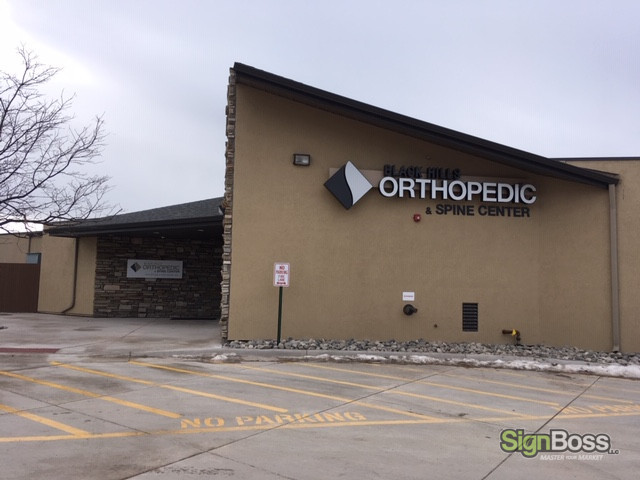 LED lighted raceway with channel letters. The channel letters are a perfect rendition of the corporate persona, including a black and white logo. Due to the proposed placement of the style elements, our technicians used a raceway design to contain the illumination and all the hardware involved. Moreover, we created a rendition of the font variations with dimensional letters. A second sign on a different wall alerts the patient to the entrance of the urgent care center.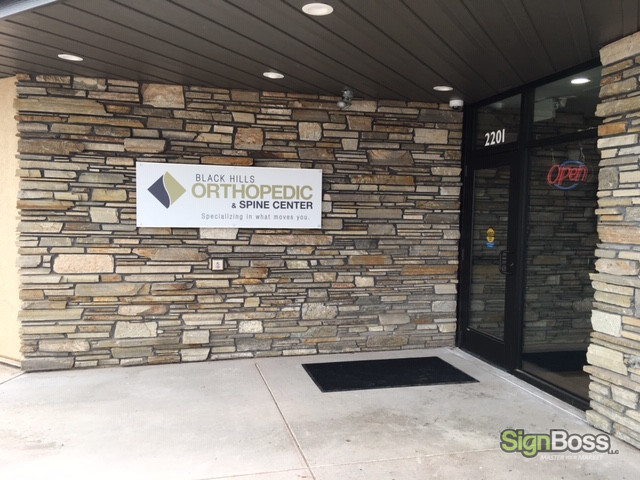 Dibond flatbed printed entrance sign. The Dibond entrance sign was made using our flatbed printer. Flatbed printers are exceptional as they can print to almost any surface without laminating the product. This sign matches the cabinet sign on the monument pole sign below.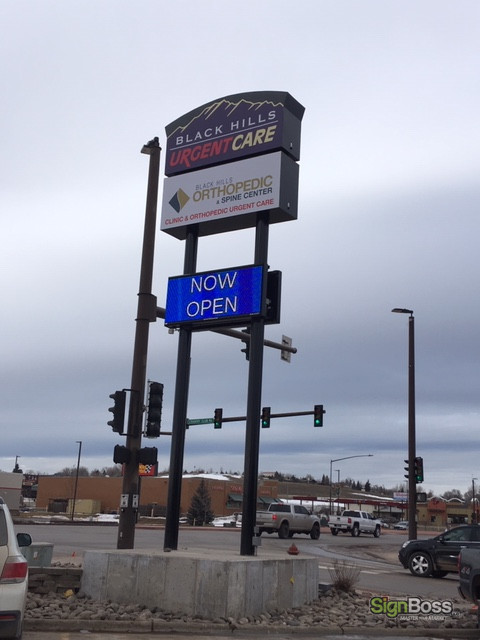 Monument pole sign with cabinet display. The monument pole sign is illuminated and features a cabinet sign that matches the Dibond entrance sign.
Buying a Signage Suite is Common
It is not unusual for business owners to commission all of their exterior signage products simultaneously. The goal of any incoming company is to make a bit of a splash. Moreover, the business needs to be easy to find and make the creation of brand awareness easy for everyone walking or driving past the location.
Business owners realize that it is a lot easier to achieve this goal when they feature multiple signage products at the same site. Take a page from the playbook of the Black Hills Orthopedic & Spine Center of Wyoming, and choose a combination of outdoor signs that focus on the building itself as well as the parking lot entrance.
That said, you have other options as well. For example, consider the design of window graphics that provide privacy to the patient entering a clinic. Other companies like these products because they allow for a targeted repetition of brand elements as well as products.
Business clients have had excellent success with installing flutter flags and vinyl banners that signal the availability of services. Find out more about the best choices for your exterior signage suite in Gillette, WY, by connecting with our sign shop today.