If you do not display your branding on your trailers as your travel the local highways, you are missing out on a huge opportunity to boost your sales. With trailer graphics, you build brand consistency and memorability. O'Leary Home Repair wanted to get their name out there, so they contacted SignBoss for trailer graphics for contractors in Gillette WY.
What Is O'Leary Home Repair?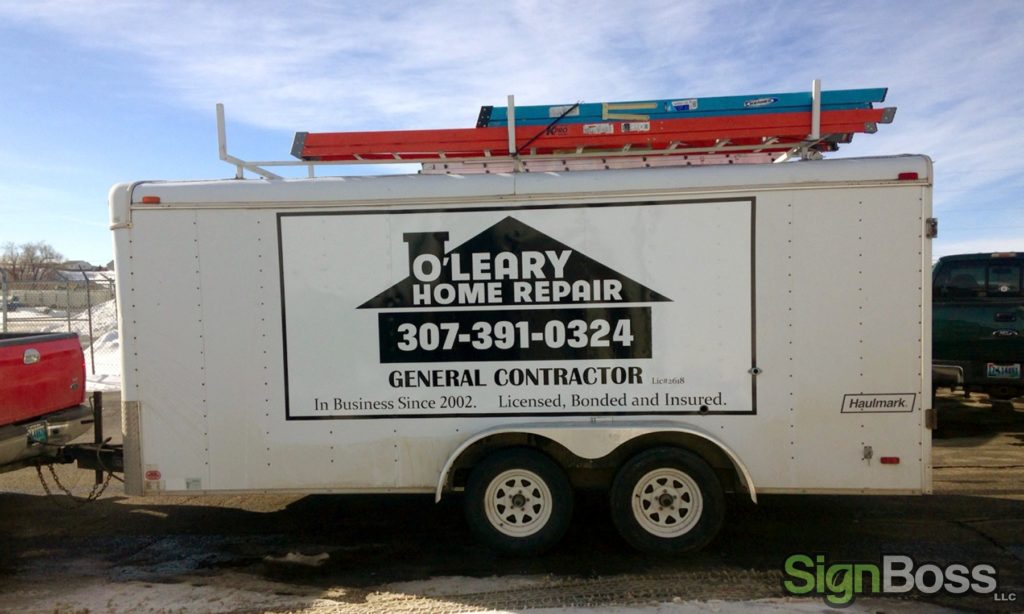 Headquartered on Town Center Drive in Gillette, O'Leary Home Repair is a licensed, bonded, and insured general contracting business that has been serving the area for fifteen years. They are part of a larger collection of faith-based family businesses that include Home Systems, operated by Shane Leary and specializing in home audio and video systems. O'Leary Home Repair offers a broad range of services throughout the Gillette, WY area.
When a business that does so much to help local homeowners came to us for contractor trailer graphics in Gillette WY, we were thrilled to be of assistance. They had purchased a cheap, used enclosed trailer when there was a downturn in the economy. The previous owner had not taken care of the cut vinyl on the trailer, so over time, the lettering essentially melted and became one with the trailer. The new owner had to grind the lettering off (a service we also provide) and ended up with a scratched, gray-spotted, roughed-up nightmare. Fortunately, we had the creative solutions O'Leary needed!
What We Did for O'Leary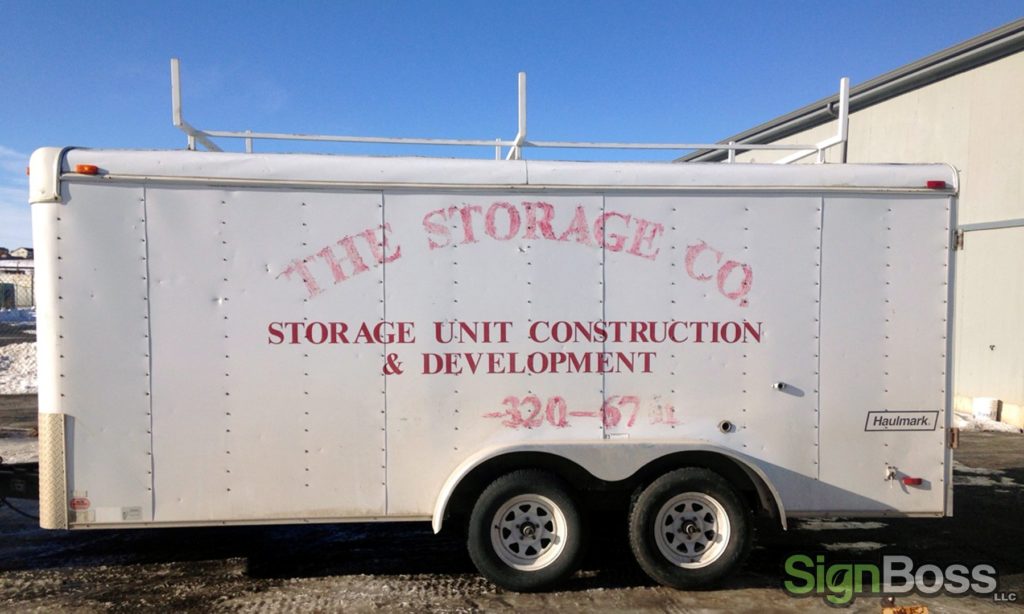 Our first step in the trailer graphic process was to meet with the client to get a good look at their trailer and discuss what they had in mind for their project. They basically just wanted to display their logo and contact information while covering up the gray patches. We provided them with art proofs, and once they approved, we got down to work.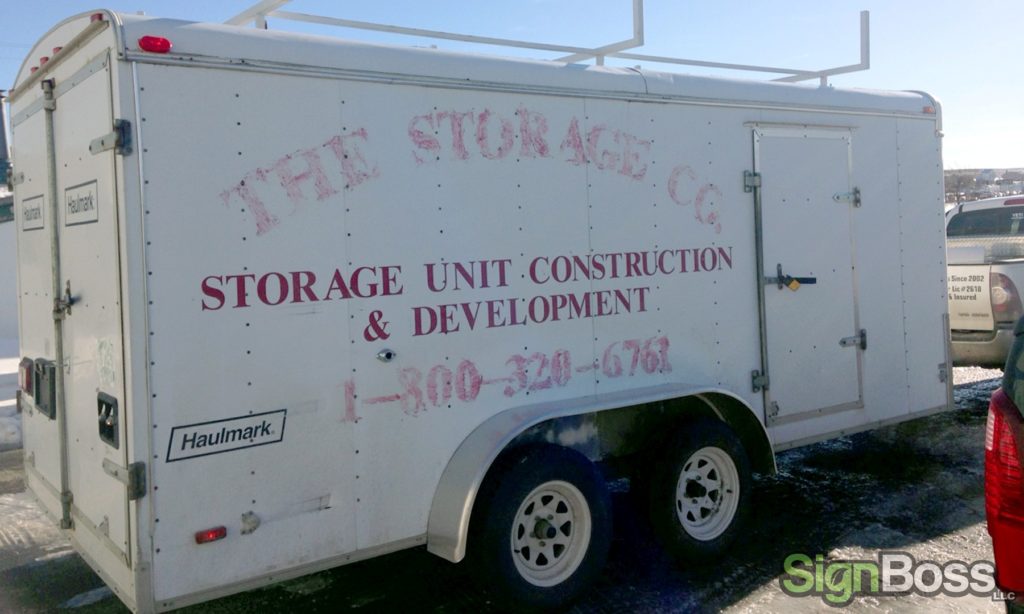 Their logo is two colors and geometric, so we printed it out on top quality vinyl using our state of the art digital printer. We also added a simple border to embolden the logo. We sized and color matched the logo precisely, and it looks exactly how they wanted it to appear. Once the graphics were ready, we scheduled a time to install them when O'Leary could be without their trailer for a few hours. In the end, they were ecstatic about the job we did. Now, as they travel throughout their service area, they will boost their brand awareness and attract new clients.
Use Trailer Graphics to Brand Your Fleet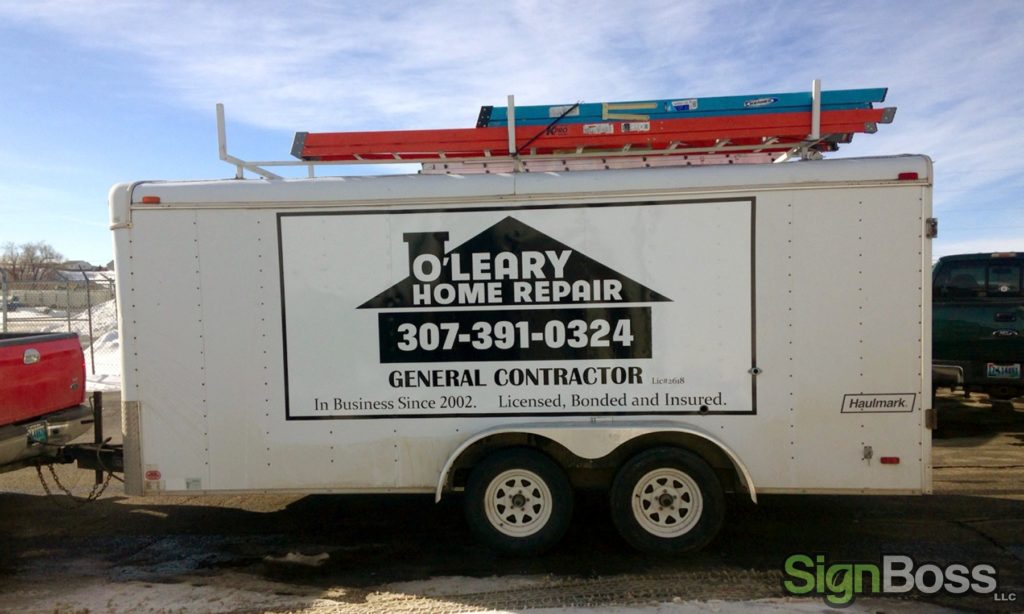 SignBoss is here to cover your trailers with graphics. We design, fabricate, and install trailer graphics for businesses in Douglas, Sheridan, Buffalo, Caspar, and Gillette, Wyoming. We are the first place organizations call because
We deliver to your location
Our team of sign professionals is creative and friendly
Our public showroom demonstrates what we are capable of
We are owned and operated locally
We have 3M certified installers
And the list goes on!
Contact us today for a free consultation and quote on trailer graphics for your fleet.