Located at 1414 West 2nd Street, Sherpa Indian Kitchen is the local go-to for authentic Nepalese and Indian food. Examples include papad, chicken pakoda, garlic naan, and daal makhani. After opening earlier this year, the restaurant's management team decided to step up the corporate branding. The group contacted SignBoss to discuss the design, fabrication, and installation of a new pylon sign facing in Gillette, WY.
Refurbishing an Existing Pole Sign to Feature Brand-Centric Fronts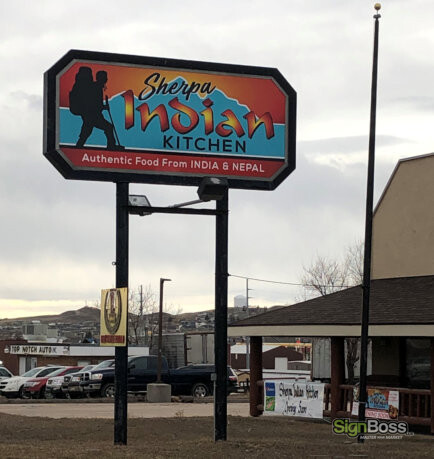 The property already had an existing pole sign from a prior tenant. By choosing to refurbish the sign rather than replace it, the restaurant saves money. Our technicians came out to the site and inspected the pole. We did so to ensure that it was structurally sound and safe.
Since it met the requirements for a refurbishing, we worked on designing the facings. With the focus being on popping colors that would grab the attention of passersby, we imprinted vinyl with a design that is pure eye candy. Using our late model printer, it was possible to feature vibrant colors.
Next, we installed the vinyl to the sign's fronts. Our technicians ensured that the sizing and placement would be perfect for the surface's unique shape. Finally, we took care that the lighting for the sign was angled correctly to illuminate the product after dark.
Targeted Restaurant Signage Makes a Difference for an Eatery's Success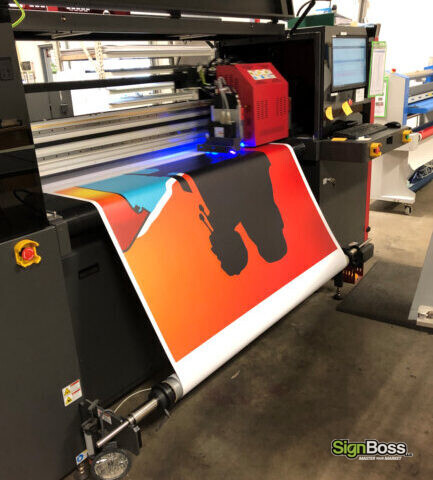 You already know that any business needs signage. These products help would-be customers find the location. Besides that, the sign's overall design assists the consumer in determining the venue's brand message. With a restaurant, in particular, the addition of targeted signage is a crucial step.
Adding a pylon sign to your property could lead to a much more visible presence of your name and brand. Whereas potential guests may have known of your existence in the area, the pylon pinpoints your location and is visible to drivers and pedestrians from a considerable distance away.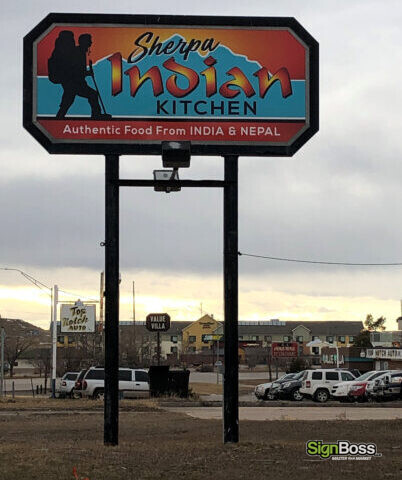 In this way, it is an excellent brand-building tool. That said, SignBoss could also help you with other signage products to support your branding.
Banners. For newcomers to the local business community, banners are excellent additions to their fronts. They announce the arrival of the company, focus the attention on the products inside, and advertise any special offers.
Building sign. A building sign might consist of channel letters, a cloud sign, box cabinets, or dimensional letters. Some restaurants have had excellent success with the use of a panel sign.
Window graphics. Use your street-facing windows for advertising specials. Consider taking high-resolution images of your favorite dishes and featuring them – larger than life – on the glass panes.
How to Get a Pylon Sign Facing in Gillette, WY

If you already have images that you would like us to incorporate into the design, we will gladly work with them. However, if you need assistance designing a new look from the ground up, we can do that. Whether you need a new pylon sign, want to refurbish an existing sign, or need a combination of complementing signage solutions, SignBoss wants to help.
We serve the business communities in and around Gillette, Casper, Buffalo, and Sheridan, WY. Connect with us today to schedule a design consultation!