Whether your branding is simply outdated or you have merged with another enterprise, it is occasionally necessary to rebrand. This is a tricky process that requires close attention to details. Joy Global realized this, so they called in the experts at SignBoss to help with rebranding signs and graphics in Gillette WY.
What Is Joy Global?
Headquartered in Milwaukee, WI, Joy Global is truly a global enterprise with 135 locations in 20 countries. They are a worldwide leader in high-productivity mining solutions. They market and manufacture services and equipment for the mining industry through their industry-leading underground and surface business segments. Their products can be found in industrial, hard rock mineral, and energy mining.
When such an internationally recognized organization came to us for rebranding signs and graphics in Gillette WY, we were more than happy to help out. Joy Global recently purchased P&H and LeTourneau and needed to rebrand the location on LeTourneau Drive in Gillette. Fortunately, they contacted the right sign company or the job.
What We Did for Joy Global
Our first step of the rebranding process was to meet with the client and perform a site survey to see what signs needed to be updated. After listening closely to the client and taking meticulous measurements of all of the markers, we were able to get started on some mockups. Joy Global had a variety of corporate standards that we needed to meet regarding measurements, colors, locations, safety, deadlines, and more. We used this information to create art proofs that the client was happy with. Once they approved of the designs, we got down to work.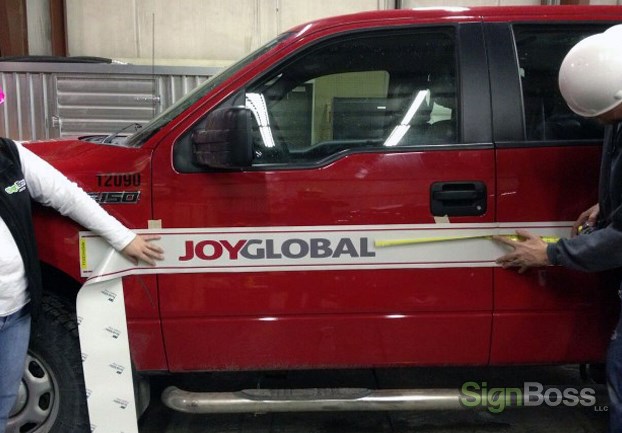 Here is a rundown of the markers we fabricated for Joy Global and a little information about each:
Vehicle Graphics – We created vinyl lettering that precisely matches their corporate colors.
Building Signs – We installed channel letter signs on the front and sides of their venue.
Shipping/Receiving Markers – We used blade signs to clearly mark the shipping and receiving area.
Truck Driver Safety Info – This marker consisted of a panel sign with a combination of cut vinyl lettering and full-color logos.
Lobby Sign – On the focal wall of their lobby, Joy Global is spelled out using acrylic letters.
Conference Room Sign – We used dimensional letters along with prints of some of the client's handiwork.
Pole Sign – This was a fun installation. We installed a large lightbox cabinet on a tall pole using a crane. It provides a striking professional appearance during the day and lights up at night.
Trade Show Display – We even created trade show displays featuring the Joy Global branding and images of their products and services.
In fact, just about the only thing we have not done for Joy Global is create clothing with their new brand! In the end, they were blown away by the quality of our work.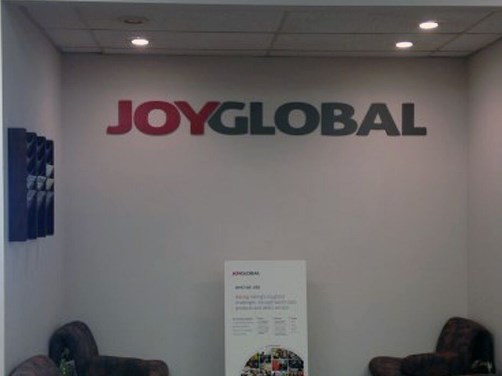 From design and fabrication to installation and repairs, we do it all for businesses in Sheridan, Douglas, Buffalo, Casper, and anywhere else near our shop in Gillette. We provide
A sign showroom for you to check out
A friendly creative team of sign professionals
Locally owned and operated
3M Certified Graphic Installers
Shipping wherever you are
And much more!
For a free consultation, contact SignBoss today!