We've said it before and we'll say it again, your signage is an important part of your advertising, branding, and business. That means you really have to think about what goes into your signs. That includes location and color, but it also includes the type of signage you need. Different types of signs give different signals and have specific purposes. Two sign types that you may want to consider are post and panel signs and monument signs. These signs have very specific qualities that make them unique.
Post and Panel Signs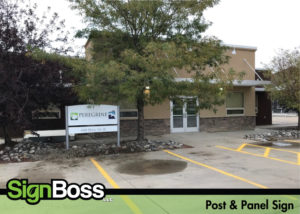 Post and panel signs are an interesting signage type. They can be fairly simple and straightforward, or ornate and meticulously designed. These signs can work for a variety of business types, needs, and in many styles. For example, a construction site may need something sturdier than a banner, but not permanent. A simple post and panel sign can be perfect for this. Easily assembled and installed, they're just as easy to remove, but also can hold up for longer periods than most banners. These signs can also be made to have to classic look for more permanent locations. This makes them great to identify businesses or guide individuals through your parking lot.
Monument Signs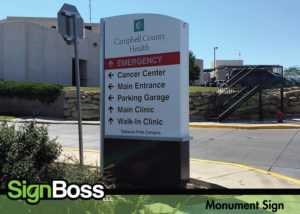 Monument signs, like post and panel signs, can be made to suit your business. These signs are made to be permanent, sturdy, and handsome. Monument signs are a great indicator to the community, your customers, business partners, and staff that you are serious about your location and intend to stay there for a long time. Of course, some monument signs can be made for locations like shopping malls that can be changed as tenants change. Along with their longevity, monument signs often have a much more refined look. They are designed with architectural accuracy and integrity, but with design in mind. Meaning you don't have to sacrifice branding and beauty for a sturdy sign.
Sign Boss
If you're interested in monument signs or post and panel signs, SignBoss can help. We'll help you decide what is best for your business and your location. We can even help you with the design of your sign and the graphics used. So, contact us today to discuss what these sign types can do for your business!