Craftco does business at 680 Airfield Lane. Jeff Garrelts is the company's controller and principal. Craftco has a solid reputation for quality custom machining services that include high-tolerance weldments, turned and water-jet-cut components, and those that need milled features. It is interesting to note that this company also has an excellent online presence. Why would this business need modified camper graphics in Sheridan, WY?
Overland Trailers for Africa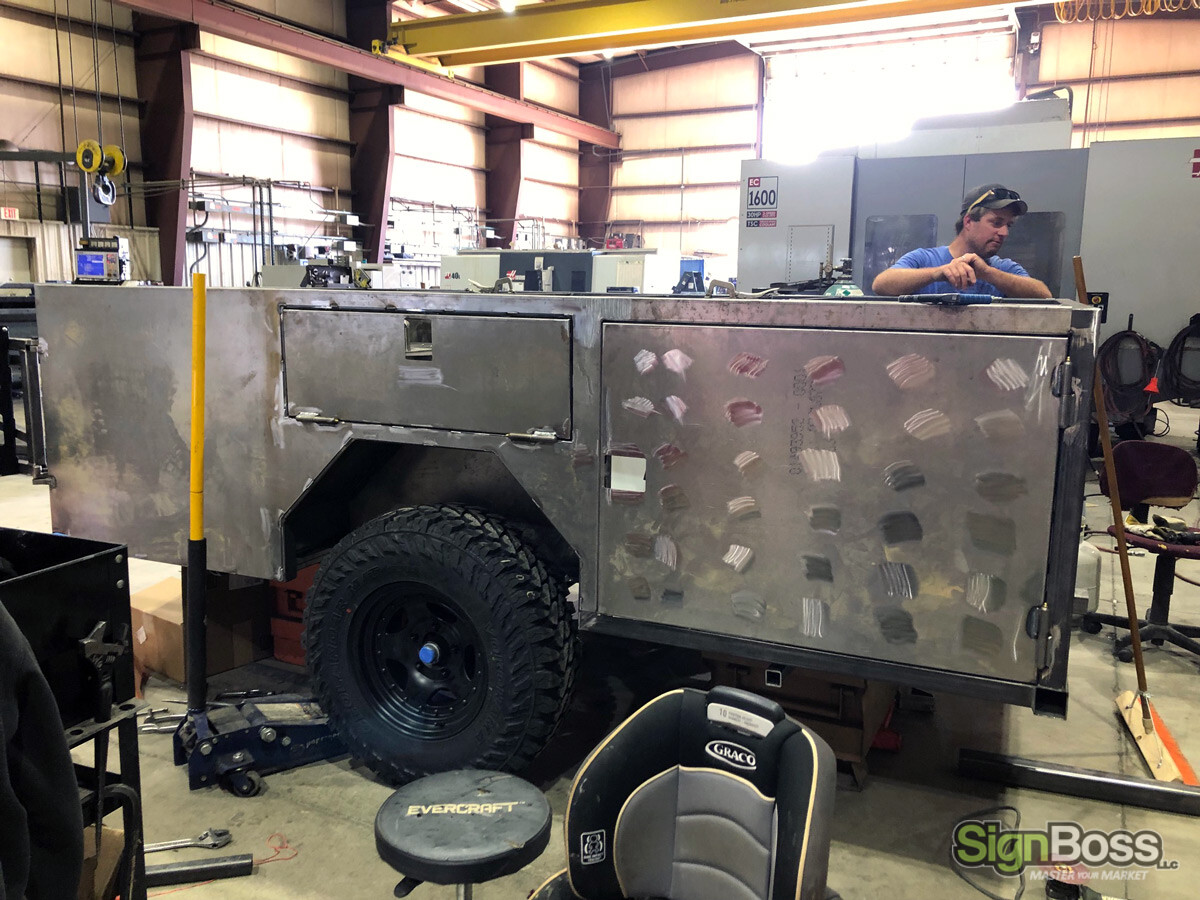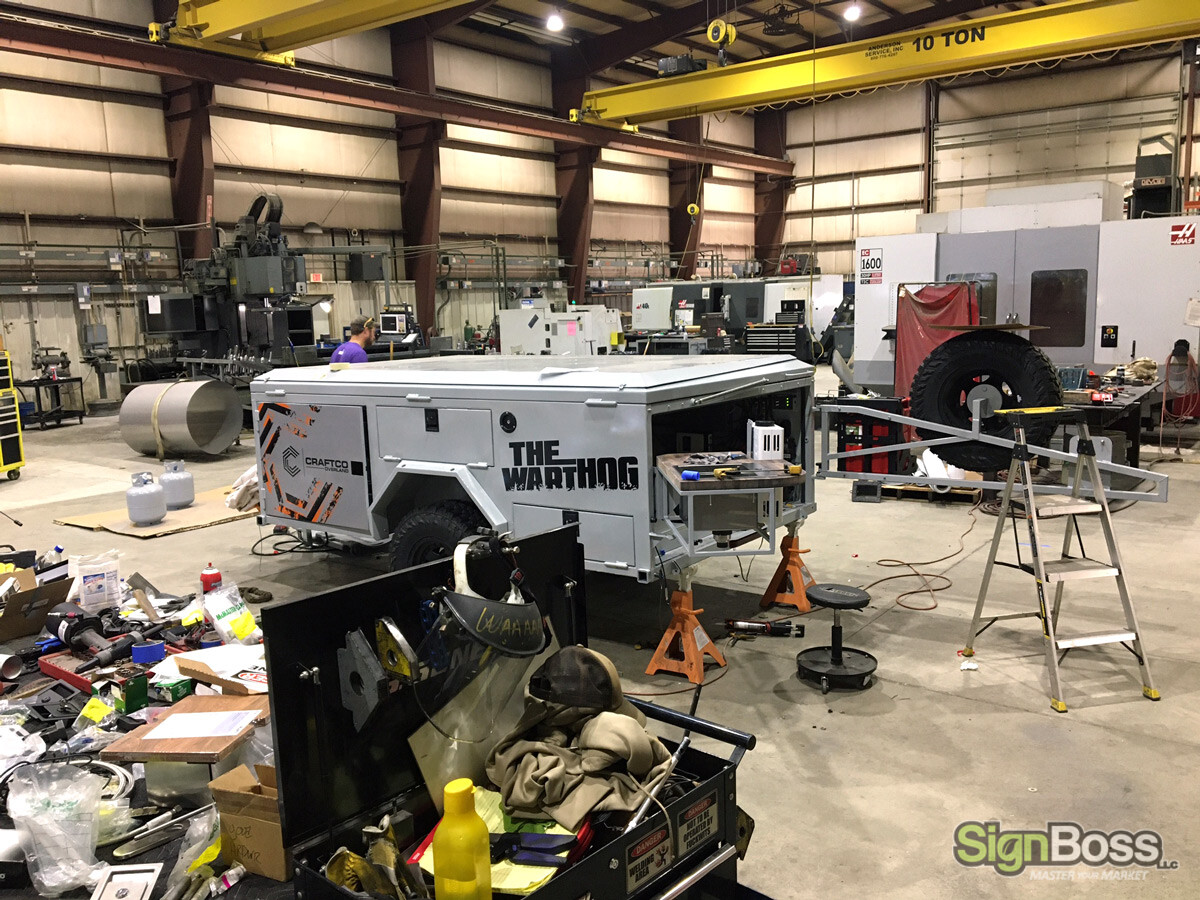 We talked to Jeff earlier this year. He told us that during the pandemic, he saw an opportunity to pivot and meet a need elsewhere. This is when he developed the vision to provide a compact Overlanding trailer for adventurers, tourists, missionaries, and all other types of travelers who might be heading to Africa. He invested in a prototype from the Overland Expo in Loveland, Colorado.
Vehicle Graphics that Highlight Craftco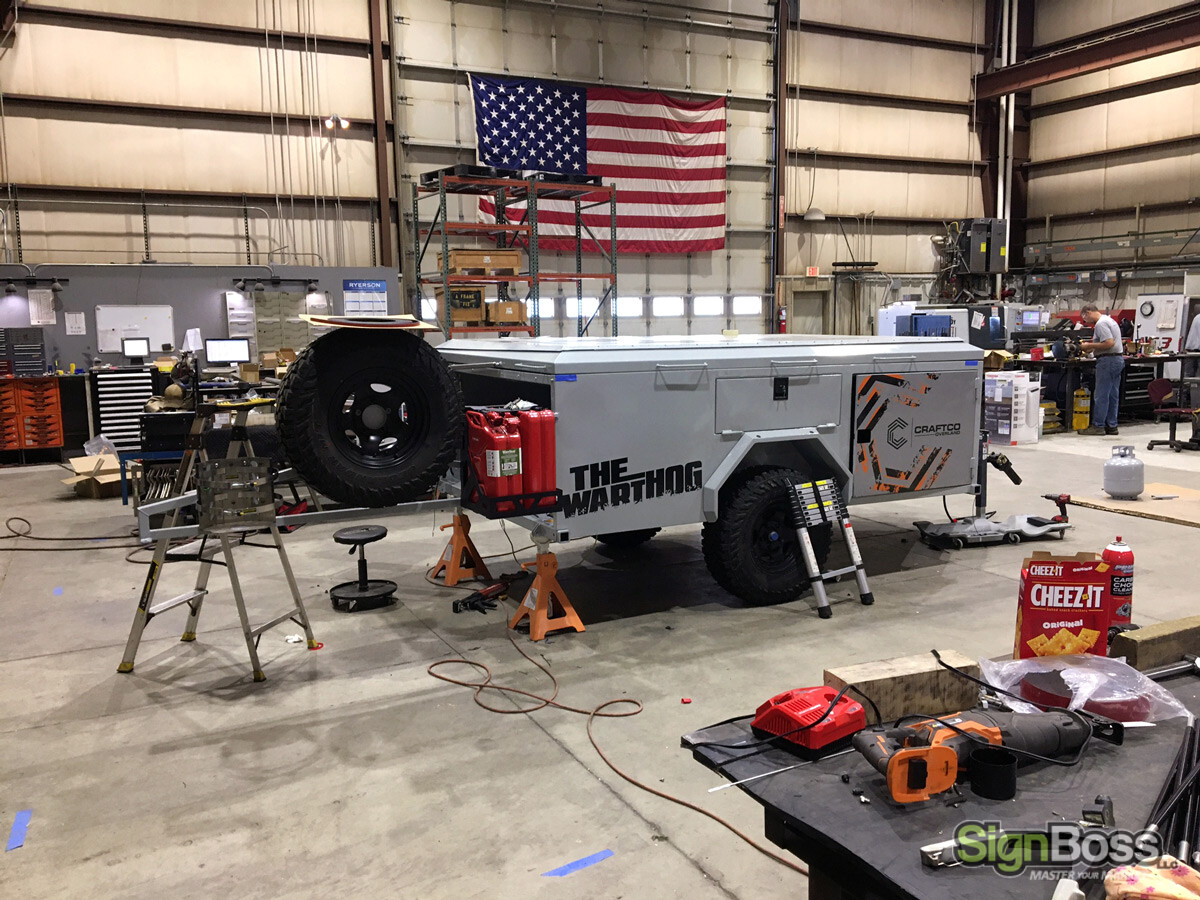 Referring to his trailer as the warthog, it was initially nondescript. SignBoss technicians then went about changing that. We worked with the client's paint vendor to create proper Pantone color matches for our decals. It was an excellent fit, which allowed us to proceed with the next step.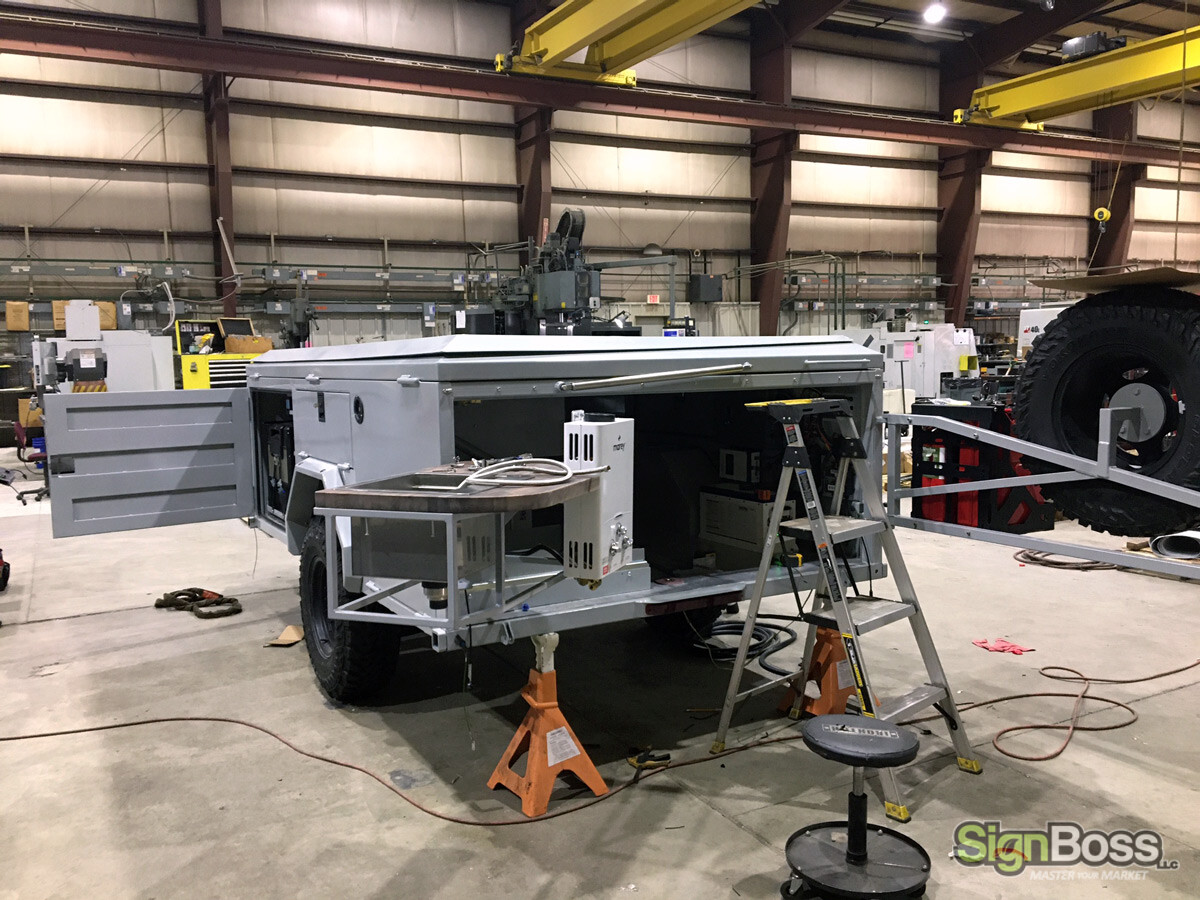 After the paint had cured, our install technician traveled to Sheridan to install and deliver extra decals. The professional installation ensures the ideal placement of the style elements. Having extra decals on hand lets the client give some away at the Expo.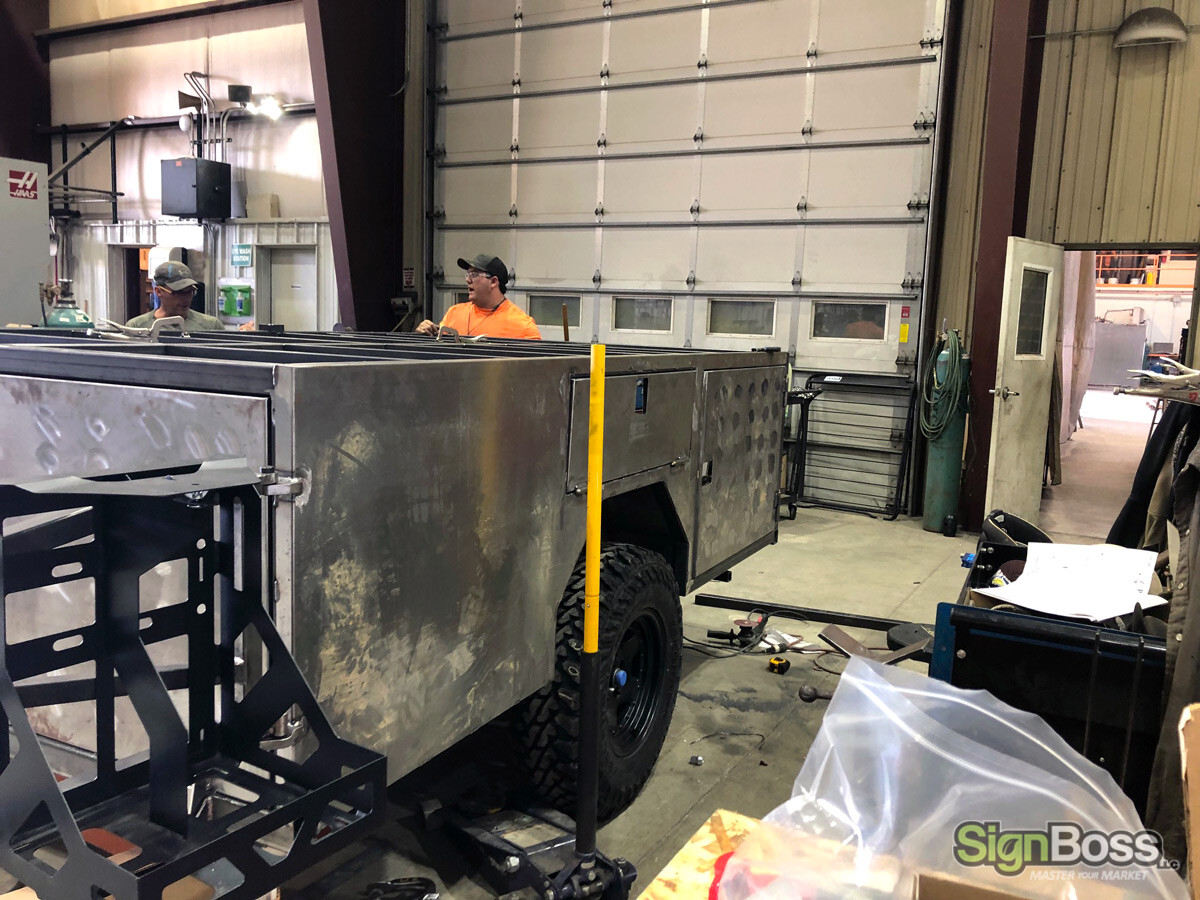 Our shop used 3M's IJ180. Using our Roland printer, we created crisp graphics with a protective laminate. Of course, we also used 3M premium cut vinyl. Because our installer is a 3M certified technician, they knew to remove the door handles when needed to apply the graphics for a precision finish.
How the Finished Product Advertises and Brands Craftco
The team had some challenges when it came to delivering the prototype. However, they are currently working on refining the product. This warthog is heavier than they initially planned, which means they will test different metals. However, the welds genuinely shine on this model.
Every weld is "extra beefy" for rugged terrain and wildlife encounters. The hinges, too, are much stronger than on other trailers. It ensures that owners will not have to deal with breakdowns in the backcountry. And, if you follow Jeff's cross-country trip on Facebook, you will notice that this complete camper is run on propane and souped-up batteries!
What Could You Do with Modified Camper Graphics in Sheridan, WY?
Traveling independently is becoming a significant trend. If you rent or use trailers in your business, they are now catching attention. Why not integrate them into your mobile marketing strategy? You already know that our technicians can design, produce, and install vehicle wraps and graphics for all types of cars, trucks, and vans.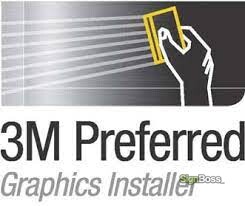 However, now you can see that we also work with trailers and custom conveyances. We can adapt the sizing and color palette to any need you might have. And, if you require specialty decals, we can provide these, too. Cases in point are decals for marine applications and those that feature strong laminates to prevent abrasions.
SignBoss serves the business communities in and around Sheridan, Gillette, Casper, and Buffalo, WY. Call us today at 307-687-SIGN (7446) to discuss your next graphics project!