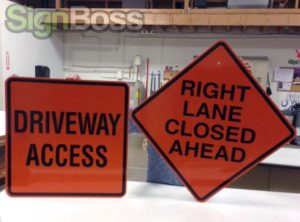 You know there is not much to see when you drive down the interstate in the middle of the night. You might see the headlights of an approaching car or the taillights of a vehicle up ahead of you every once in a while, but for the most part, it is just you and the road signs you pass along the way. You have probably noticed that road signs are everywhere, and they are hard to miss.
But, what makes these road signs so noticeable? In recent years, road signs and other safety signage have become increasingly effective. This is because these markers are using reflective prints. And, a majority of roadway and construction signage use reflective sheeting to get the attention of drivers at all hours of the day and night and to increase safety. Fortunately, SignBoss is one of the top suppliers of reflective safety signs in Gillette WY.
What Options Are Available?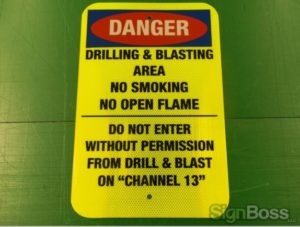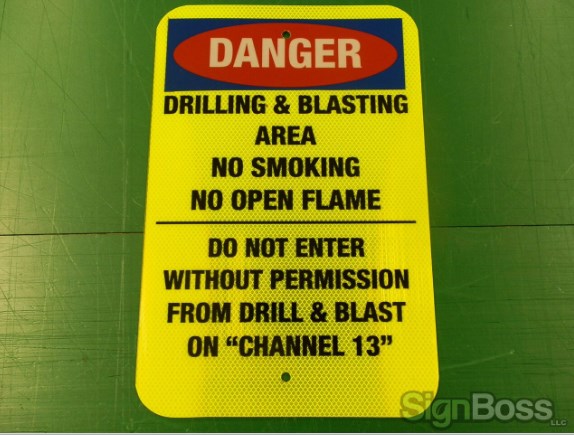 We offer two types of reflective sheeting: 3M silver reflective and diamond reflective in white and yellow. We can print directly onto both types using our large format digital printer. And, both alternatives can be cut using our plotter to fit the signage substrate, which is usually aluminum. We can even create custom shapes.
Check out the picture for the Danger: Drilling & Blasting Area sign. For this marker, we used all of the tricks we have up our sleeves: Both types of reflective materials are incorporated into this sign along with printing.
If you need markers for parking or construction, we have a number of blank reflective signs that can feature your custom message. The construction signs can be freestanding and easy to move using the tripod stands we have in stock. Or, if you are looking for something long term, such as a permanent traffic sign, we also sell Telespar poles for mounting and concreting in the ground.
Are Reflective Safety Signs Durable?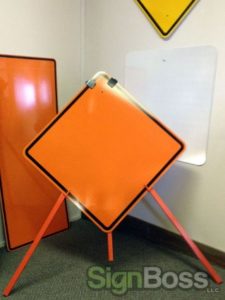 For the most part, you want your safety signs to stand up to the elements. That is why we only use the most heavy duty materials. Diamond-grade reflective sheeting is designed to last for twelve years or even longer. We can add a layer of overlaminate to protect your graphics and text for many years to come. The prints reflect 60 percent of the light sent their way and can be seen from up to 1,600 feet away.
Turn to Us for Reflective Safety Signs
Throughout Douglas, Casper, Sheridan, Gillette, and Buffalo, Wyoming, we maintain, design, repair, install, and fabricate safety signage. Clients keep coming back because
We are 3M Certified Installers
Our signage showroom is open to the public
We have a friendly and creative team of sign professionals
We ship everywhere in the country
We are locally owned and operated
And numerous other reasons!
When you contact us, we come up with recommendations that are specific to your organization's needs. For instance, don't forget your orange diamond reflective signs this construction season! Call SignBoss today for a free consultation on reflective safety signs in Gillette WY.