Located at 1103 6th Avenue, Little Safari Daycare is a brand new business and provides weekday care to youngsters of all ages. The facility operators wanted to make sure that parents would have an easy time finding the location. Moreover, they wanted the kids to enjoy their surroundings. Therefore, they contacted our sign shop to discuss the design, build, and installation of wall graphics and a post and panel sign in Upton, WY.
Welcoming Children and Their Parents with Signage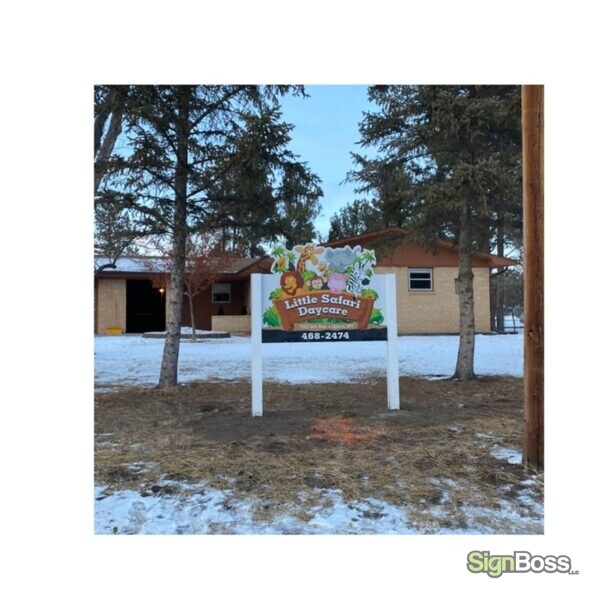 Our team discussed the signage design with the client. The safari theme would be the guiding thought behind the creation of specs. We put together a post and panel sign for the outside. It combines the function of a building sign and monument. In this way, it labels the property as a daycare facility and allows for easy contact with the administration.
The colorful panel, with its custom-cut top, stands out beautifully against the board's white posts and sides. When you step inside the daycare facility, you see how the safari theme continues. A wall wrap welcomes children to the main room. Individual graphics create a welcoming environment in a smaller play and rest area.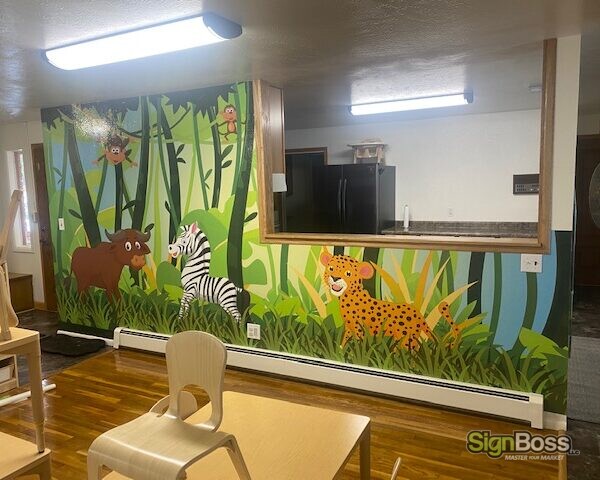 Another room features murals for daycare centers. They span the entire length of the room and transform the space into a great, fun environment that children love to visit. Moreover, it makes parents feel comfortable with the location because it is clear that this provider focuses on creating a suitable environment for youngsters.
Indoor and Outdoor Sign Combinations That Work for New Businesses
If you're a new business owner, a post and panel sign combines very well with interior wall murals and graphics. By using similar pictures for both signs, you begin a brand conversation on the outside and then continue it with the customer as they enter.
Of course, this is only one product combination that works well. There are plenty of others.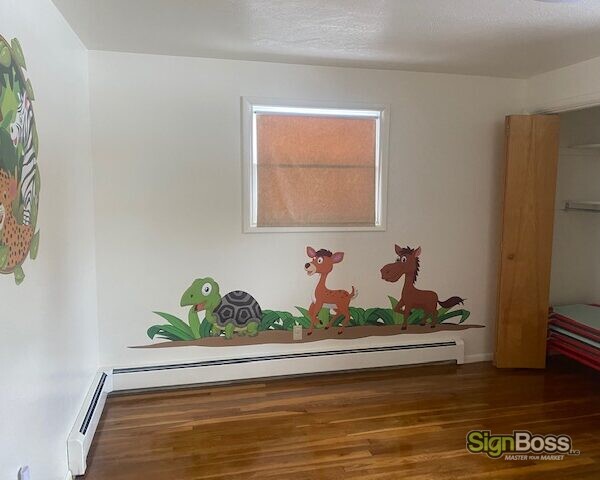 Vinyl banners and window graphics. For example, consider the development of a vinyl banner that advertises special events or products. We can then follow up on this message with more detailed window graphics that start on the outward-facing panes and continue on the interior's glass surfaces.
A-frames and floor decals. The A-frame is an ideal sign for advertising new merchandise or specials. When you select a product with a changeable sign pocket, you can control the message and make changes at any time. Follow up on seasonal messages with durable floor decals that guide shoppers to shelves with specialty merchandise.
3D building letters and lobby signage. Perhaps the most popular sign combination is the building sign and lobby marker. When both consist of three-dimensional letters, they focus on the font and color play you have chosen for your brand message.
SignBoss Does Your Wall Graphics and Post and Panel Sign in Upton, WY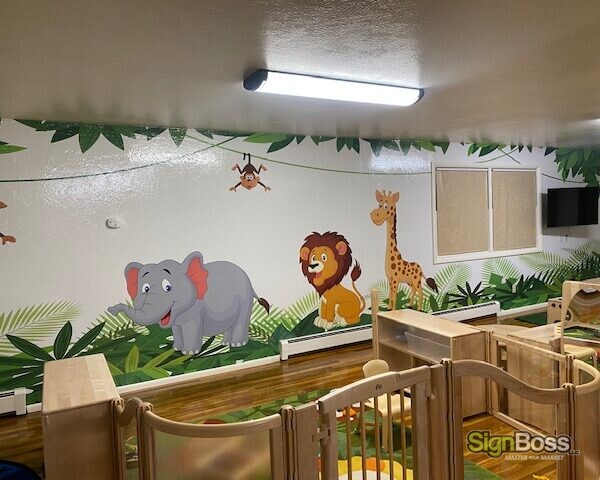 Our technicians' design, build and install the signage you need to advertise and brand your company. No matter which sign combination is right for you, we can help. If you are thinking of adding an entire signage suite, we can assist with this product combo as well. Call us today to talk about the signage you need.