There to assist people with their lives' journeys, the Journey Church is located at 3601 Southern Drive. Recently the venue underwent a multi-pronged modernization of its image that involved building remodeling, graphic design, and marketing through exterior branding signs for churches in Gillette, WY. Our sign shop was invited to handle this aspect of the project for the church.
Church Signage Makes Visitors and Members Feel Welcomed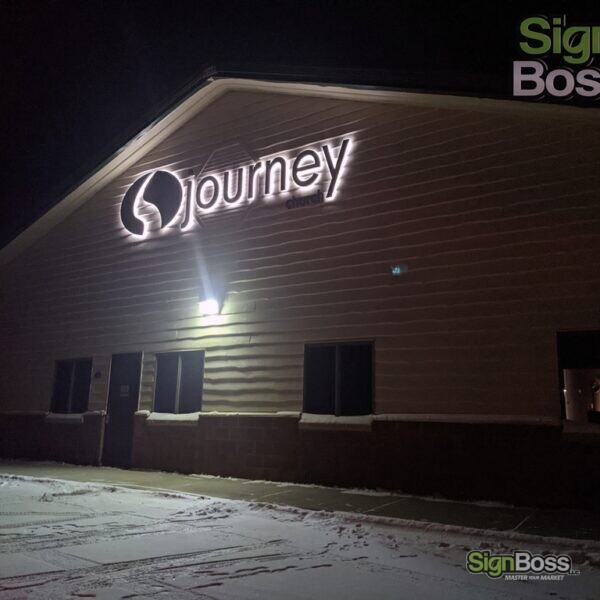 Besides that, the right signage combination makes the newcomer feel anticipated. For someone who might be nervous about visiting a new congregation for the first time, this goes a long way toward making them feel comfortable. To get it just right, we worked with the client on the development of the signage.
The client requested three-dimensional building letters that would welcome visitors with illumination. They copy the church's online name and logo. Moreover, our technicians designed them with the location's color play in mind. After installing the letters directly to the building's façade and wiring them into the power supply, the light has a backlit appearance that creates a stunning halo effect.
It is interesting to note that the product is fully responsive to sunlight, which is a substantial money-saving investment for the client. Also, it ensures that visitors feel welcomed as they walk up to the church building in the early evening hours or when it is overcast.
Church Signage Options for Brand-Building and Name Recognition
Building signs are, without doubt, some of the most essential brand messengers you can place on your property. However, they are not the only signs that will make sense for welcoming new guests or members to your location.
Monument sign. The monument is situated near the entrance to your parking lot. It features a message similar to the one that is on your façade's front. In some cases, it may carry additional information such as service hours or special sermon series.
Wayfinding signage. Do you have a larger church property? Maybe you also have a Sunday school, preschool, and meeting hall. Simple wayfinding post and panel signs can help direct the first-time visitor, parent, or student.
Banners and flags. Vinyl banners are excellent for the outside. They weather well and invite newcomers to check out the facility. On the inside, they welcome parishioners and children. Flags flutter in the wind, which makes them excellent at getting the attention of drivers and passersby. In this way, they highlight your location.
SignBoss Assists with Exterior Branding Signs for Churches in Gillette, WY
Are you making changes to the ways that the public interacts with your faith community? Maybe you are undertaking a building remodel, which creates the need for updated building signage as well as window graphics. We can help. Our graphic artist routinely works with local brand builders who are looking for ways to stand out.
Examples include the design of colorful exterior signs, interior signage, and the types of setups you might place near the street or on a median. If you rebranded, we can help with the change in the corporate look. If you still need help with this step, our graphic artist will gladly show you how even little adjustments could make a big difference in your overall brand appearance.
Contact us today to learn more about your options!