With the cold, dreary months upon us, now is the perfect time to introduce a little pizzazz to your office environment. Visually appealing workplaces can energize and motivate your employees. It is cost-effective and simple to give any space a creative kick when you add vinyl graphics in Gillette WY. Fortunately, SignBoss is one of the top suppliers of these graphics in Wyoming. Here are some places around your office where you can add vinyl graphics to liven things up:
Floors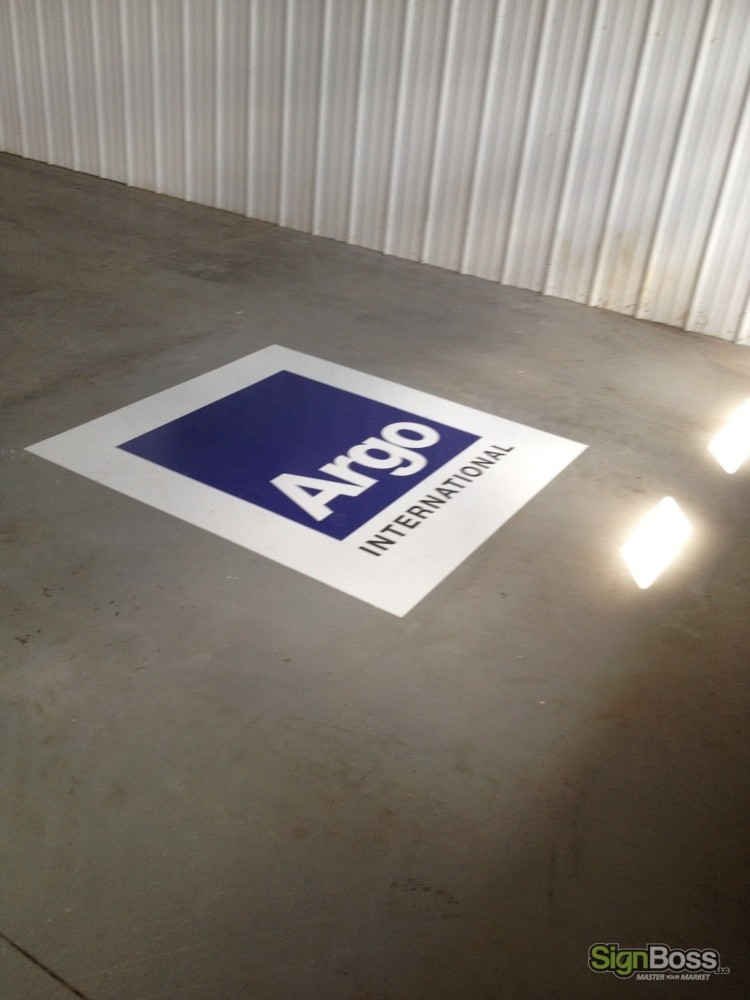 When we see non-carpeted floors, all we see is a blank canvas. Floor graphics and decal can supply practical directional cues as well as visual interest. For instance, if you operate a day care center, you might use a trail of baby footprints along the floor to lead parents to the play area for pickups. In modern industrial facilities with concrete floors, organic shapes and natural elements particularly stand out.
Fluorescent Lights
No matter how harsh they may feel, overhead fluorescent lights are a mainstay in today's offices. Thankfully, when you place specially-designed vinyl graphics over them, you can soften light banks. They can feature anything from a jungle canopy to a blue sky filled with fluffy clouds. We get a lot of requests for fluorescent light graphics from doctors' and dentists' offices that want to give their clients serene scenes rather than bright lights as they stare at the ceiling.
Windows
Not every window in your building will have a great view. Block the view of a dumpster while still keeping the natural light by installing frosted or etched vinyl window graphics. This will also keep your workers from getting distracted as people walk by. Window graphics are an excellent solution for any rooms with giant floor-to-ceiling glass panes.
Meeting Rooms
A dreary conference room is not conducive to meeting your goals whether you are brainstorming, developing a new strategy, or pitching a prospective customer. You can make meeting rooms more appealing and spark creativity with inspiring wall graphics and murals. For example, you might consider installing a full-color graphic timeline of your corporate history as inspiration.
Break Rooms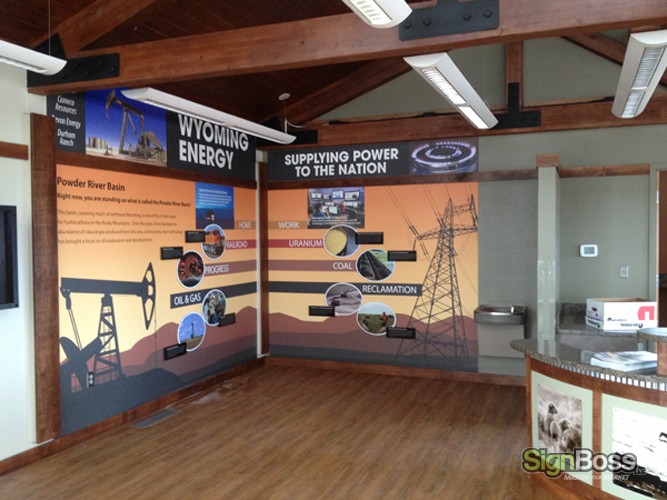 Your workers want to be able to unwind a little during the day. This is the purpose of office break rooms. When you add a full wall wrap with a peaceful nature scene, you can make this area even more relaxing. In a beautifully decorated room, workers will feel rejuvenated even after a short five-minute coffee break.
We Are Known for Our Vinyl Graphics
If you do not know which vinyl graphics are ideal for your office, don't sweat it. We can help. SignBoss is one of the premier designers, printers, and installers of vinyl graphics in Gillette WY along with the rest of the region, including Caspar, Sheridan, Buffalo, and Douglas. Organizations call us first because
Our showroom is open to the public
We are run and owned locally
We deliver to where you are
Our team is staffed with friendly and creative sign experts
We are 3M Certified Installers
And many more reasons!
Contact us today for a free estimate on vinyl graphics.