When Brinks donated an armored vehicle to the City of Gillette Police Department, it became a welcome addition to its fleet. However, before the department could use it effectively, it needed armored truck vinyl graphics in Gillette, WY, that would allow people to recognize who operated it. To ensure that the graphics would be perfect, the department contacted our sign shop for assistance.
From Plain White Truck to Fully Branded Police Department Vehicle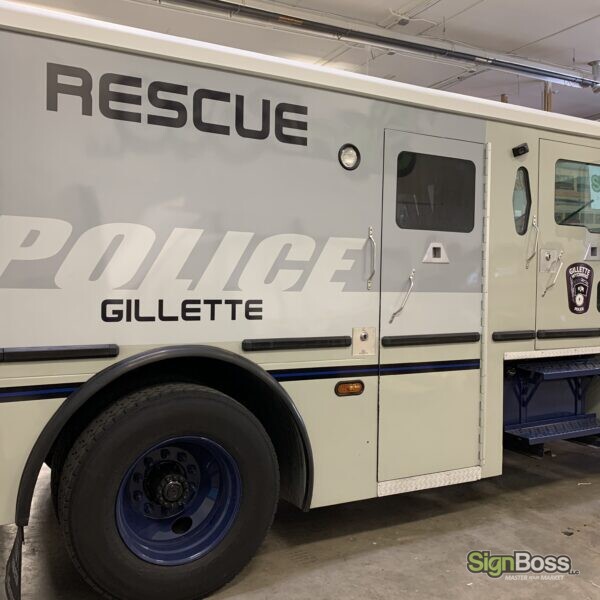 Initially, the truck was utterly nondescript on its exterior. Its creamy surface did not disclose what its use would be. Our team designed a set of graphics that feature the department's name and city affiliation as well as the "Rescue" notation.
Moreover, our technicians designed the police flag with its blue stripe that we placed on top of the vehicle. We used our large-format printer and plotter to create the wrap for the sides with the police badge as well as the lettering. Moreover, we put together black cut vinyl to place the individual style elements that now identify the vehicle.
By treating all sides of the new truck, it now stands out in traffic and offers hope to residents in need of help.
Vehicle Graphics are Excellent Options for Businesses and Municipalities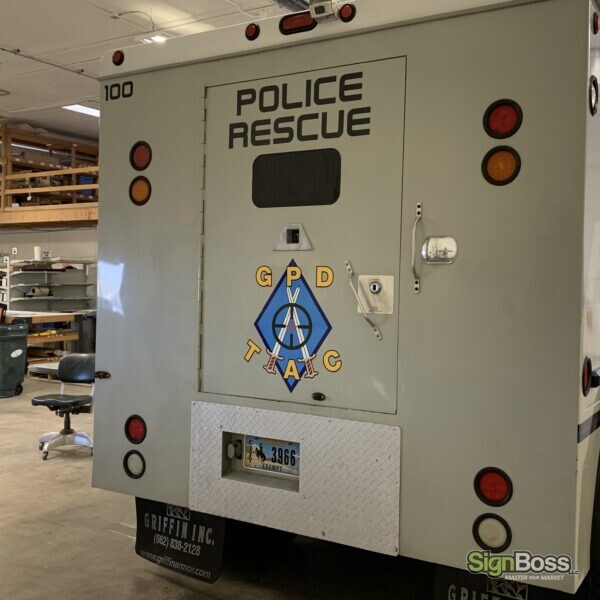 You already know that retailers, producers, and service providers invest in vehicle wraps and graphics for branding and marketing. However, municipalities and government agencies are now doing so as well. Officials have noticed that they can easily communicate with the public by presenting their information on the movable billboards that trucks, cars, and vans' sides present.
Our shop handles the design and production of the graphics in-house, which guarantees complete quality control. Moreover, we can accommodate even more unusual design requests, such as three-dimensional images and the use of reflective vinyl.
Do You Need Armored Truck Vinyl Graphics in Gillette, WY?
We gladly put together a graphics product that features a partial wrap and individual lettering. Partial wraps may cover between 25% and 75% of the vehicle. As a result, there is plenty of room for customization and a budget-friendly approach to the project. If you are looking for vehicle coverage that takes up less than 25%, we recommend designing, producing, and installing vehicle graphics.
Of course, we can also go the other way. In this scenario, we put together a full vehicle wrap, which covers the exterior's entirety. In this way, you turn the vehicle into a consistent advertising message that never stops.
By the way, you might even consider the installation of a perforated vinyl window covering. If you have a truck or van with copious side windows or a rear window, it could allow you to continue a full or partial wrap. On the other hand, did you know that this vinyl covering could stand alone? We gladly show you a variety of designs that would look great. If you prefer a design that includes hood and roof graphics, we can do those as well. We are 3M Preferred Vinyl Graphics Installers, meaning you can trust your vinyl job to us!
Contact us today to explore more about your options!