When business owners have sales or other special events coming up, they want graphics that will turn heads and get the details out about their deals. This often means turning to window graphics, banners, or maybe even a minimum wage-earner dancing with a cardboard sign along busy roadways. These are all effective options. However, a solution that has exploded in popularity in recent years is falcon flags in Gillette WY. Let's look at how you can use these markers to boost your sales.
What Are Falcon Flags?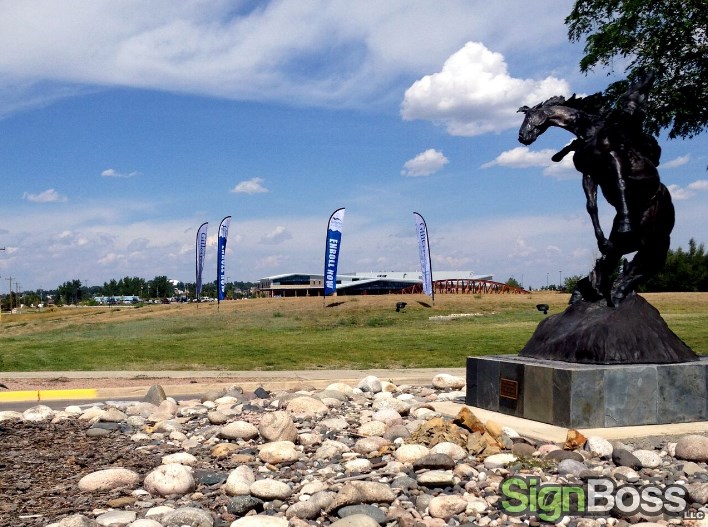 Falcon flags are custom printed message banners that provide plenty of design space for your marketing message. When you fly them in front of your company or storefront, you catch eyes and direct foot traffic inside. One flag does not always get the job done. For this reason, we recommend using several flag banners in unison. This will create a compelling wall of waving, spinning color that assures your message cannot be ignored. We offer a discount when you buy multiple falcon flags.
Falcon flag banners are effective for outdoor uses as well as indoors, and each of the flags is made in America and hand stitched.
What Are Some of the Benefits of Falcon Flags?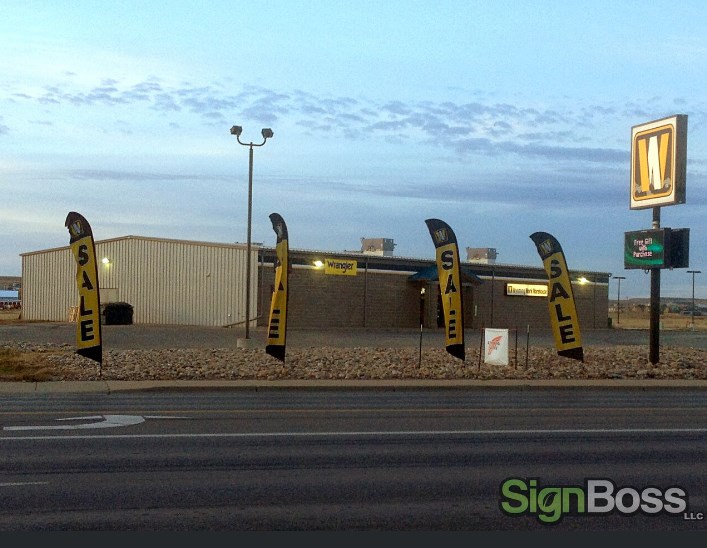 There is a long list of reasons why local entrepreneurs prefer falcon flags. Some of the benefits include:
Falcon flags are available in two different sizes: thirteen feet tall and seven feet tall. The flags in these pictures are thirteen feet tall.
The flags are easy and quick to put together
The banners essentially come alive by waving and spinning in the wind
We custom print your graphics to give you lots of room for your information
Falcon flags are made right here in the United States
The hand-stitched banners are printed dye sublimation
They come with a handy travel bag and are quite lightweight
Message flags catch consumer's eyes and bring traffic into your store
Available in single or double-sided vivid color print
How Are Falcon Flags Used?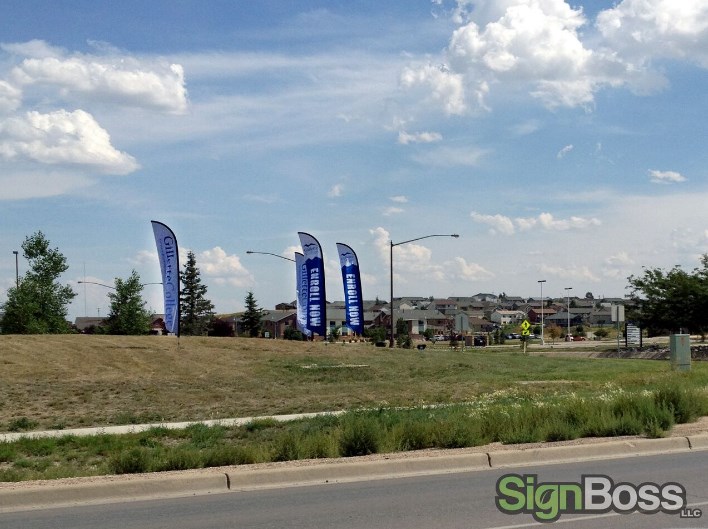 Falcon flags are useful for both indoor and outdoor applications. Retailers like to use these flag banners outside of their storefront. They are designed to stand up against the elements, and some styles come with a water bag that fills with water for extra stability.
You often see falcon flags used indoors for point-of-purchase displays and trade shows. If there is room, go for the thirteen-foot flag at events since it will help you command attention. Indoor flags are also used in showrooms, entry ways, and lobbies.
We Take Care of All of Your Falcon Flag Needs
SignBoss supplies falcon flag design, printing, fabrication, and maintenance for the communities of Caspar, Sheridan, Douglas, Buffalo, and Gillette, Wyoming and beyond. Local organizations prefer us because:
Our team is made up of friendly and creative sign professionals
Our showroom is open to the public
Our installers are 3M Certified
We deliver to you
We are locally owned and run
And a plethora of other reasons!
Contact us today for a free consultation on falcon flags in Gillette WY.