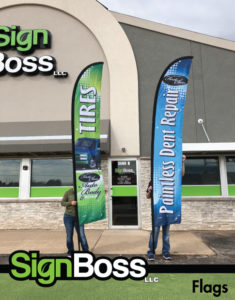 It's good to help your business grab some attention. There are a lot of ways to go about doing that. One of the best ways to get your business noticed is careful rebranding. Rebranding can be a complicated act. It's a balance of finding what worked before and enhancing that with the new and novel. Recently, our team at Sign Boss was contacted by First Class Autobody. They needed some help as they went through this process.
The Client
Rebranding is exciting, but also pretty intimidating. We were happy to help First Class Autobody with this large task, though. We had worked with this client before, so when they gave us a call, we jumped at the chance to continue to impress with our work. The client was hoping to bring more attention to his company. We discussed different options and agreed that falcon flags may be exactly what was needed.
The Product
Falcon flags range from as short as two-feet high to as tall as seventeen-feet high. These flags are designed to grab attention from passersby without the client having to invest in a large, stationary display. Falcon flags give the owner the ability to move them around their location, maximizing their benefits. In this particular case, the client requested six flags all with a different custom design. We immediately got to work designing the flags. Once the designs were complete, we fabricated the six signs. In all, the project took us about two weeks.
The Results
Upon delivery the client was thrilled with the quality of the signs as well as their size. When it comes to really grabbing attention, size can make a big difference. Larger signs attract more attention, couple that with the bright and interesting custom designs on each flag, and First Class Autobody should have no trouble getting more attention from passersby.
Contact Us
If you're looking for falcon flag to help grab attention, banners to make a statement, or need some graphic design help as you rebrand, Sign Boss is here to help. We were happy to help First Class Autobody again and we'd love to discuss how we can help you too! So, contact our expert team today!