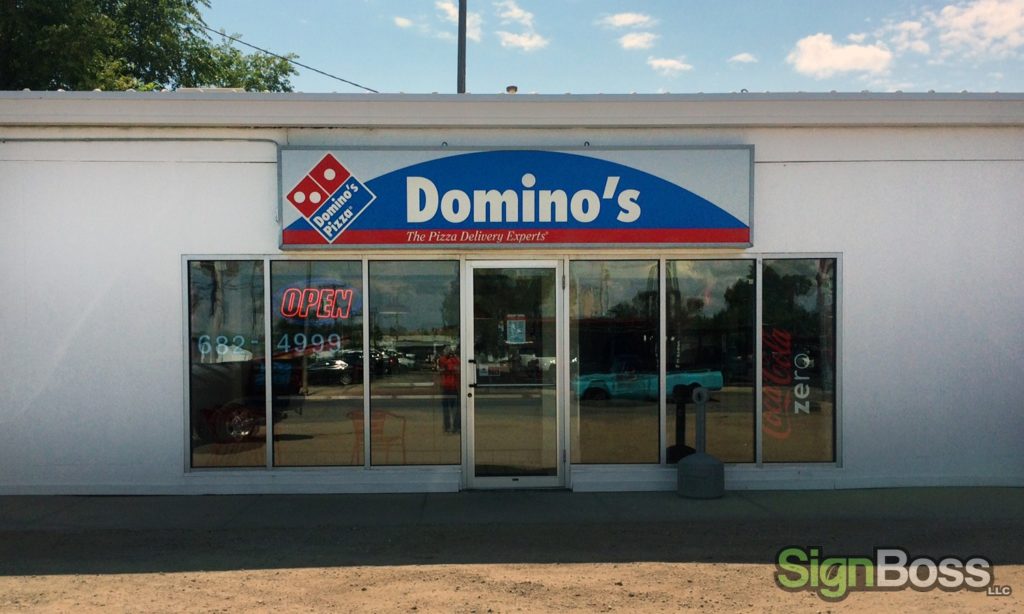 Outdated signs can lead to brand confusion and just plain make your business look bad. Domino's didn't want their old signs to give customers the wrong impression, so they contacted SignBoss for pole signs for pizza restaurants in Gillette WY.
A Little Info about Domino's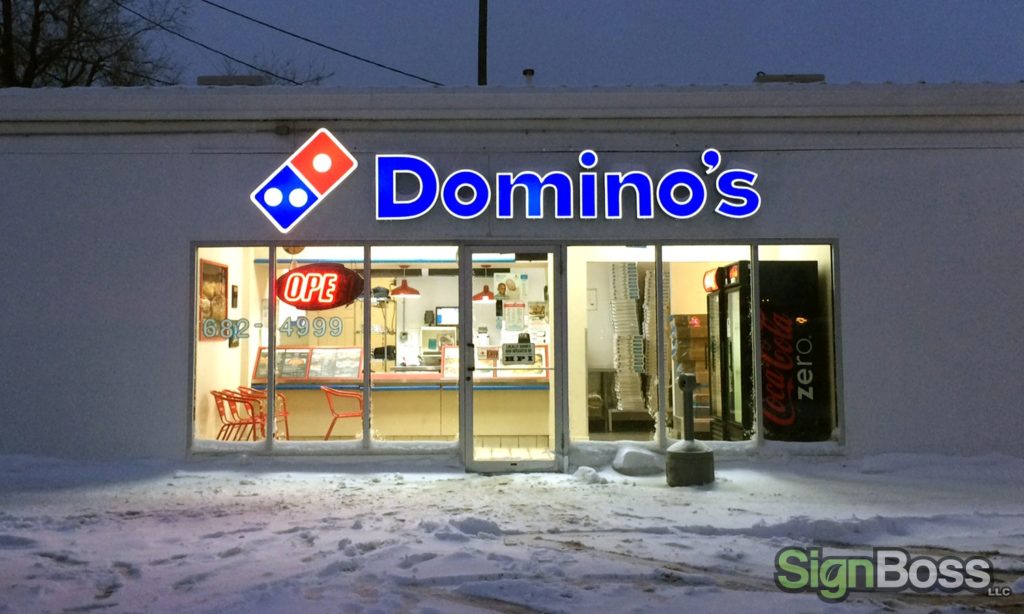 Based near Ann Arbor, Michigan, Domino's is the second-largest pizza chain with over 8,000 locations in more than 80 countries. In Gillette, there are two locations along with another in Sheridan and several others throughout Wyoming. They offer everything you would expect from a pizza place, including specialty and build-your-own pizzas, sandwiches, pasta, salads, chicken wings, breadsticks, desserts, and more.
When such an internationally recognized organization came to us for pole and building signs for pizza restaurants in Gillette WY, we were more than happy to help. Domino's signage at their West 2nd Street location in Gillette and North Main Street in Sheridan locations was ancient with aged-out materials. Their pole signs were rusted, the reader boards were falling apart, and the faces were an old fold-up style. On the buildings, there were outdated flex faces, and the frames felt like they were made of steel. They needed us to bring them into 2017 the right way!
What We Did for Domino's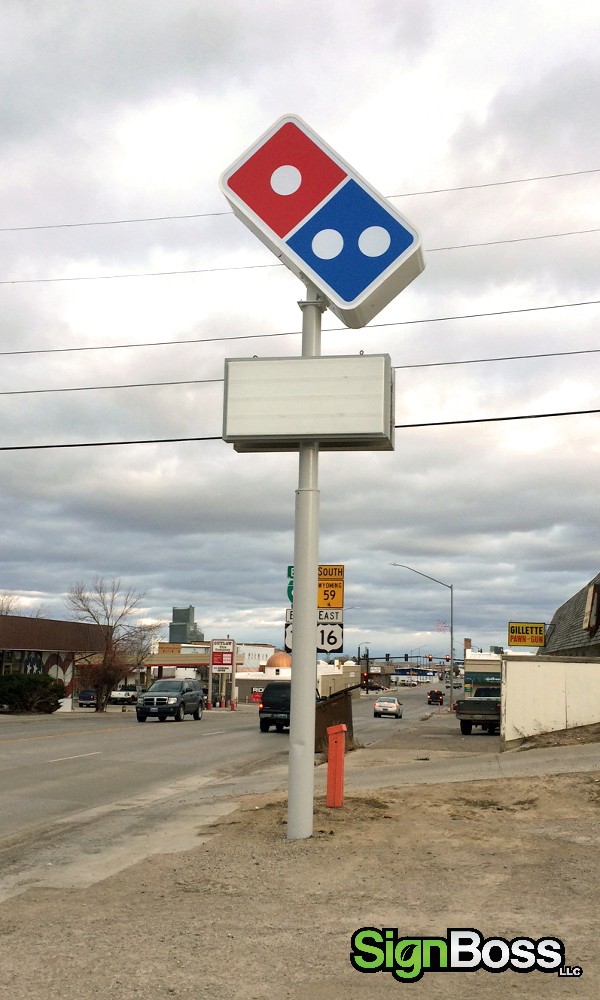 Our first step in any sign-making process is to meet with the client and discuss what they have in mind for their project while getting a look at their venues. Domino's wanted to update their look with new signage and branding. Both the Gillette and Sheridan locations needed the same work done. Based on their vision and the branding art files we received from the corporate headquarters, we provided the client with art proofs showing exactly what they would be getting. Once they approved, we began our fabrication process.
First, we prepared all of the signage, including the channel letter building signs, the new reader boards, and the pole cabinet signs. We mainly used aluminum for the sign frames because it is effective and light. All of the signs were painted to match the current corporate branding PMS code. We then scheduled a time to update Domino's look at a time that was convenient for them.
The old signs had to be removed and recycled. We then retrofitted modern LED lighting into all of the light cabinets and wired new signs into previous electrical connections using modern, safer outlets. The reader boards were welded onto the poles. Next, we installed the new pole signs by fabricating new brackets. Then, for the building signs, we mounted the channel letters using practical raceways.
It was a really cool job because we worked closely with engineers and producers to create a finished product that the client was thrilled about! In fact, Domino's has already hired us to do a third location.
Let SignBoss Update Your Signs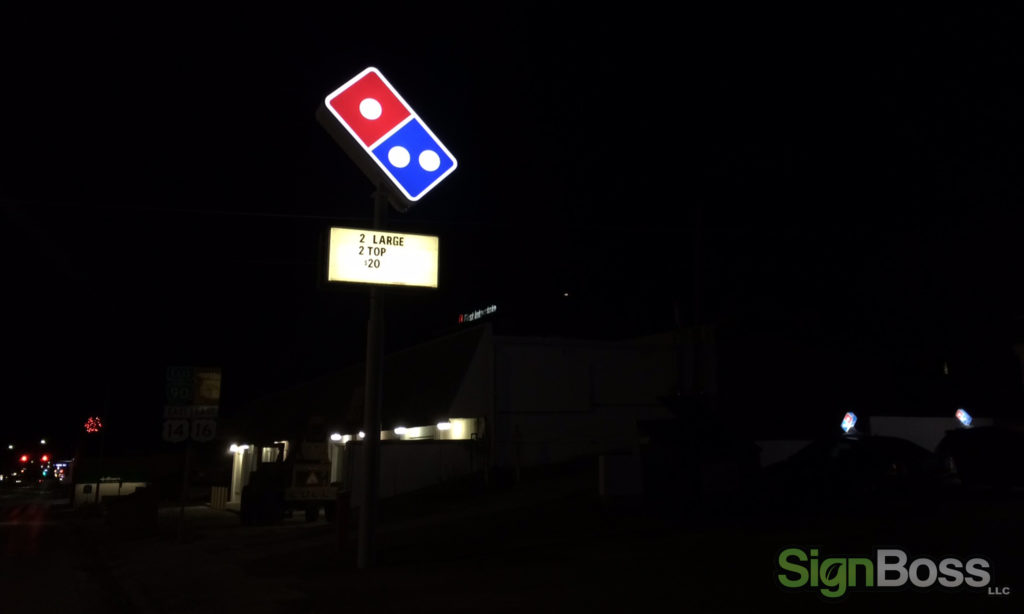 Businesses throughout Gillette, Douglas, Buffalo, Caspar, Sheridan, and the rest of Wyoming rely on us to update their signage because
We are locally owned and operated
We deliver your signs to your location
We have a staff of creative and friendly sign professionals
You can visit our public showroom to see what we can do
We have 3M Certified Installers
And various other reasons
Contact SignBoss today for a free quote on sign upgrades today!