No matter what industry you are in, you can benefit from putting your fleet vehicles to work marketing your organization. You can go big and install full vehicle wraps. Or, you can choose cost-effective vehicle lettering. Nidec Avtron Automation wanted to showcase their branding on their new pickup truck, so they called in SignBoss for cut vinyl fleet graphics in Gillette WY.
What Is Nidec Avtron Automation?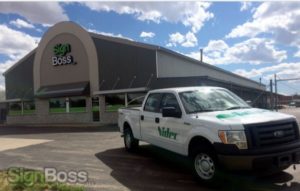 With headquarters in Japan, Nidec is a distributor and manufacturer of electric motors and related equipment and components. They were founded in 1973. In 2012, they bought Avtron Industrial Automation and became Nidec Avtron Automation Corporation. Today, they offer automation solutions that thrive in heavy industrial applications where throughput and uptime are of critical importance. They manufacture a full encoder product line, productivity and diagnostic software, and DC, SR, and AC drive systems.
When an organization with such a global reach came to us for cut vinyl vehicle graphics in Gillette WY, we were thrilled to be of assistance. Nidec had just acquired a new pickup truck for their local field work, and they wanted a way to advertise their brand as they traveled to and from job sites. We had just the solution.
What We Did for Nidec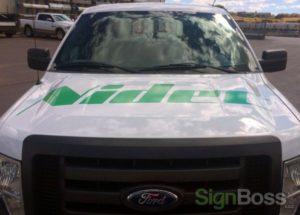 As with any project, we met with the client to find out what they wanted and to get a look at their pickup, a Ford F-150: the most popular vehicle in the country. Based on their goals, we recommended adding affordable cut vinyl to their truck. Once they approved of the designs, we got down to work.
This was a basic cut vinyl vehicle install. We are able to design and cut many colors of vinyl on location or use client-provided vinyl. For this project, we used vinyl that perfectly matched Nidec's corporate color. We then cut it to match their font. Next, we scheduled a time to install their new truck lettering. For fleet vehicle installs like this, it typically only takes an hour or two before the truck can hit the road again. In the end, the client was completely satisfied with the work we did.
Let Us Help Your Organization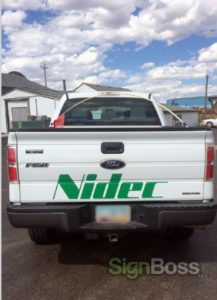 Vehicle graphic installs are not limited to a single color of cut vinyl. We can use digital prints too. We can custom design your graphics or work with your corporate fleet guidelines. Also, there is no limit on how big your graphics can be. Some fleets choose to have logos that are more modest. Others prefer to go big and bold. It is all a matter of personal preference.
We fabricate and install vehicle graphics for businesses throughout Buffalo, Sheridan, Douglas, Casper, and Gillette, Wyoming. Clients keep coming back to us because
We have a friendly and creative team of signage experts
We are locally owned and operated
We are 3M Certified Installers
Our showroom is open to the public
We ship to your location
And many other reasons!
Contact SignBoss today for a free consultation if you are in need of vehicle graphics for your fleet.