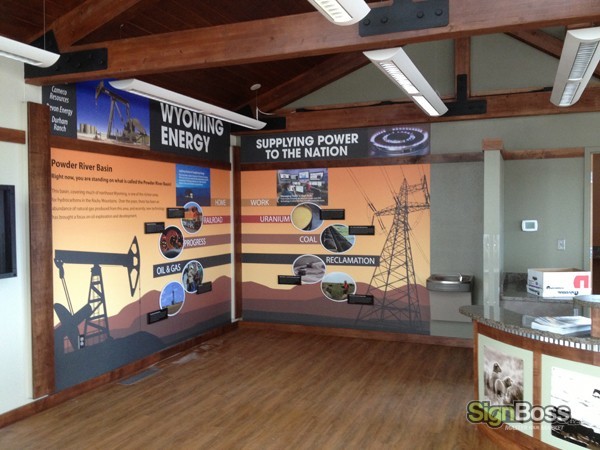 Creating top-notch signage for your business has never been easier. Your business premise walls and surfaces can be transformed into great signs that appeal to prospects. Some of the most dynamic and modern methods to employ include using vinyl lettering and wall decals. These methods can fully optimize your signs giving you an edge over your competitors.
Here is a closer look at each method and the benefits.
Vinyl Lettering
Vinyl lettering is the use of individual letter cutouts for all manner of surfaces. Because the letters don't have a background, they are highly adhesive. This method can be used for both indoor and outdoor signs.
The best use of vinyl lettering is with single designs because complex designs are hard to achieve. This is a great idea for people who want simple signage with a compelling appeal. The applications are many including nameplates, slogans, quotes, and lettering.
To install them, they come pre-masked making your work much easier. By removing the backing that reveals the adhesive, you can then place it on the preferred wall or surface. To ensure excellent adherence, use a wall or a surface that is nonporous.
Wall Decals
Wall decals are repositionable wall additions that can be images, logos, and gradients. They are highly versatile and can be used for full walls. They are usually printed on one sheet of material and can have a halo or standard cut. Wall decals are however limited to indoor use, unlike vinyl lettering. If you are looking to create notices and signs for your business, this is a good approach. They work for multiple colors, gradients, backgrounds, and images.
Installing wall decals is also very easy. Just like the vinyl lettering, a nonporous surface that isn't textured is ideal. Just position the decal and peel the backing while applying pressure. It can last up to 5 years if properly secured to the wall.
Which Method Is Better?
Both vinyl lettering and wall decals work great for your business sign needs as well as for personal use. You can choose the best method based on your individual business needs. If you are looking for an outdoor method, the vinyl lettering will work great. However, when you are looking to have a variety of imagery for your sign, wall decals will do a better job.
Consult the Professionals
For the ultimate signage solutions for your business, consider consulting Sign Boss. We do not rest until your signs can fully appeal to your prospects. Rest assured that we employ top notch methods to deliver versatile and custom signs that work. Talk to our team today.