Police cars are an iconic piece of Americana. Most of us can even pick out a police car in traffic when there is no identification on it. Seeing a police vehicle can discourage crime and criminals, make us feel safer in our neighborhoods, and encourage interaction with police officers. Consequently, it is crucial for police departments to create a strong brand identity with fleet vehicle graphics in Gillette WY. This was exactly what Gillette Police Department was looking to do when they contacted SignBoss.
A Little about the Gillette Police Department
Headquartered on East 5th Street in City Hall, the Gillette Police Department has the goal of proactively stopping crime before it happens. Whenever there is criminal activity, the department aggressively investigates it and apprehends suspects. Additionally, the department provides a number of services to the community and has an outreach program, called Community Oriented Policing, which involves local citizens taking a stand against crime.
When such an important group dedicated to keeping our town safe came to us for fleet vehicle graphics for the police department in Gillette WY, we were happy that we could be of assistance. The Gillette Police Department just purchased a Tahoe and Ford Interceptor from Thunder Basin Ford, an outstanding local business, and they needed a way to identify that they were police vehicles. Fortunately, they contacted the right sign shop!
What We Did for the Police Department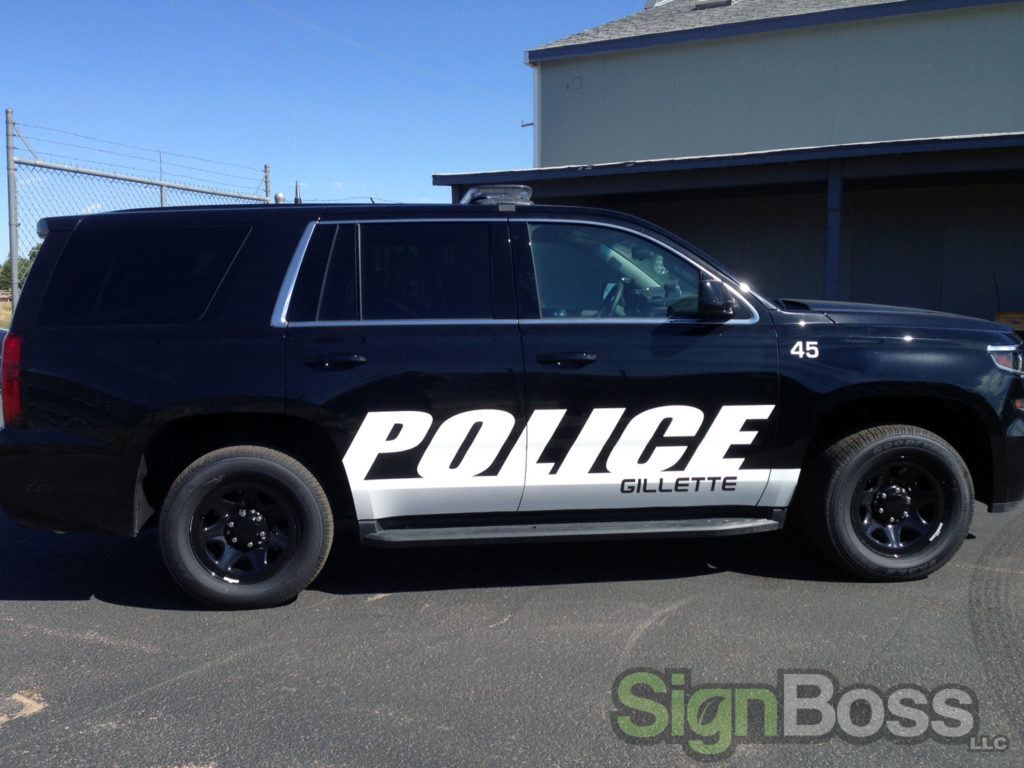 Our first step in the vehicle graphic process is to meet with the client and discuss their goals. For this project, it was easy. We had already outfitted about half a dozen Ford Interceptor wraps, and it was our second time doing a Tahoe. Plus, we had all of the department's artwork on file from past jobs. This allows us to keep a consistent look across the fleet. We provided the Gillette Police Department with proofs of what their finished graphics would look like. Once they approved, we got down to work.
For this job, we used the eco-friendly IJ480 vinyl film with the matching 3M laminate 8548. This vinyl performs great on car wraps and is among the best that 3M produces. With the laminate, we can be sure that the graphics will look their best for many years to come. Once we had the decals ready, we worked with the department's schedule to install the graphics at a time when the vehicles could be off the road for a few hours.
In the end, they were completely satisfied with the work we did. And, we were happy to see the police department expanding to keep our town safe!
We Have Solutions for Every Industry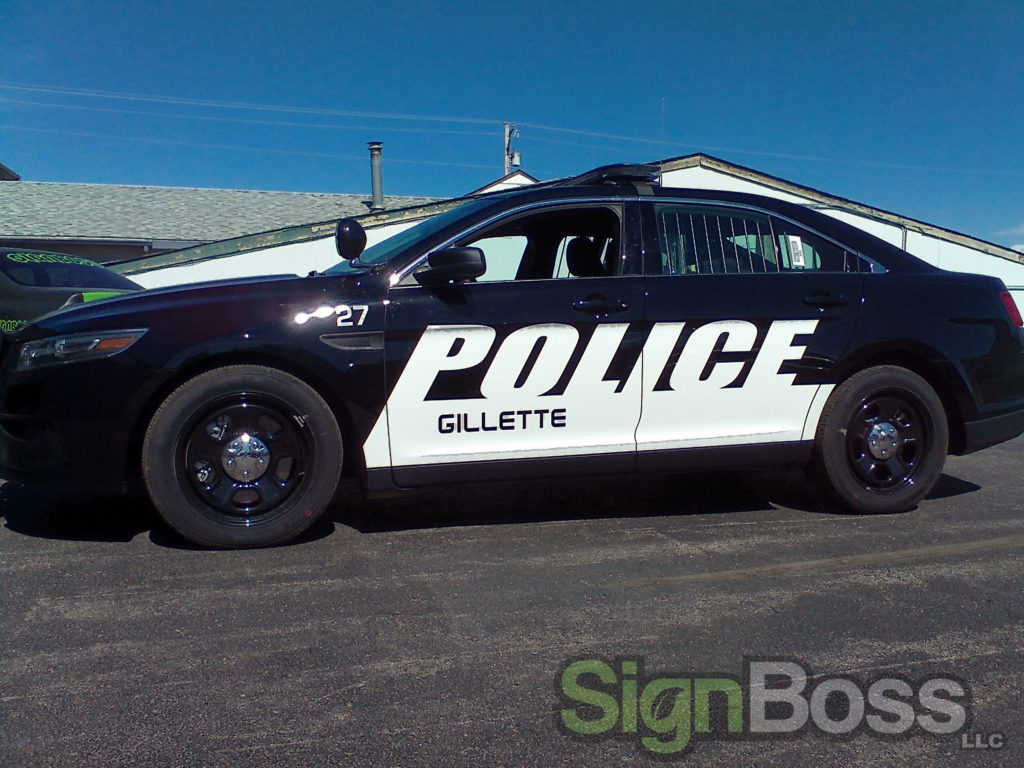 It is rewarding doing work for organizations that make our community a better place. We are happy to produce vehicle lettering for businesses with large fleets, vehicle wraps for entrepreneurs who want to turn heads, spot graphics for contractors who want to show off their logo, and many other alternatives.
If you are interested in adding vehicle graphics to your company's vehicles, please consider contacting the friendly experts at SignBoss today for a free consultation!