SignBoss has had several opportunities to work with Campbell County High School. Last year, for example, we added window privacy film and wall graphics. This year, we returned and designed, produced, and installed wall graphics in the school's weight room. When the school invited us to return this time, the administration requested vinyl stairwell graphics for high schools in Gillette, WY.
Stairwells? We Wrap Those!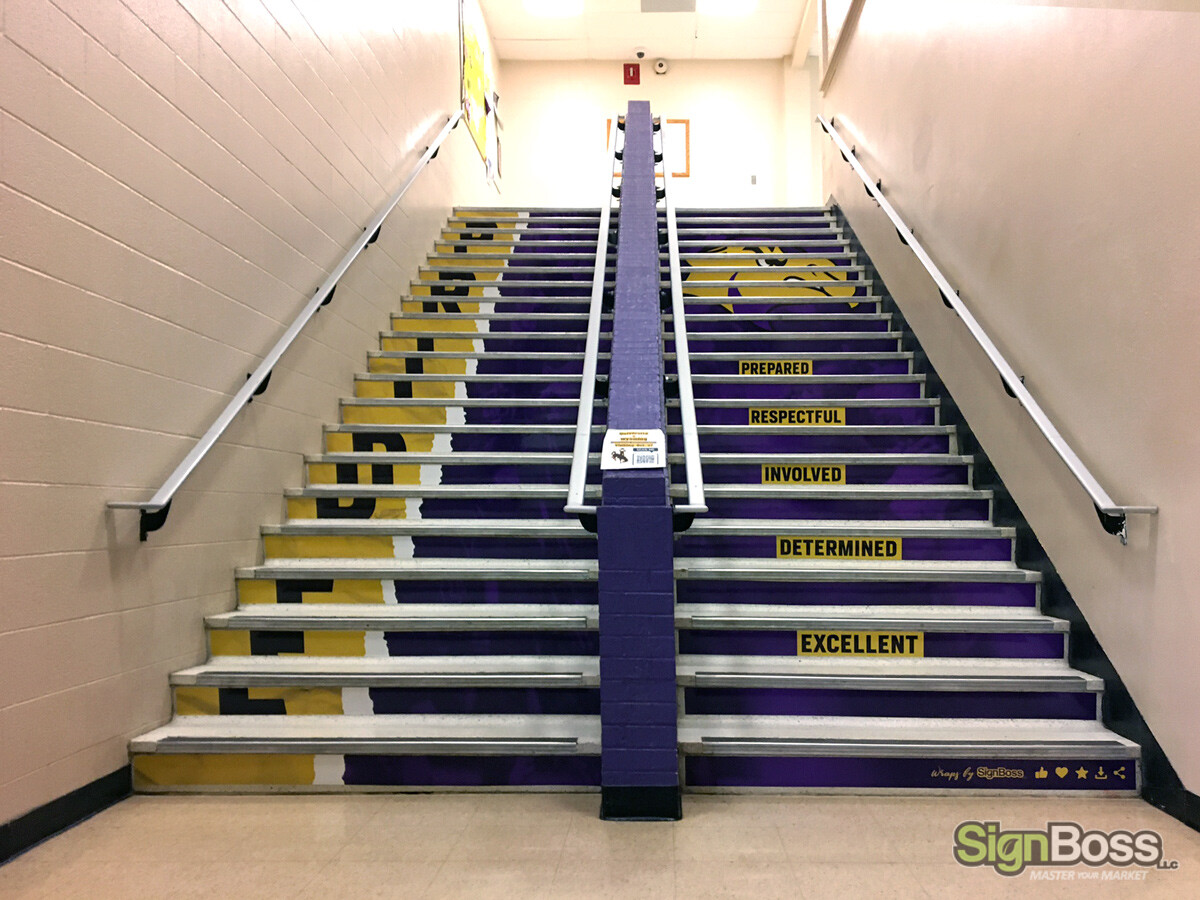 The high school's culture is best summarized by the students' mission: P.R.I.D.E. Every student is expected to be prepared, respectful, inspired, determined, and excellent. Because consistent repetition is the mother of all learning, the school's administration is always looking for ways to remind students of the mission.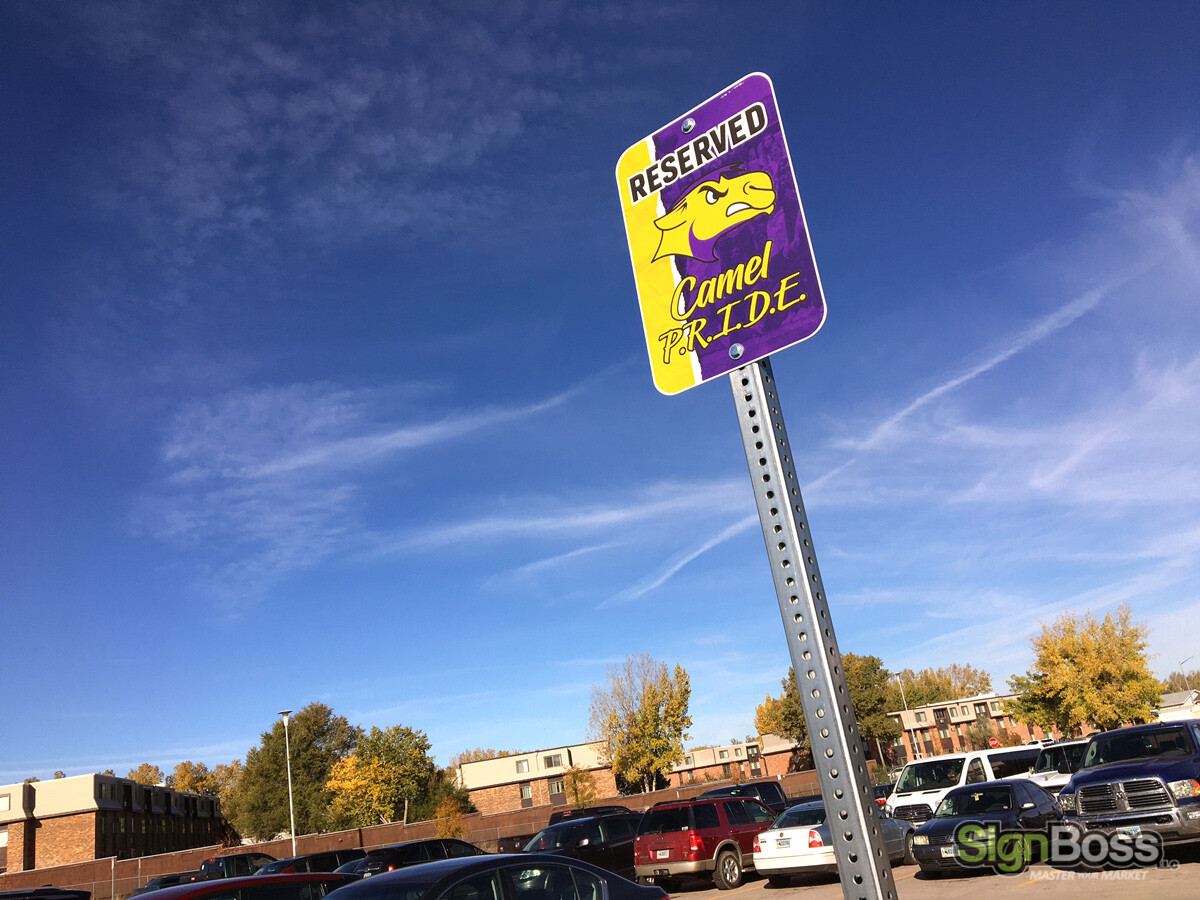 In this case, there was an opportunity for a creative way to focus on school pride in ways that not many venues have thought to go. For starters, there are now parking signs that highlight the P.R.I.D.E. qualification. They go to two students each week who best embody the mission. These students get to park right up front under the exciting new signs.
However, it is the interior that we are most proud of. The client asked us to wrap their stairs or, to be more accurate, the risers.
Putting Together Stair Wraps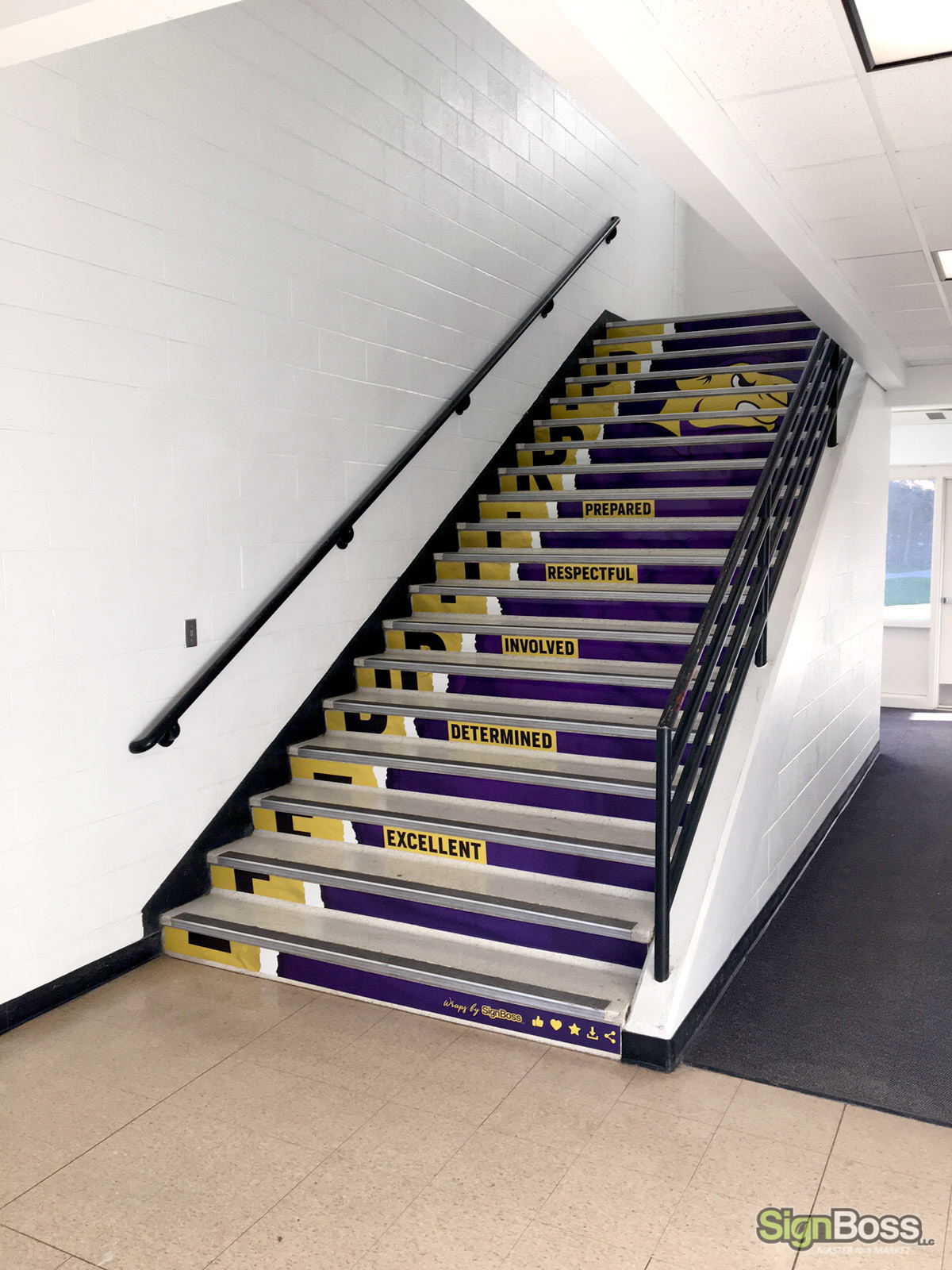 The design required specific mapping to plan a graphic that looks right with the kick plates on each step. These plates would take the place of some aspect of the image that we had to account for. For starters, our technicians selected high-durability vinyl, which is excellent for use in areas that see much traffic. Next, we focused on the color palette. We added a laminate that protects the product from scrapes and scuff marks to maintain its great looks.
With these production details in place, our specialists went to the school and installed the riser graphics during parent-teacher conferences. Everyone walking by commented on how great these stair wraps looked. One teacher said that in 37 years of teaching, they have never seen anything this cool!
What Could Your Business Do with Vinyl Stairwell Graphics?
Whether you need vinyl stairwell graphics for high schools in Gillette, WY, want us to treat the risers of your office building's stairs, or are envisioning something entirely different for the stairwells in your space, we can help. No matter what the school graphic need is, we can accommodate you.
If you have a message in mind, we will translate it into the needed graphics. However, if you are still looking for ways to connect with your customer base, we can help with the design of pictures that will be suitable. They can be advertisements for products or services; another option is to focus on a brand message.
Connect with SignBoss to Discuss Your Next Project Today!
Our shop serves the business communities in and around Gillette, Casper, Buffalo, and Sheridan, WY. We work with school administrators, business owners, property managers, and private parties. Because we specialize in the creative use of vinyl for a wide variety of projects, our team can save you money and stay within budget.
Contact us by dialing 307-687-SIGN (7446) now!