Campbell County HS is a returning client. Last year, our shop put together window privacy film and wall graphics that made a massive difference in the look and feel of the office. This year, the client asked us to return and put up more school pride wall graphics in Gillette, WY.
Weight Room Upgrade Inspires Student-Athletes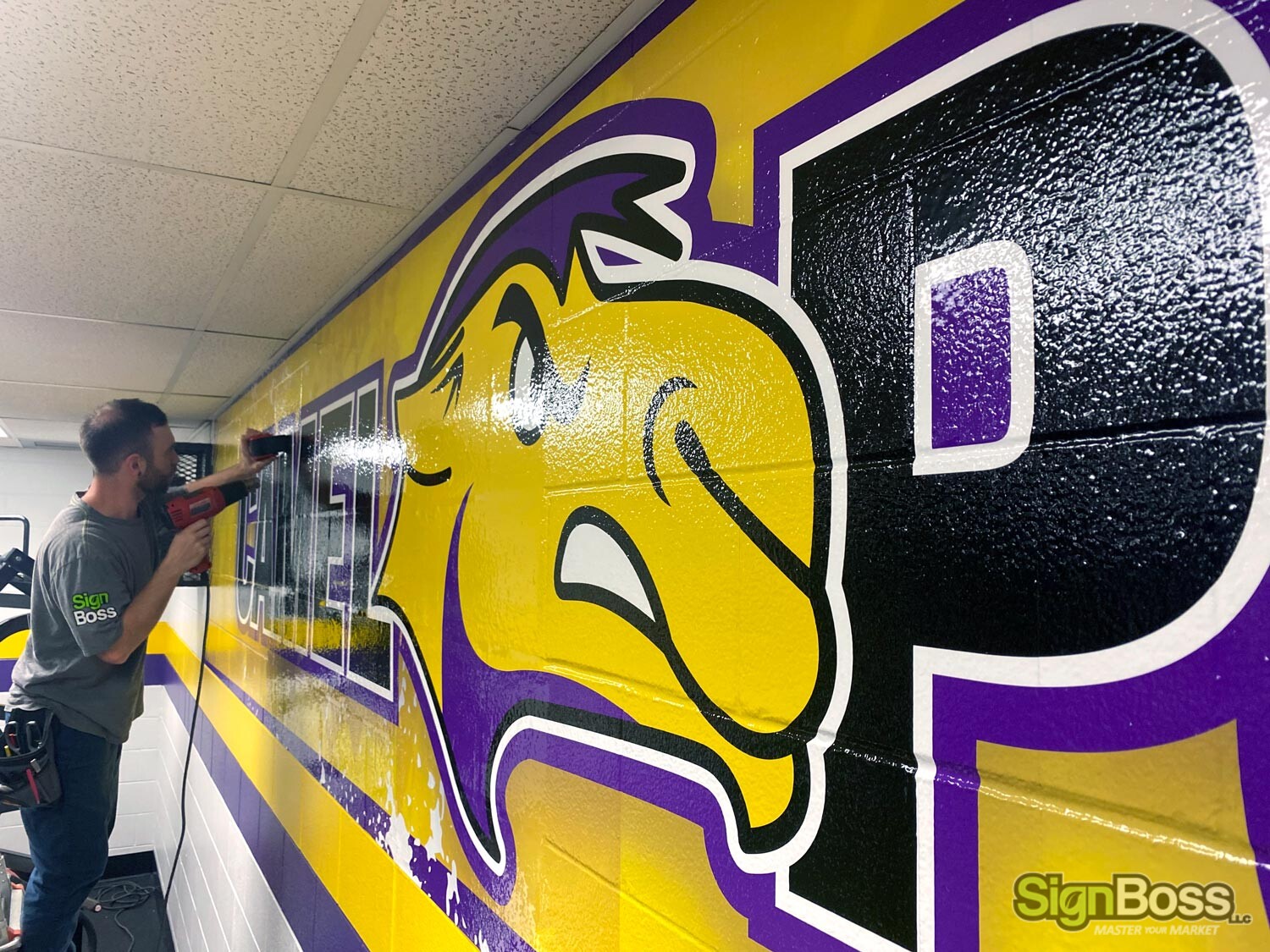 High schools in Gillette are proud of their school spirit. It is fair to say that there is a friendly competition between the administrators to see who can advertise their school spirit the most. And, with so many wall surfaces to choose from, there is plenty of space to go for the gusto.
CCHS recently got a fantastic new website; they have a major wrap project coming up; but now, the client needed us to work on the weight room to give it a motivational wall wrap. This new wall wrap features the school's colors and mascot. Letters spell out "Camel Power."
The finished product adheres so well to the wall that it looks as if it had been painted on. It is almost impossible to tell that it is a giant sticker.
Pulling Back the Curtain on Working with Vinyl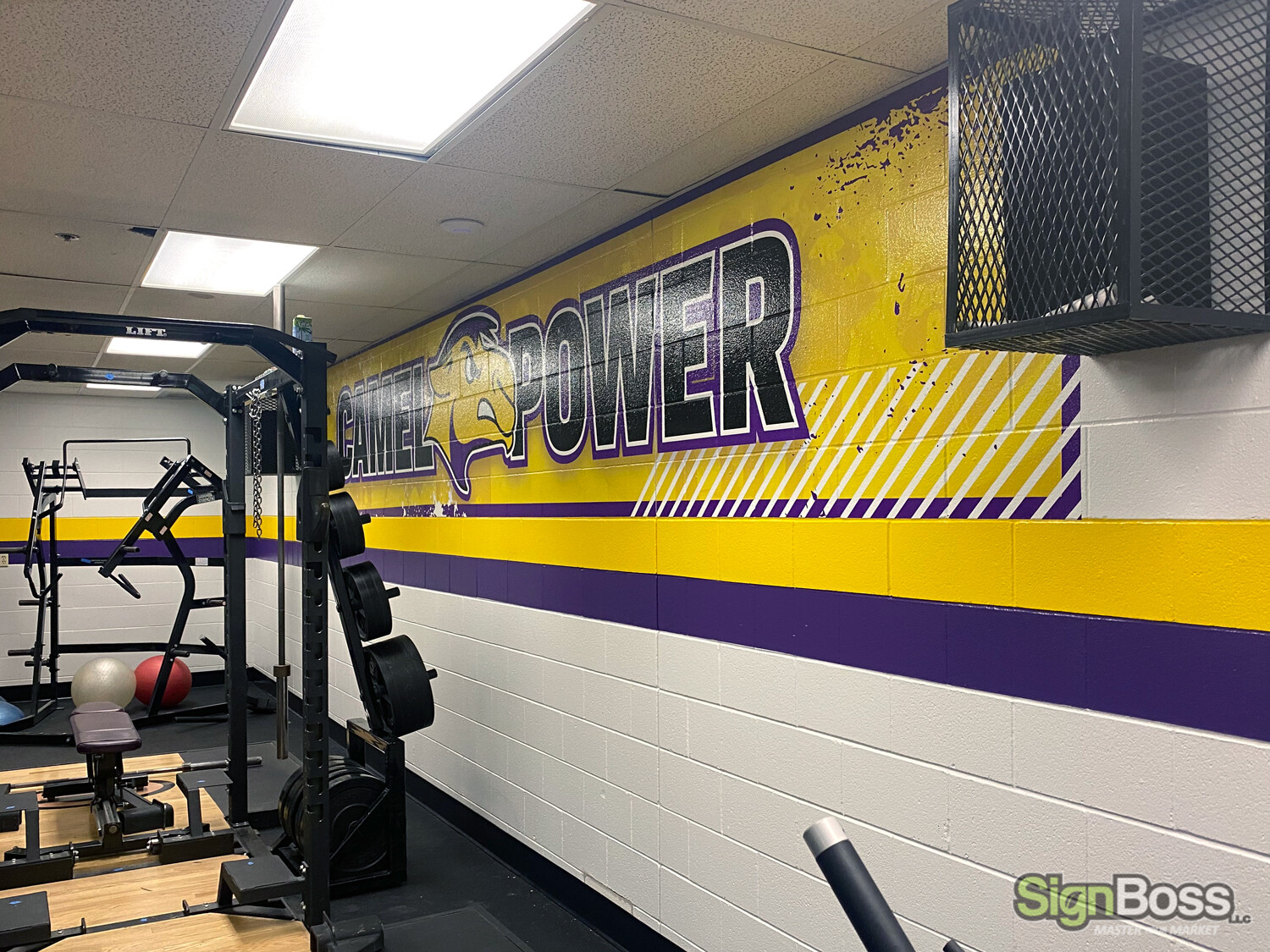 Loyal readers of our blog know that SignBoss likes to pull back the curtain and show clients how we work with the different materials. Today, we are going to talk about vinyl wall graphics.
Vinyl selection. Wall wraps are printed on 3M's IJ480 and come with a 10-year warranty. Indoors, the vinyl hardly ages, which means that you might get a little more life out of the product. Outdoors, there is sun exposure to consider. We recommend the use of laminates that protect against premature weathering.
Adhesion process. Vinyl wall wraps are applied with heat and pressure. As our technician heats one small section, they apply pressure with a Rollepro. This step is vital to push all the air out of the section. The technician works systematically from one side to another. We know that the adhesion is complete when the vinyl is so flat on the surface that it looks painted on.
Wrapping more than walls. Wall wraps are popular because they can change the atmosphere of a room overnight. However, we can wrap other things, too. For example, window wraps work well when you want to have some privacy. If we use perforated vinyl, you can see out, but others cannot see in. Besides that, we also wrap appliances, doors, and some furniture. Of course, we wrap cars, trucks, and vans.
How Could a Set of Wall Wraps or Graphics Change the Ambiance in Your School?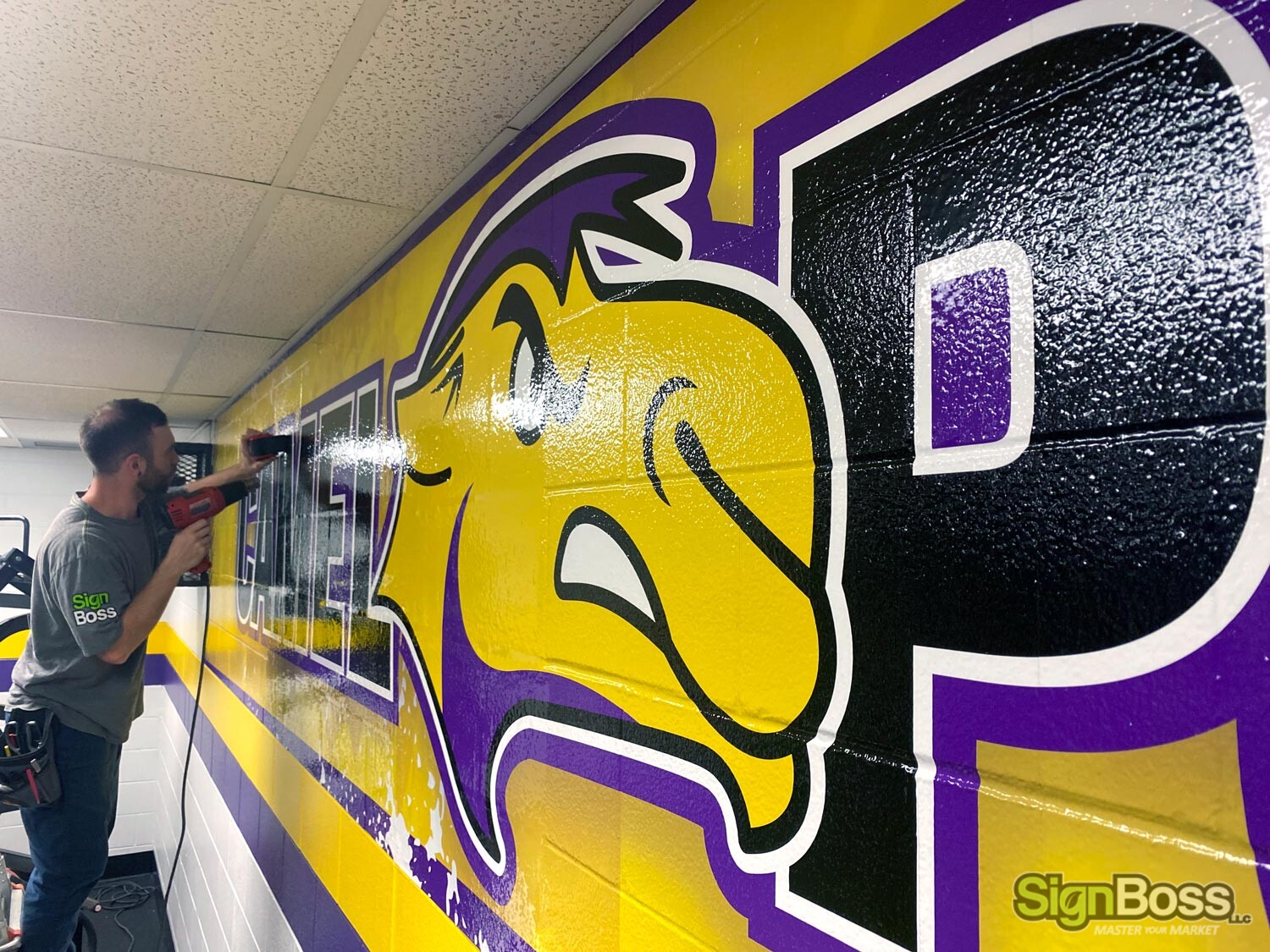 Do you need some school pride wall graphics in Gillette, WY? Maybe you want to upgrade a gym, a store, or an exterior wall. The SignBoss team can assist you with all of these projects and more. For example, did you know that we could print custom wallpaper? It is a great option when you want to make your walls a brand-building powerhouse.
Call us today to discuss your next vinyl wrap project!