Municipal departments usually have to work with pretty tight budgets. However, they must also present a professional image to the public. Consequently, when the day comes for a remodel, it is important for government offices to find affordable ways to update their look. One way to do this is with cost-effective signage. Our local Public Works Department realized this, so they contacted the friendly experts at SignBoss for signs and graphics for the City of Gillette WY.
What Is Public Works?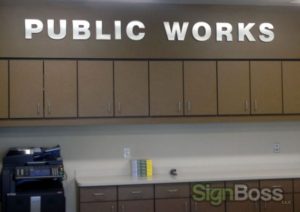 Located on North Exchange Avenue, the City of Gillette Public Works Department consists of three divisions: Streets Division, Solid Waste Division, and Parks Division, which includes the City Pool and Forestry. There is a staff of 41 full-time workers with an additional 40 seasonal employees during the summer. They are responsible for residential trash pickup, park trees, storm drainage, city streets, recycling, pedestrian and bike pathways, right-of-way mowing, sidewalks, and more. Basically, they keep our city looking its best.
When a department that is so integral to keeping our city moving smoothly came to us for signs and graphics for the City of Gillette, WY, we were honored to be of assistance. The City recently did a remodel of their Public Works building, and they needed help with a couple interior design elements. Fortunately, they contacted the right sign shop.
What We Did for the City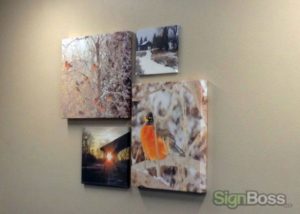 Our first step was to meet with the client to learn about exactly what they wanted out of their new signage. We found that they wanted a distinguished way to identify their Public Works Department. Plus, each year, the City of Gillette holds a calendar contest. This year, they asked us to enlarge the winning photos in a gallery wrap style for them to display in the city building. Based on their vision, we created some art proofs for them of what their finished signs and graphics would look like. Once they approved, we got down to work.
For the Public Works primary identification sign, we used standard aluminum dimensional letters. Metal signs are ideal for government offices that want to showcase their professionalism and longevity. For the prints, we used our large format digital printer to render the images directly onto a durable vinyl film. The print was then mounted to a wood frame for an elegant look. We then worked with the department's schedule to install the letters and prints at a time that was convenient for them. In the end, the City of Gillette was completely satisfied with our work.
We Have Solutions for Your Company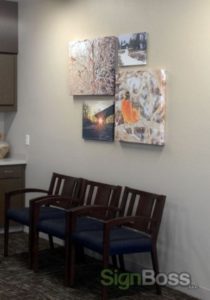 We offer signage and graphic installation, design, manufacturing, repair, and maintenance services throughout Gillette, Sheridan, Casper, Buffalo, and Douglas, Wyoming. We are the area's number one choice because
We ship everywhere
We are owned and operated locally
Our showroom is open to the public
We have a creative and friendly team of sign professionals
We are 3M Certified Installers
And several other reasons!
If you are interested in signs and graphics for your facilities, contact SignBoss today for a free quote.