School sports are the kind of thing people get passionate about. Whether it's your son or daughter competing or just the team of your alma mater, it's easy to get caught up in the fun and excitement of these events. Recently, Gillette College finished construction on a brand-new basketball stadium with all of the necessities of a modern sports complex. From a massive digital display to a brand-new scoreboard, the school went all-out to make sure that his stadium had everything it needed to make their basketball games awesome. SignBoss made sure the new facility had the perfect signage.
What is Gillette College?
Gillette College is a two-year college. Students who attend, earn associate degrees and certificates in a number of subjects, including Business, Education and Nursing. Specializing in personalized attention and real-life industry experience with local businesses, Gillette College is a premier school in the area, which means that many of the students who attend easily transfer to four-year schools to further their education.
Gillette College recently completed work on the basketball stadium in their Pronghorn Center, a multi-purpose facility that will be the home court for the Men's and Women's basketball team and also a gathering space, fitness center, and Health Sciences Simulation Lab.
What We Did for Gillette College
The work we did for Gillette College was a three-part job. With all of the brand-new space, Gillette College wanted to make sure that the businesses which sponsored the new Pronghorn Center were recognized and that the history of their school sports teams was appropriately displayed.
The first thing we did for this job was printing banners for that displayed the school's history of athletic success. The banners arrived blank and we added the years of championship victories with cut vinyl. These banners will allow the school to rearrange and add years as they continue to win games and championships.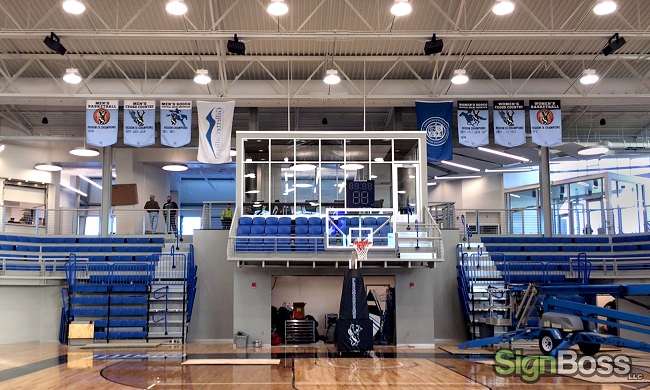 The next step was making sure the scoreboards had the appropriate signage. The scoreboards arrived blank. But these would be focal points of spectator attention. So, we utilized this prime advertising space. Sponsor, Pinnacle Bank, got this prime spot. First, we got the image file with Pinnacle's name and logo. Then we took measurements and applied more cut vinyl to the surface of the scoreboard. When we were finished, the scoreboard looked professional and gave credit where it was due.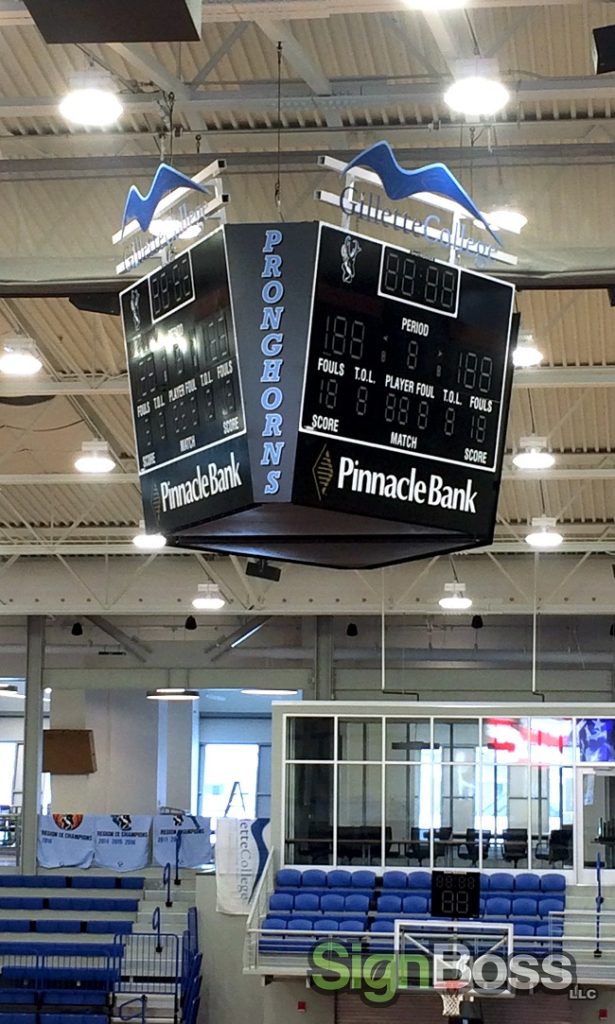 The last step of this project was the big digital display at one end of the court. Like the scoreboards, a lot of eyes would be focused on this screen. That meant we couldn't leave this awesome advertising space blank. Using a durable but lightweight material called Dibond, we built artwork, printed it and installed it on two steel I-beams on either side of the display screen with 3M double-sided tape. The tape has an unbelievable 100-pound weight limit, making it perfect for the Dibond panels.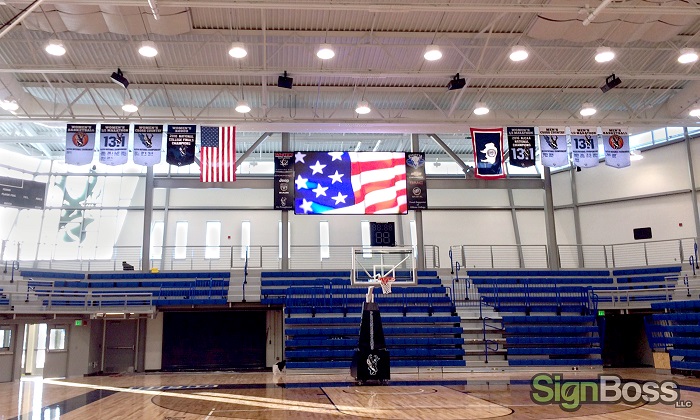 Signage for Your Sports Facilities
Because we're a full-service sign company, we have awesome options for your sports facilities. Like our work for Gillette College, we can apply branded signage to almost any empty space in your gym, stadium or complex. Contact us today to discuss your sports facility signage options.